What To Wear Underneath Your Prom Dress
What To Wear Underneath Your Prom Dress: Underwear Guide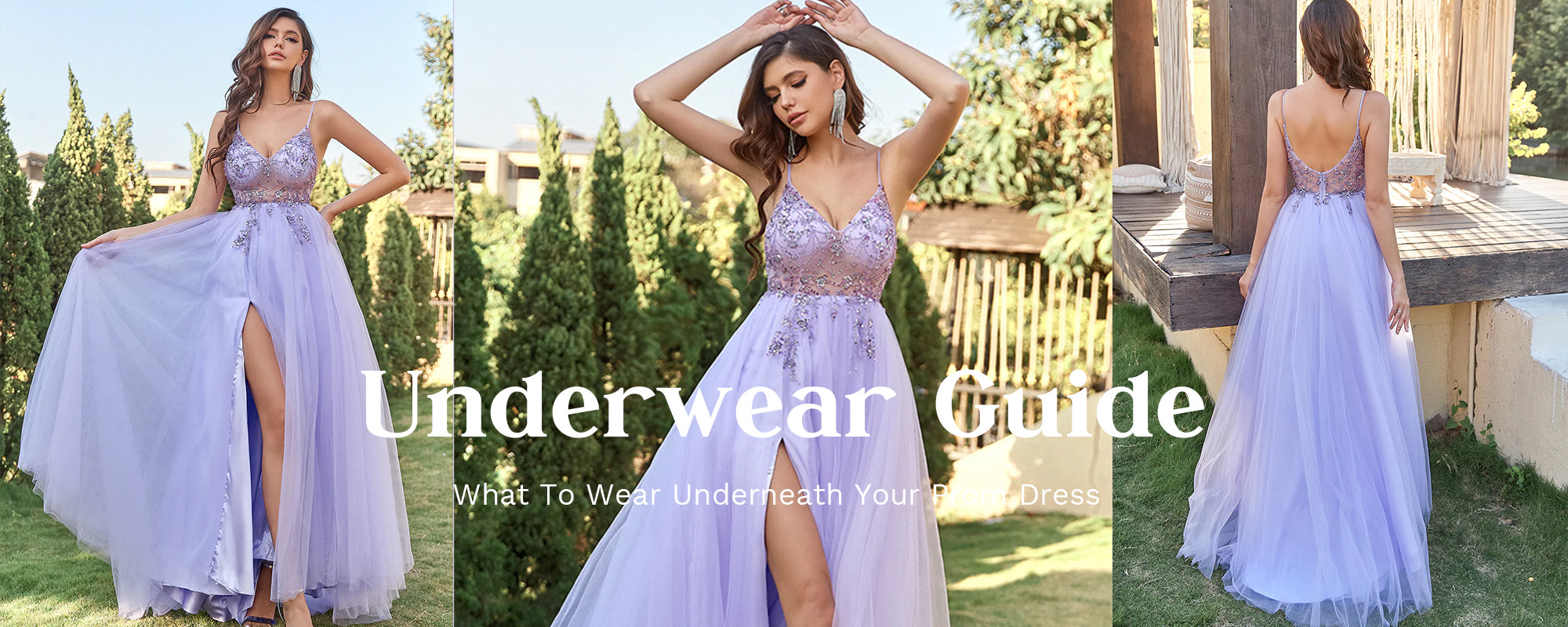 After shopping for a prom dress, don't forget to consider what kind of underwear you'll wear underneath. Ball gowns can be quite intricate in design, and not every gown fits into standard everyday underwear. It just means finding the right bra and panties to go with your chosen prom dress, which will make the whole outfit seamless, comfortable and easy to wear. No one wants to spend the evening worrying about a wardrobe malfunction, and it's important to make sure your underwear fits your dress. Here are some tips to help you do just that.
Shapewear For Prom
Shapewear is one option for prom night and could help to highlight your curves in all of the right places. High waist seamless panties and strapless corset style shapewear are all popular options for formal events, as they highlight your narrow waist and create an hourglass shape.
They work particularly well with a mermaid design or strapless ball gown style dresses. This can be a great way to feel more secure in your prom dress and is a celebrity red carpet styling hack that many stars use for big events!
Choosing The Right Bra For Your Prom Dress
Choosing the right bra for under your prom dress will depend on two main aspects: the neckline of your dress and the level of support you need. Some prom dresses come with built-in bra cups. These make it easier to go braless without worrying, especially if you have a small or medium bust. However, some will need more support than just this. There are plenty of other options available!
To start shopping for the right bra, first, take note of the neckline of your dress. You'll also need to check if it has a low or open back or exposed sides. With these features in mind, you can head to any lingerie department to look for the right choice for your dress. Make sure to look for a bra that has a smooth exterior with no frills or bumpy decorative embellishments.
If your dress is a simple strapless design such a sweetheart, a normal strapless bra will be a good match. For halter or one shoulder looks, a strapless design could potentially also work. You can find bras with straps that can be adapted to fit a halter or low back style. Plunging 'u-shaped' or open front bras can help facilitate a deep v-neck look.
One of the latest innovations includes new 'stick-on' bra cups. These are often made from shaped silicone and stick directly on to your skin. These designs are backless, offering support, shape, and coverage underneath your dress. These can be a good choice if the dress has a complex neckline or a lot of cut-outs that are hard to match with a bra.
What Are The Best Bras For Backless Dresses?
Figuring out how to wear a backless prom dress can be tough, especially if you have a bigger bust that needs support. Open back dresses are increasingly popular for prom and are an absolutely gorgeous trend to try out on prom night. However, some of these designs plunge very low, all the way to the beginning of the skirt half of the dress. This makes it hard to find supporting underwear for beneath the dress. There are backless molded bras available, which offer you support at the front but have nothing at the back. If the back isn't too low, you can also find a strapless bra with a lower V-shaped back.
What To Do When You Can't Wear A Bra With Your Dress?
If all else fails and you can't find the perfect bra to wear under your dress, you could opt to go braless. This can be a little risky but there are ways to minimize any potential disasters. Firstly, if your dress has a low plunge, use a double-sided tape to stick down the edge of your neckline to your skin. This will keep your dress safely in place. You can also try stick-on nipple covers or cups for a more seamless and structured look.
What Kind Of Panties To Wear Under A Prom Dress?
If your prom dress is bodycon, chances are regular underwear could show a visible line underneath your dress. Thankfully, there is a whole range of seamless underwear out there, designed specifically for this purpose. A pair of nude seamless underwear can even have a slight corset effect, shaping you flatteringly beneath the dress.
Underwear For Sheer Panels And Cut-outs
If your prom dress leaves you feeling exposed, a nude slip or nude underwear is the best choice. Try to find nude underwear that matches your skin tone well. Even if it is revealed slightly through a cut-out or sheer area, the result will be far less noticeable! Avoid white underwear as it tends to stand out too much and can show up through semi-opaque fabrics