The 2023 Ultimate Guide to Flowers for Prom
The 2023 Ultimate Guide to Flowers for Prom: Corsages, Boutonnieres, and Bouquets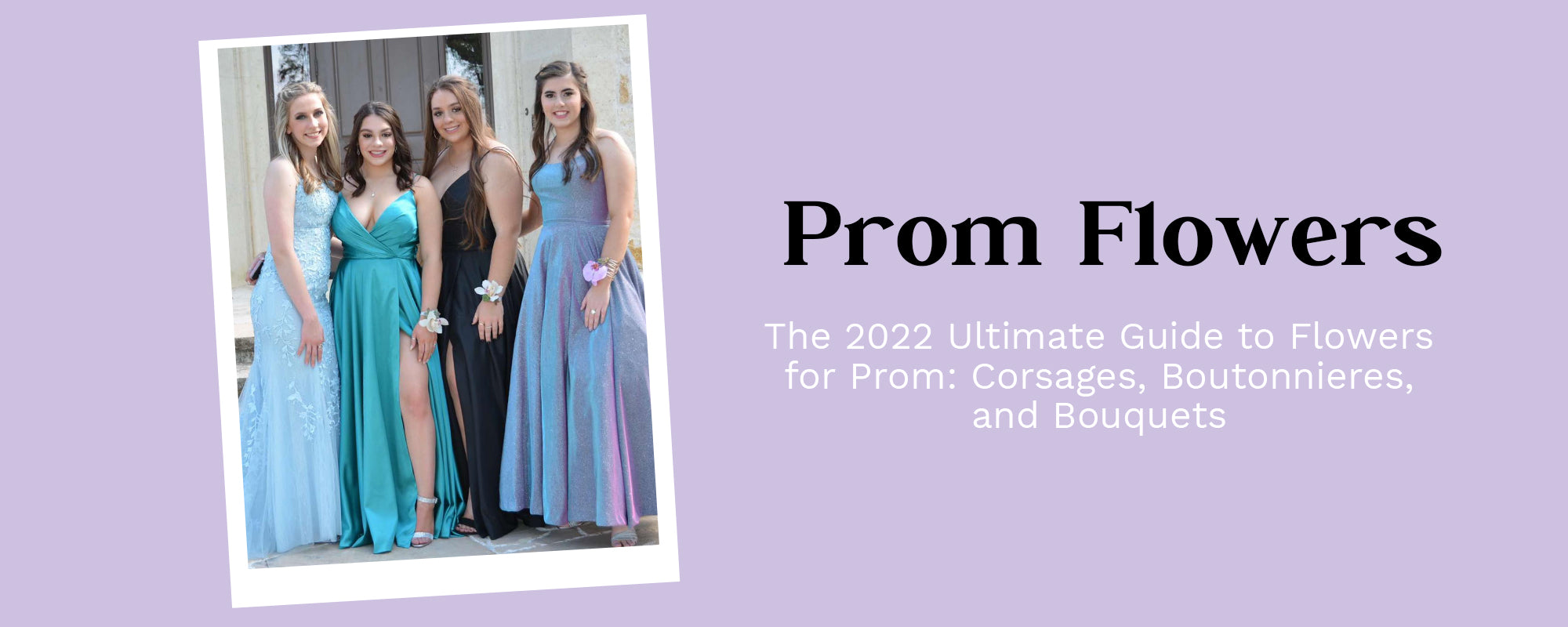 It's almost prom season! That means one thing—it's time spent at prom, too. Besides the tradition of ball gowns, ill-fitting tuxedos, glamorous group photos, and awkward slow dances, there's another great prom tradition: the ball flower! Most traditionally, couples choose to buy prom corsages and corsages for each other, but some opt for bouquets or replacements entirely. For example, if you're going with a group of girlfriends, you might want everyone to buy corsages. Or, maybe you and your date both wear menswear for the evening—in which case, you might need corsages. No matter what type of flowers, bouquets or prom corsages, corsage suggestions, here is the single guide you need to order.
History of Corsages and Boutonnieres
Flowers have been worn since the time of the Greeks. They thought the fragrance from the flowers would ward off evil spirits or disease. Ancient Greek floral arrangements included herbs and flowers. The corsages we know today became popular over 100 years ago, when young men would present a bouquet to a woman's family as a way of saying thanks for the date. The man would break off one of the blooms and pin it to his date's dress.
Prom Corsages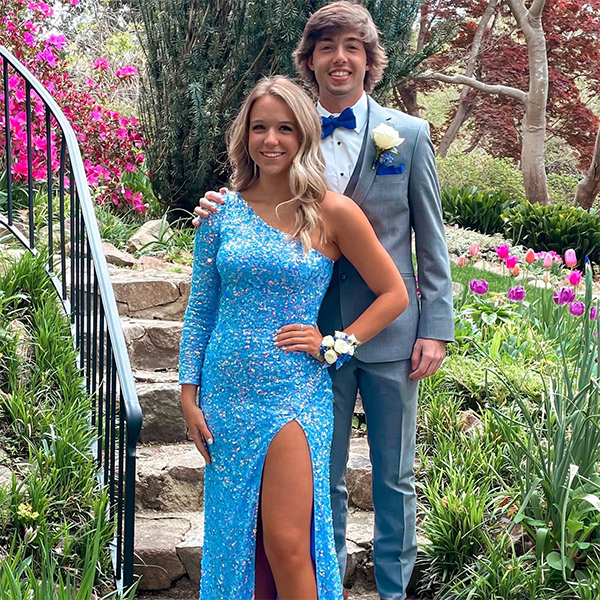 Derived from the word "Bouquet de corsage", which means "bouquet of flowers in a corset", women traditionally wore corsages on their skirts or on their wrists as a floral accent to their formal attire. It's considered one of the longest-running prom night traditions (and even if you don't have a date, no one says you can't treat yourself). There is a wide selection of corsages. They can be worn anywhere, really – from hair to waist and more. When choosing a corsage, first try to identify (or simply ask) what type of corsage your date likes. If they're wearing a gown with spaghetti straps or is strapless, they may prefer a corsage that can be worn on the arm so it doesn't weigh down their delicate dress. If you want something really unique, like a bouquet she can wear in her hair, be sure to ask her if she likes it. It all depends on what she has planned for her prom night hairstyle. Another important piece of information to consider is the color of your date's clothing. Many people choose to take a photo of the dress (or a piece of fabric) to the florist so they can make an exact match. It can complement the color of the flowers or other embellishments they may use such as ribbons, rhinestones, lace, etc. Try to choose an arrangement that complements your date's attire, whether an exact match or an accent color can add just the right amount of pop to the ensemble. If you don't know what your date will wear, choose a neutral color (like white), and the florist can spice up the look with some sparkle. You can also choose the exact flowers used on the corsage - roses, carnations, orchids and lilies are all popular choices.
Roses and carnations are especially popular because they are sturdy flowers that can last through the evening, and they come in a variety of colors to make it easier to match any prom outfit. In fact, carnations can be dyed almost any color, so it's a great option if your date is wearing a color that doesn't come naturally. In general, it's best to let a florist choose the flowers they use, and only give them guidance about color and placement—their experience will likely be better than any bouquet you choose. One thing to watch out for, though, is to see if your date has an obvious allergic reaction to flowers. You don't want her to sneeze, or worse, develop a rash on prom night because you don't want to ask. If your date has severe allergies, or if you're concerned about sustainability, many stores now offer corsages made of plastic, paper, and other beautifully creative "fake" flowers. So, that's always an option. Among traditional prom flowers, boutonnieres are expensive. Expect to pay $20-50. Premade arrangements tend to be less expensive than custom designs, just talk to your florist ahead of time about your budget and they'll help you find something that's right.
Prom Boutonnieres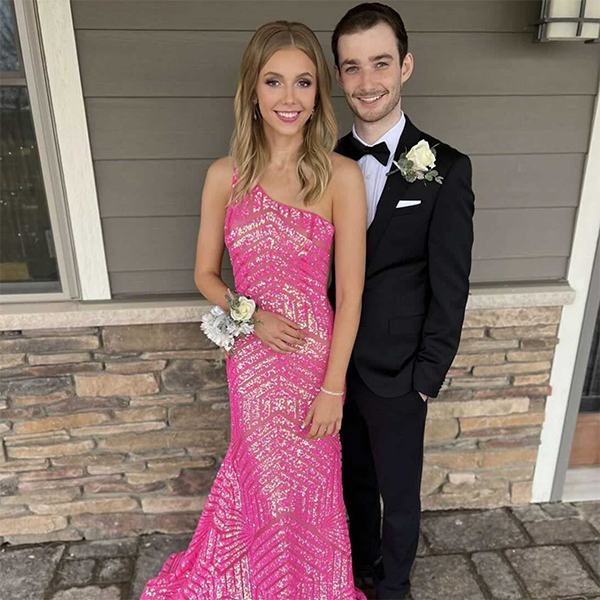 Corsages are usually pinned on men's lapels and convey simplicity, so opt for florals and streamlined designs instead of overly ornate ones. Traditionally, the corsage should match the corsage in the choice of color and pattern. An easy way to ensure that the two items complement each other is to order them together -- that way the florist will prepare with each other in mind. The corsage should match your date's tie, belt or vest (preferably with your attire). Corsages tend to avoid feminine touches and showy corsages, so if that's what you're after, ask your date if he likes the idea and make a special request. When in doubt, white roses or carnations are the easiest way to ensure you have an elegant, complementary look. Corsages tend to be much less expensive than corsages (since they involve less material), around $10-12.
Prom Bouquets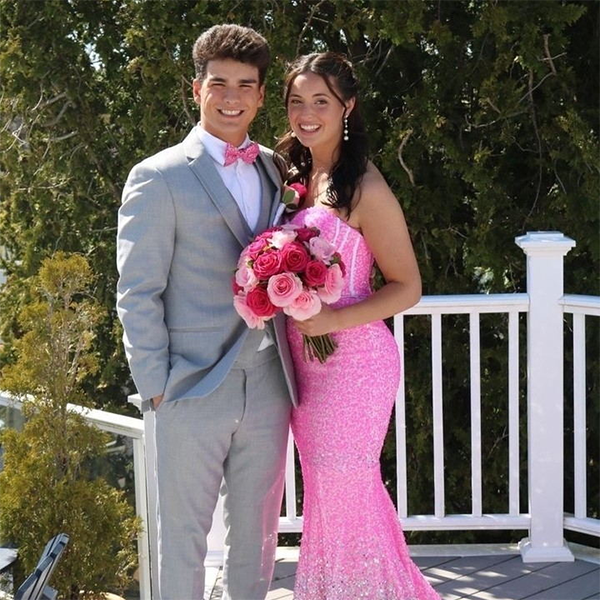 Yes, bouquets are certainly not a traditional choice for prom night, but that doesn't mean you can't switch things up a bit. Here's a fun fact: The corsage tradition stems from the 20th-century custom of men bringing a bouquet of flowers to their date's parents. From then on, they would choose a flower to pin on their date's dress. Many of the same rules apply to bouquets like corsages and boutonnieres. Allow plenty of time to order and choose an arrangement/color scheme that complements your date's attire. Remember, your date is unlikely to want to bring a bouquet to prom and hold it all night. Although, you do have some leeway here, as a bouquet is great for a photoshoot and can be left in a vase to extend its life. If you're going to use it for photoshoots other than just romantic gestures, take extra care to choose something in neutral tones (white and cream), or something that matches the color scheme of your outfit. Bouquets, especially custom made bouquets, tend to be more expensive than corsages or corsages. They range in price from as low as $20 to $100. Keep this in mind when choosing the perfect prom flowers. Whether you want corsages, corsages, or bouquets, the best guide to buying prom flowers is keeping your date in mind. Choose something they'll love and enjoy that special rite of passage in teen life.
Here are Zapaka's picks for popular flowers to use for prom creations:
Traditional choices
Spray roses
Dendrobium orchids
Mini Cymbidium orchids
Alstroemeria (Peruvian lilies)
Standard and mini carnations
Chrysanthemum
Modern choices
Hypericum berries
Herbs (mint, lavender, sage)
Eucalyptus
Crespedia
Foliage (for a more natural, organic look)