How to Shop A Perfect Prom Dress
How to Shop A Perfect Prom Dress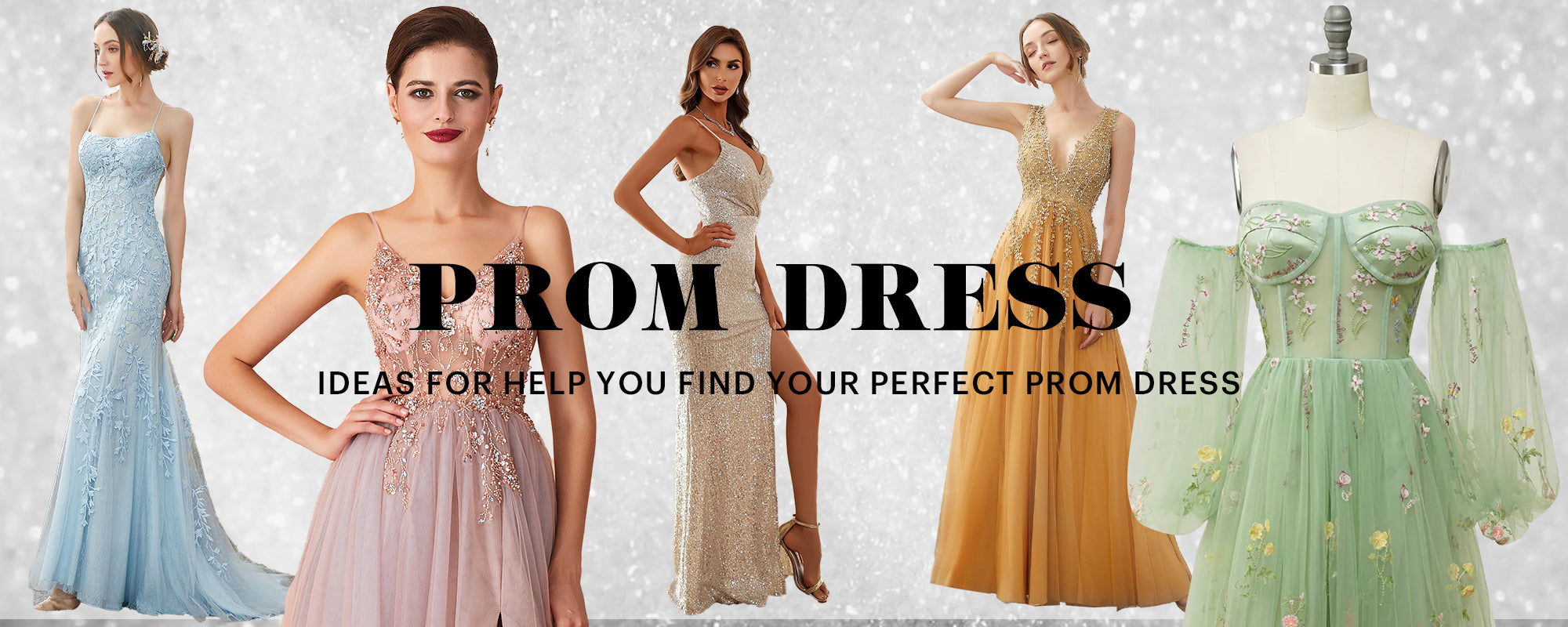 High schoolers everywhere have been dreaming of a magical Prom! With the big night fast approaching, girls across the country are eager to find the perfect dress to make them feel special and beautiful. Prom dresses can vary by style, length, size, and color. Whether you are planning to wear a short dress for prom or a long prom dress, a mermaid lace dress or a tulle ball gown, choosing your perfect prom dress can be a fun and exciting process. It is important to consider key factors such as your skin tone and hairstyle, as well as the theme of your prom, when narrowing down your prom dress choices. But with endless styles and colors to choose from, how are you ever going to find The One for you No need to stress. We are here to help!
How Can You Choose A Perfect Prom Dress Color?
To choose the prom dress that's right for you, consider your skin tone:
Dark Skin: Any bright jewel tone or pastel color will complement dark skin tones and make a dark complexion pop. Rich shades, like gold and copper, also work well with deep skin tones. Colors that work best include ruby and amethyst. Stay away from shades of brown and black, as these can completely wash out dark skin tones. Other colors like blues, silvers, and grays should be avoided, as cool colors appear harsher on dark skin. Even neutrals like gray can make dark skin look fatigued, so stick to colors that pop.
Medium Skin: Jewel colors compliment medium skin tones and bring out skin's warm undertones. Anything in the blue or green family looks great on medium skin, specifically emerald and turquoise. Other jewel colors for medium skin tones include ruby, sapphire, and amethyst. It's best to stay away from shades of brown, beige, and orange, as these colors can wipe out your complexion. Also avoid wearing pastels, as these colors tend to bring out gray undertones in your skin.
Olive Skin: Olive skin tones have it made and can wear almost any color. Bright shades of pink and coral look best on this skin tone, as these hues pick up on the subtle hints of red in olive skin. If you're looking to bring out the brown undertones of olive skin, wear any shade of green. Shades of orange and vibrant reds also compliment olive skin complexions. Be careful about wearing neutral colors like beige or tan. These colors don't work as well as vibrant colors and can make the skin appear dull.
Warm Light Skin: If you fall into the warm undertone fair skin category (red or blonde hair, hint of rosiness in the cheeks) opt for earthy tones, like browns and greens. Neutral colors like beige, navy, and gray will also work well with warm, fair skin. Stay away from brightly colored garments, particularly neon colors. It's also a good idea to stay away from drastic colors like black and white. Black can look too harsh on fair skin and white can wash fair skin out.
Cool Light Skin: If you fall into the cool undertone fair skin category (dark hair, no color in the cheeks) opt for shades of red and pink. Peachy hues work best, but jewel tones also work well with fair skin. Avoid metallic colors as they can wash out fair skin. If you're set on metallic, opt for gold over silver. Pale shades of yellow and purple can wash out the skin, so steer clear of these colors.
Pale Skin: If your pale skin has warm undertones, opt for dresses in earthy tones like tan, beige, brown, and green. Neutrals also work, including colors like navy and gray. If your pale skin has cool undertones, wear silver or pastel hues of your favorite color. These lighter hues help compliment your skin tone without washing you out. Pale skin tones should steer clear of stark colors like red, black, or white.
The Hottest Prom Dress Colors for Prom 2023
Hot Pink: A stunning hot pink like fuchsia or magenta is a sure way to make a glamorous statement on the dance floor. Pink is often associated with feminine, flirtatious personalities.
Royal Blue: This bold color is for the confident and sincere. It is a very popular color among prom girls, primarily because it is flattering on most skin tones and body types.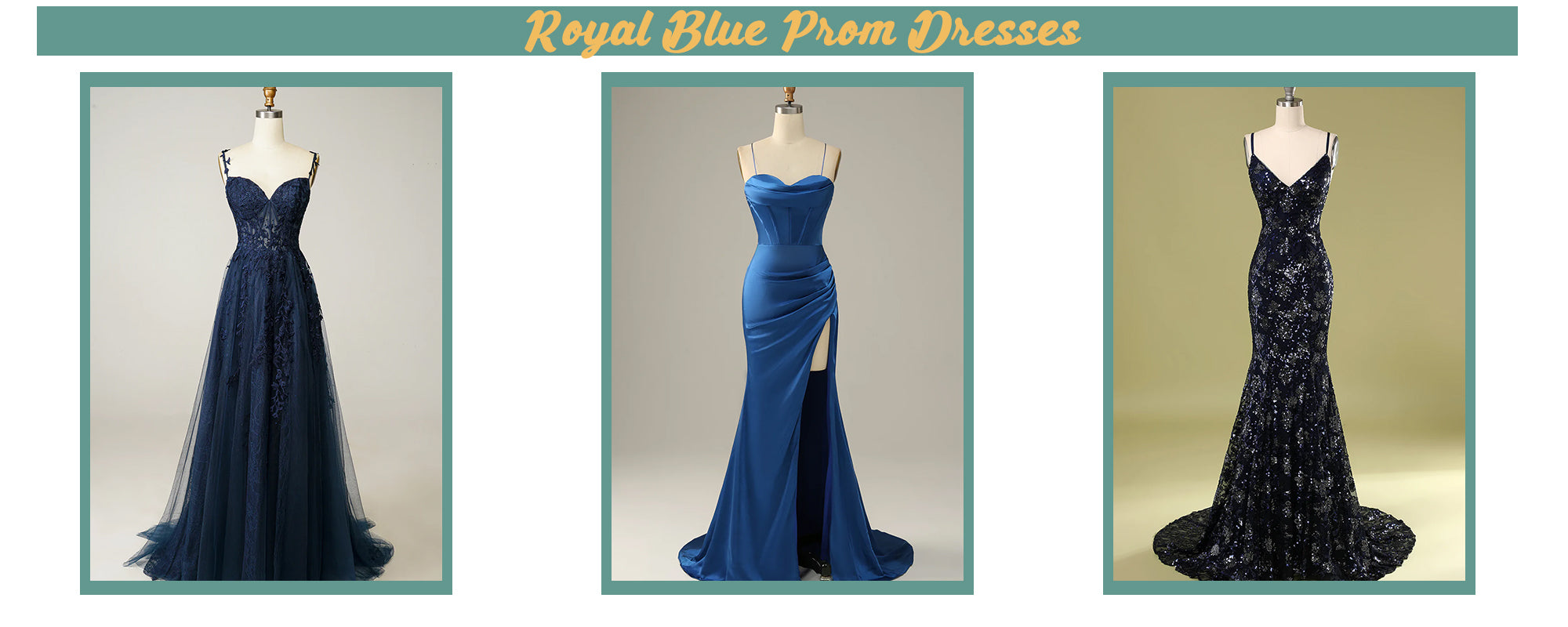 Burgundy: Burgundy is known for its similarity in color to the world-famous wines produced in the Burgundy region, southwest of Paris, France. Burgundy dresses contain the characteristics of maroon dresses and red dresses, with the sense of ultimate romanticism and sophistication. As rich and fragrant as red wine.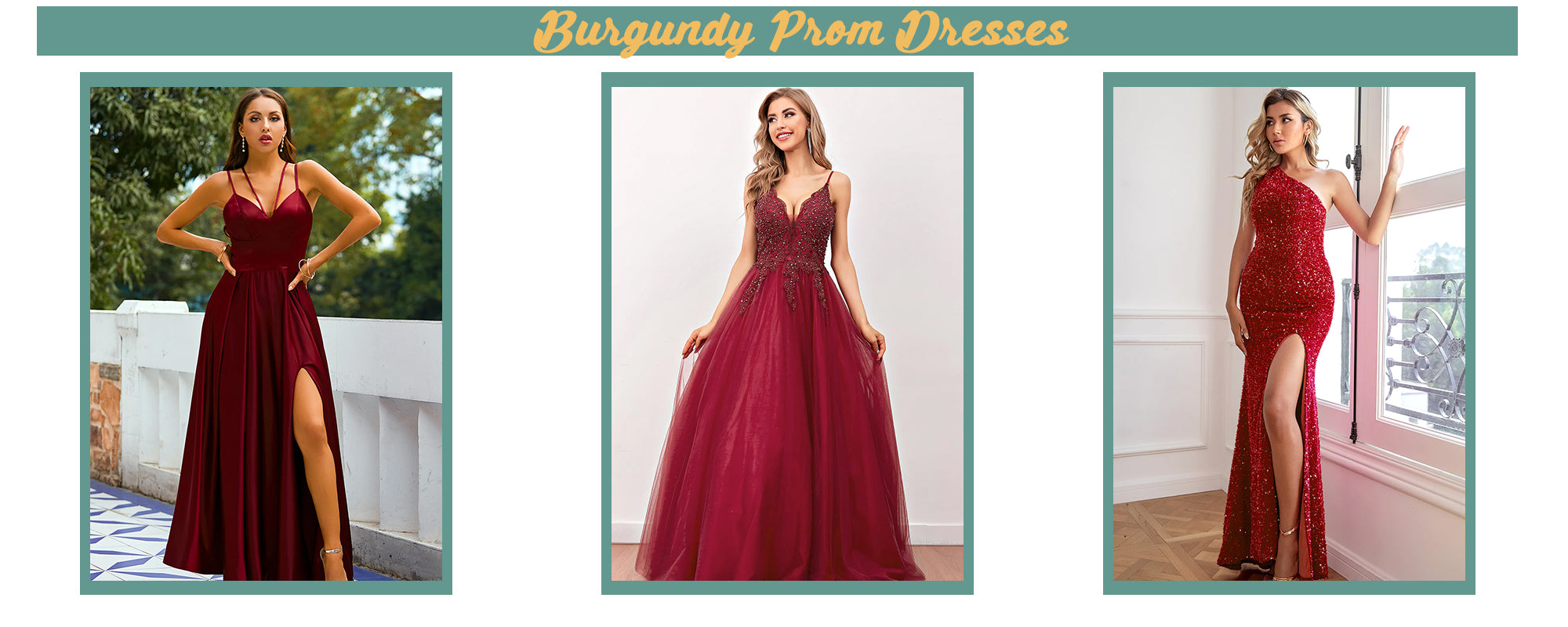 Emerald Green: In a deeply rich hue, emerald green prom dresses radiate elegance. This classy jewel tone looks best on those of us that have skin with cool undertones, but if you've got dark skin with warm undertones, an emerald green gown can highlight your golden undertones for a luminous look.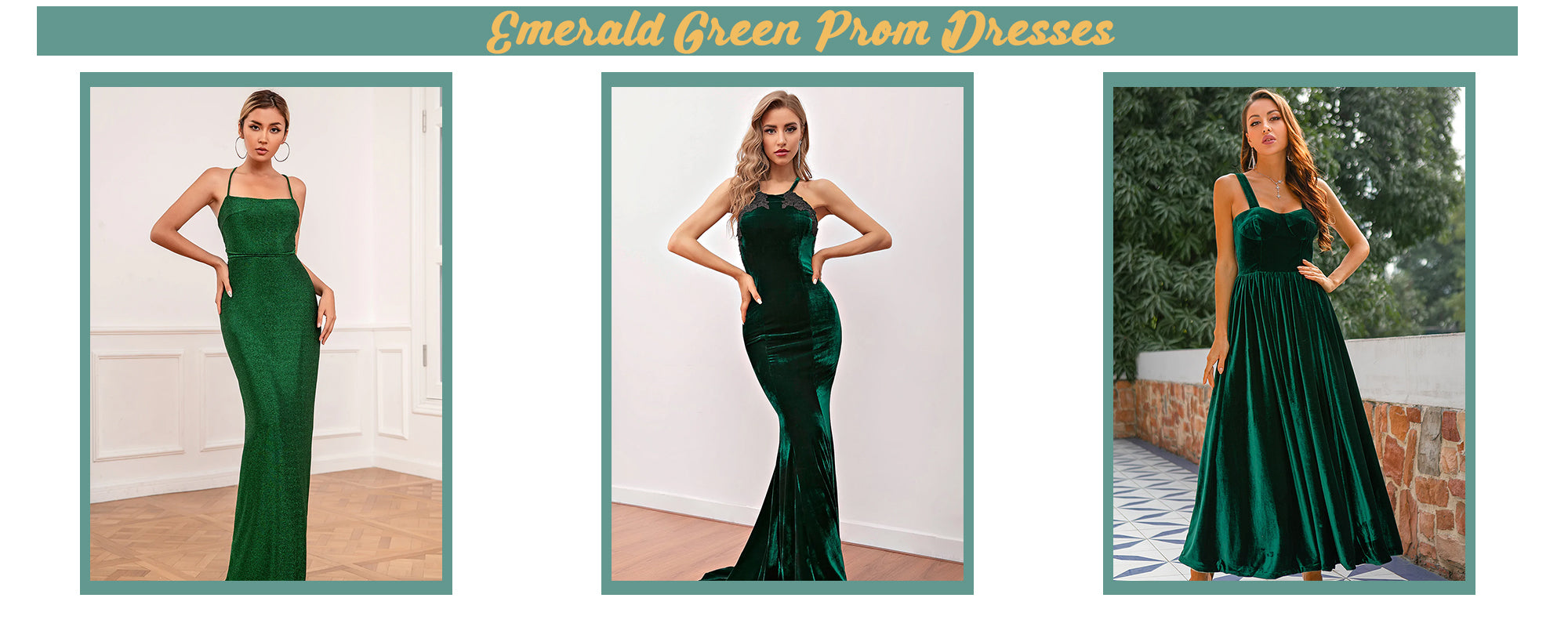 How Can You Choose Your Perfect Prom Dress Style?
The key point to achieving a perfect prom is choosing one suitable prom dress. When we shop the prom dress, we will get the size chart. Although you have the information on your bust, waist, and hip measurements handy, you also need to consider the style of the dress when consulting the prom dress sizing chart provided. For example, special features like adjustable straps or corsets can often provide a bit of leeway for making the dress a little more snug or loose, and size charts just don't often take that into account. Besides, don't forget about our body types! Have a look at this section, we will help you get a just-right prom dress fit.
Check out the fitting tips for each of these styles of dresses:
A-Line Prom Dresses:
A-line dresses are one of the most popular dress silhouettes. The most common type of A-line dresses are form-fitted in the bodice and flare out at the waistline (through sewing darts) to form a triangle shape like a capital letter A. A-line silhouettes are designed to emphasize a narrow waist, wider hips, and the bust line. A-line dresses are one of the most popular dress styles because they are flattering on almost any body type. It is the singular most flattering fit for every body type however women with apple body types find that A-Line dresses work well because it creates a more defined waistline. Apple bodies carry their weight in their midsection and usually have a shorter, undefined waist, and slim legs. It creates a slimming, balanced silhouette while accentuating the good and hiding everything else. Find a variety of a-line dresses here.  
Mermaid Dresses: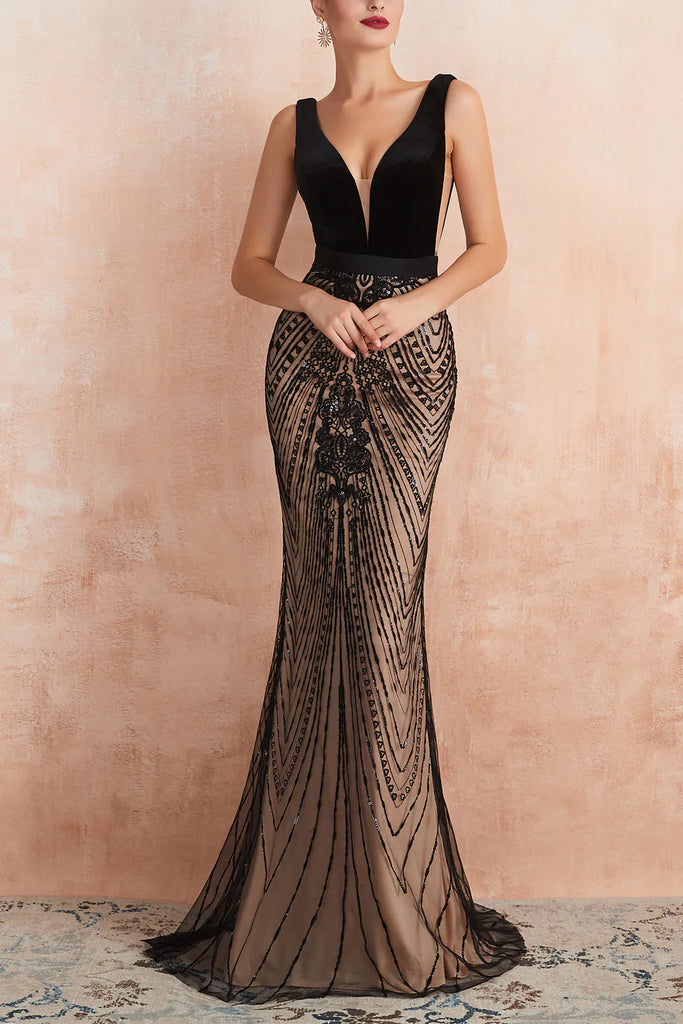 Love your curves and want to flaunt them? Mermaid dresses are the way to go! Hugging the body from neckline to knees, mermaid dresses highlight the natural shape of your body. The fabric begins to angle out in the iconic "tail" shape of the skirt around the knees. Unlike some other dress styles, all three sizing measurements (bust, waist, and hips) play an equal role for selecting your size. If your bust, waist, or hip measurements don't align with the size chart provided for a mermaid style dress you should consider finding a mermaid dress with a lace-up corset back or a stretchy fabric to help you find that perfect fit. While you want to be breathtaking on your special night, you don't want your mermaid gown taking your breath away because it is too tight! Want to dive right into this style? Check out a variety of stunning mermaid dresses here.
Ball Gowns: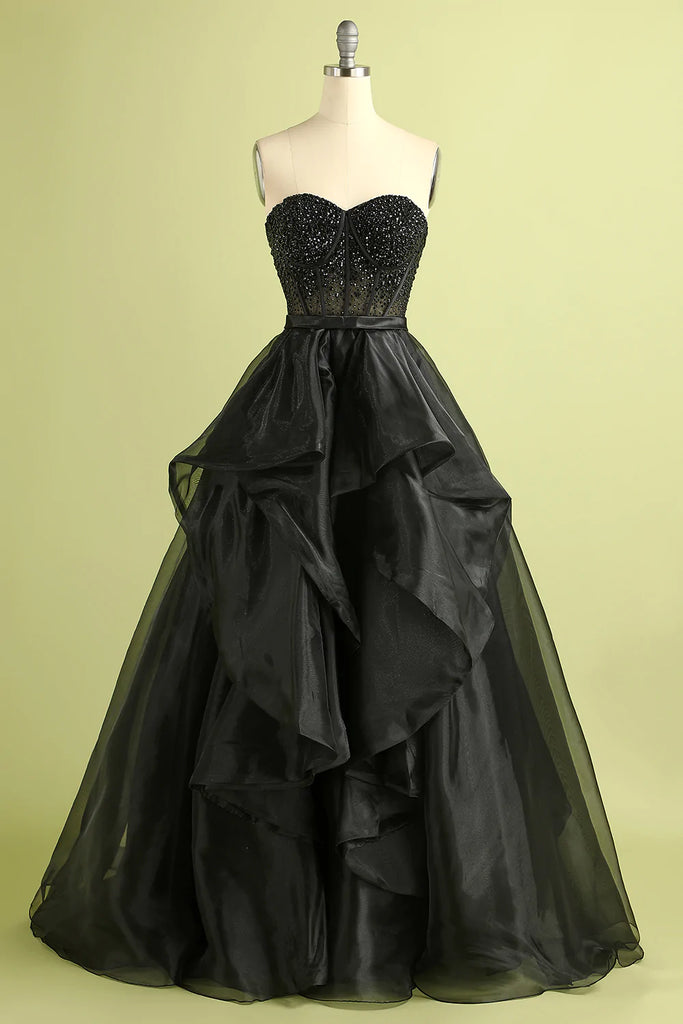 Ball gowns have fitted bodices that flare from the waist, creating a perfect, beautiful, formal shape. A ball gown is perfect for pear shaped. These styles will flatter any figure and make it much more feminine than other types of dress! When choosing a ball gown, it's important to consider your body type. If you have a smaller bust, choose a dress with a built-in bra or one that has straps that will give you some support. If you're not comfortable showing off your arms, choose a ball gown with long sleeves. And if you're worried about being too cold, choose a dress with a full skirt and layers of fabric.
Ball gowns have a fitted bodice that flares from the waist, creating a perfect hourglass shape
The fabric of ball gowns can be luxurious and often features intricate details
They are perfect for formal events such as galas, balls, and red carpet events
You can find ball gowns in a variety of colors, styles, and lengths
They are often more expensive than other types of dresses, but they are worth the investment
If you're looking for a dress that will make you feel royalty, a ball gown is the way!
Sheath Prom Dresses: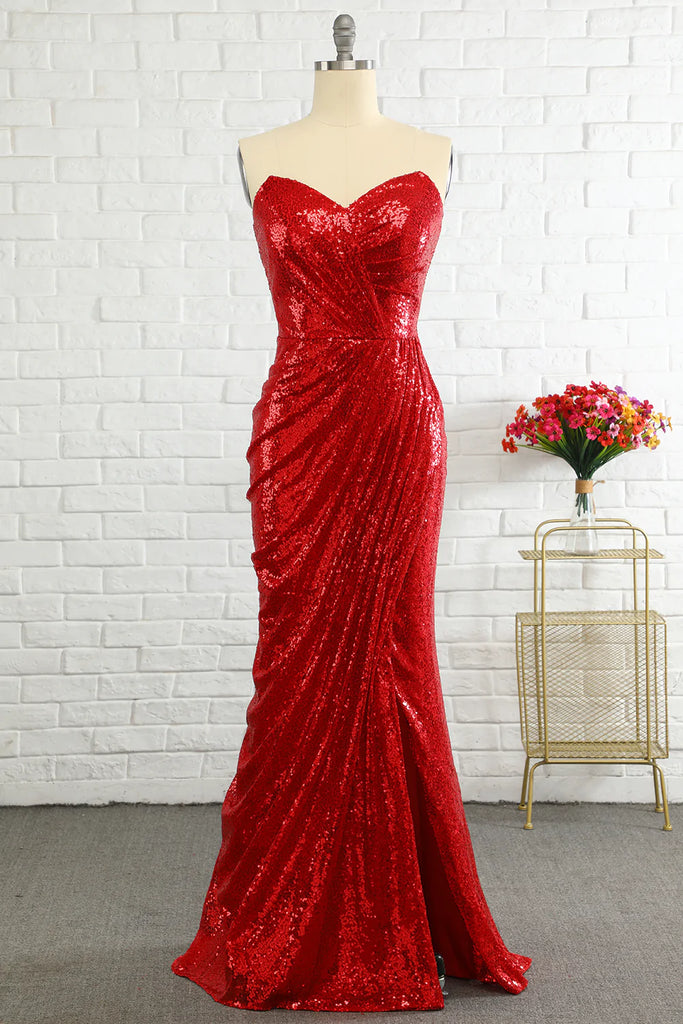 Snug and sultry from neckline to hem, sheath dresses are close-fitting for the entire length so each measurement in the size chart is equally important for selecting the right size. When checking the size chart, ask yourself: "How much curve do I want to flaunt?" For the tightest fit, make sure you choose a size that has a very close match to your bust, waist, and hip measurements. For a looser fit, pick a size with size chart measurements that are slightly larger than your own.
Sequins Prom Dresses:
Sequins dresses can add a dash of simple sparkle or or head-to-toe glamour. Ideal for semi-formals and fancy formal occasions, sequin dresses can feature time-honored, classic styling or up-to-the-minute, trendy details. From the glitz and glam of celebrity-inspired long formal gowns or delicate beaded halter dresses to the more striking form-fitted, sequin-covered party dresses.  Whatever length or style you choose, you will find that a sequin dress makes any night a special occasion.
Prom Dress Fabric Will Affect the Dress Fit
Sometimes, even you choose the correct size of the prom dress, you also get a dress which is too loose or too tight? It may be that the material of the skirt is messing up. So why and how to avoid this problem? First of all, you need know that different fabrics will create different effects. Dress fabrics that stretch can expand over the curves to comfortably showcase the figure, while some fabrics simply won't budge (like lace or chiffon prom dresses). Now we will lead you to explore the mysteries
Which Prom Dress Fabrics Are Stretchy?
Looking for a prom dress that will allow some wiggle room in measurements? A stretchy fabric is the way to go! Some types of fabric with stretch are: Soft jersey, Springy spandex, Stretch crepe, Stretch lace, Stretch mesh, Textured crepe, Wrinkle-resistant scuba. These fabrics move with the body and allow flexibility in sizing when creating the look you want to flaunt.
Which Prom Dress Fabrics Are Stiff?
If your chosen prom dress is made from a stiff fabric blend, proper fit calls for a closer match between your measurements and the measurements in the size chart. Dress fabrics with little-to-no stretch include: Chiffon, Lace, Mikado ,Sateen, Stretch mesh, Satin, Tulle. You'd better pay more attention to the dress fabric before you choose the size. Hope you can get one you like.
Something You Need To Know About Prom Dress Shopping
Convenience, cost savings, a plethora of options, are only a few of the major advantages of buying prom dresses online. However, buying online may possibly become one of the worst nightmares of online shoppers since there are times in which they received a wrong or damaged item. For this reason, we have listed some shopping tips that you can follow to ensure that you are getting what you paid for.
1. Order from a trusted online store
The most important part of buying prom dresses online is research beforehand to make sure you are placing an order in a reputable online store. Many cases of failed online dress purchases are mostly purchased from low-priced websites that sell cheap imitation versions of designer dresses. Don't be attracted by dubious low prices. They are low because many of these counterfeit clothes are made from inferior materials.
2. Identify the styles you need in advance and collect the styles that interest you at any time while browsing online
Think about the style you need in advance, whether it is a long or short dress, A-line or a mermaid, and when you buy prom dresses online, make sure to bookmark your favorite dresses during browsing. There is nothing worse than the chance of finding a few good clothes and losing the link before you have a chance to place an order. Remember to bookmark each prom dress on the go, then narrow down your bookmarking options to one prom dress when deciding on the best dress.
3. Measure your own size before ordering
Another problem that many people encounter when ordering prom dresses online. All the work to ensure that the dress you are ordering is suitable to your measurements before placing an order. Don't try to guess your body shape or you may be disappointed. If you take accurate measurements before ordering your prom dress, the end result will be more satisfying. If you don't know how to measure the size, you can ask customer service in your favorite store, usually they will provide you with the professional and correct measurement method. Don't blindly place an order until you know your size.
4. Place your order in advance
The most important tip for ordering evening wear online is to make sure you place your order in advance. You don't want to wait until the last minute to order dresses and arrive after the party. Some styles and designers may take weeks to process, depending on availability and other factors. Keep this in mind when planning your prom party.
5. Returns and exchanges
Even if you follow all these tips, we know that sometimes returns and exchanges are inevitable. Before you pay, you need to check with the store about the refund and exchanges policy, even if you have to refund or exchange in the end, you don't have to worry about it.