How to Accessorize Prom Dress
How to Accessorize Prom Dress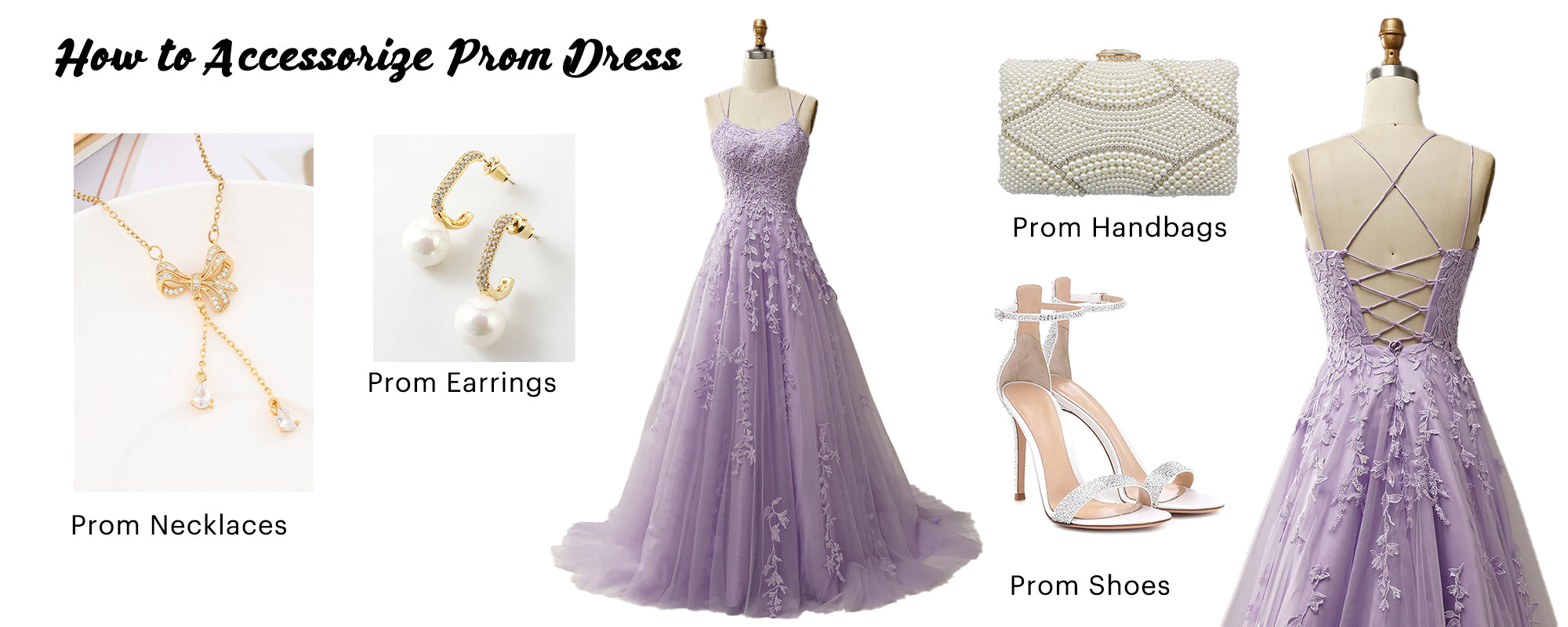 When you step out in your prom dress, you want to make a statement. Accessorizing is the best way to do that! Accessories such as jewelry, heels, and handbags are essential for any prom dress. They can add a touch of personal style and make your look more complete. However, you need to be careful when choosing accessories as they need to match the fabric of your dress.
Whether you're looking for a bracelet to match your necklace, earrings, or shoes, you should choose accessories that will make you stand out and complement your fantastic outfit.
Prom Earrings
Earring choices mainly depend on the details around the top of your dress and your hairstyle. If your prom gown comes with heavy decorations and embroideries around the neck and shoulder area, choose delicate and small earrings. On the other hand, wear larger sparkling earrings if your gown is made of a classic strapless design with details.
Ensure that your hairstyle does not compete with your earrings. They should complement each other perfectly. For instance, if your hair is in thick curls, pick earrings that can hold and stand out on their own.
Wear your hair simple with minimal accessories if your earrings are glittery and glamorous. It is worth noting that, you can put a more dramatic hairstyle if your earrings are simple and clean. However, don't overdo the hairstyle otherwise you will distract the look of your dress.
Prom Necklaces
There are two types of necklaces that are always a hit at the prom:
Maxi collars with lots of rhinestones and glitter
Delicate choker necklaces with pearls and other gems
Whichever you choose to wear balance it perfectly in terms of length and size. Long necklaces are best when worn with dresses that have a deeper neckline while the short necklaces are best with dresses that sport a higher or straight neckline. A glitzy necklace goes well with a strapless dress with a straight neckline. This look is perfect if you have discrete earrings. Pay attention to the details on your dress. Don't add any jewelry on the neck area if your dress has a lot of decorations around the bust.
Prom Bracelets
A sophisticated bracelet with genius finish makes your look balanced and sleek. Detailed dresses require simpler bracelets.
Balance your necklace, your bracelets, and rings. If you wear heavy necklace choose some delicate rings and bracelets. Avoid too flashy necklaces and rings if your intention is to use a wear a heavy bracelet. Another thing to consider when choosing the bracelet to wear is the size of sleeves. Bracelets are not the best option when wearing a long sleeve dress.
Prom Rings
Rings are always welcome on a prom night, especially if they are of a discrete design. Just as the necklaces helps to provide harmony and balance, so do your prom rings.
Prom Handbags
Handbags are designed to bring out that elegant and extra feminine look. The choice of the style and color of the bag depends mainly on the dress and other accessories. Go for models in soft silver or gold to match the metallic part of your prom jewelry.
Prom Shoes
Formal flats are great for night events like prom. If you choose to wear flats, make sure you focus on rich embellishments and flossy details. Skimmers with appliques such as bows, sequins, rhinestones and pearls are some shoes to try out for Prom. Sandals with fancy buckles and metallic colors are also magnificent for your prom night affair.It is always advisable to balance your earrings, hairstyle and necklaces well. If they happen to compete against each other, I promise it's going to be suicidal-crazy.