Prom Makeup Guide
Your Guide To Fabulous Natural Prom Makeup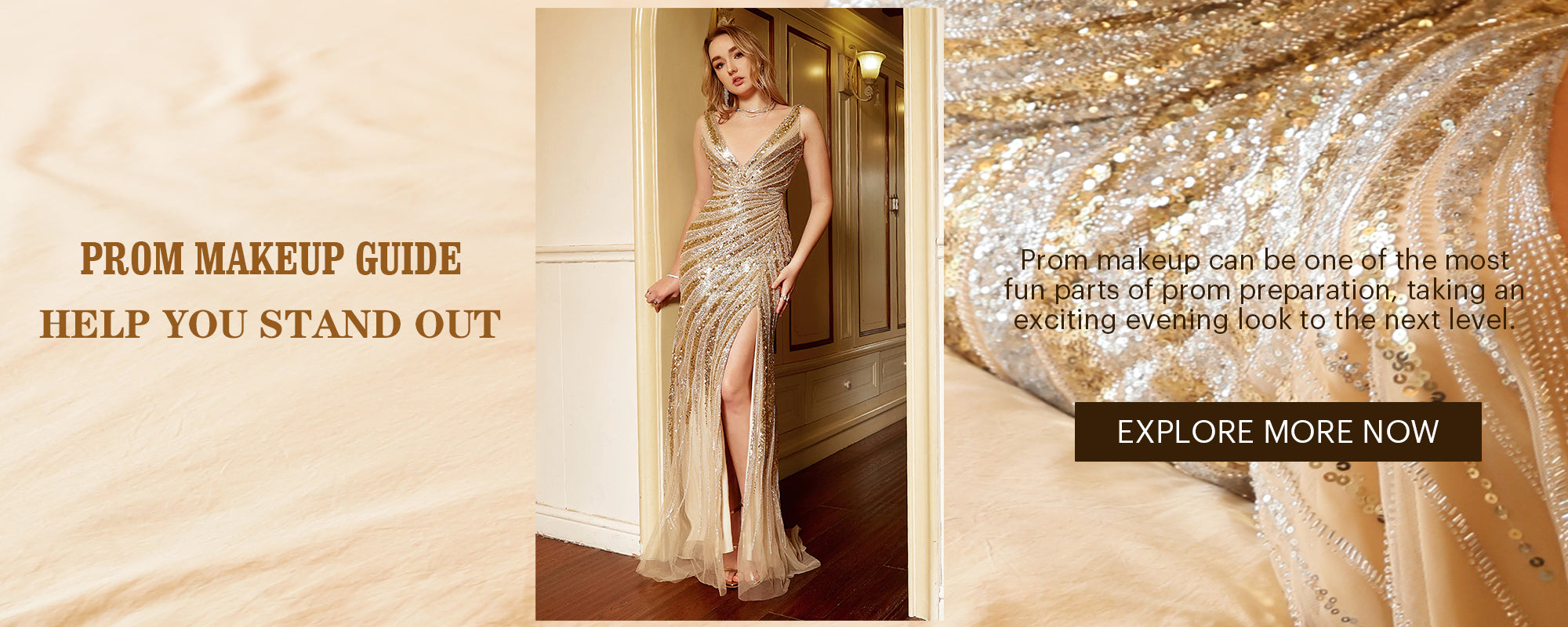 If you haven't had an opportunity to show off your unique flair before, prom night is the time! Hair and cosmetics are all important components of your prom look, so make sure you have everything coordinated. Thankfully you don't have to spend a fortune on your prom makeup too, since you can create a gorgeous look in the comfort of your home. Applying your own prom makeup not only allows you to experiment with several looks before the big night, but also offers you complete creative control over the final result. Plus, experimenting with prom makeup looks can be a lot of fun, particularly if you invite your besties to come on board!  
Even though some teenagers may want to up their glam appeal with a more elaborate look, natural prom makeup is pretty popular too. Reason being is that, instead of hiding your shortcomings, natural cosmetics will draw attention to your best qualities. Focusing on only a few essential regions like the lips, eyes, and skin enhances your features in an elegant manner. Also, if you decide to do a natural prom makeup look, you'll probably spend less time and money on it. Here are some prom makeup ideas or techniques, as well as tips to help alleviate prom night makeup prep stress!
How to Get a Natural Prom Makeup Look
The following is what you need for a simple prom makeup look, as well as how you should apply them.
Get An Illuminating Primer
The best skin isn't dull, it has a natural glow that looks to emanate from inside.. This is where the primer comes in. Traditionally, the greatest primers smooth out the face and extend the life of your makeup, but they can do so much more for your visage. Look for primers that include both light-reflecting particles and skincare elements like hyaluronic acid, which help to keep the skin moisturised and fresh-looking, if you want a healthy glow without being overdone.
Create a Lovely Sheer Base
Some of the sheerest foundations are high-tech ones that merge color with remarkable skincare properties. This is fine, as few women require full coverage to begin with, and as a teenager, you probably don't too. It may seem cliché, but brightening up your skin with a sheer base to get a more natural appearance makes sense.
A fresh, transparent foundation and a heavy-duty concealer should be used sparingly if you have fair skin with occasional tone anomalies, such as pigmentation or rosacea. Be careful that with too much color, you're heading toward the soft glam makeup realm!
A Bit of Contouring
Makeup styles that are quick to put together don't need a lot of contouring. Instead, opt for a sheer bronzed look. Good job if you know how to bronze already! If not, no worries, as applying bronzer is a breeze! You may avoid appearing striped or muddy by applying your bronzer in little quantities at a time.
In order to get the desired level of color intensity, build it up in layers until you're satisfied. Like a highlighter, a good bronzer may be the difference in how long your makeup lasts. If you have dry skin, opt for cream bronzers; if you have oily skin, pick powder bronzers. Don't Forget the Highlighter!
You may get the appearance of healthy skin by applying a high-quality, natural-looking highlighter. For a natural-looking finish, stay away from highlighters that have glitter in them. Instead, seek for ones that don't have any shimmer in them at all.
Your ideal formula will be dependent on your skin type if you want a soft glow. If you've got dry skin, go for a cream or liquid highlighter instead of a powder one since they're more moisturising.
Natural Looking Cheeks
It's true what they say about the best cheek color being your own natural glow. Cream formulas applied around the cheekbones for a dewy glow are also quite popular. Draping is an old-school method of applying eyeshadow in which you apply a thin layer of eyeshadow to your upper lash line and then blend it outwards toward your temple. This is a technique that was popular in the 1980s, but nowadays it's much more delicate and refined.
Prioritizing Those Eyebrows
No one will be stunned to discover that the brows are a critical component of any natural makeup look. When it comes to eyebrows, micro-blading is on the increase, as is brow lamination and brow tinting. While most women prefer to use a brow brush or pencil, powder formulas might change your mind. In order to prevent that terrifying marker pen appearance, they provide gentle definition, and your filled-in arches stay in place without peeling or becoming smudgy.
Choose a Warm-Hued Eyeshadow Crayon
There's a reason eye crayons are so popular: they're easy to use, lightweight, and don't need any special techniques to use them. All you have to do is draw a line over the top of your upper eyelid, smudge it, and you're done. Warmer neutrals, on the other hand, are our favorite for natural makeup looks since they can brighten up the eye region with only a few swipes. Using an eye crayon also aligns with the natural eye makeup look stemming from using just one eyeshadow hue for monochromatic eyeshadow look.
Add Some Volume to Your Lashes
Attempting to find the finest mascara for a more natural look is a matter of personal preference, but in terms of what's going on in the market, there's a refreshing emphasis on lash health and the slight flutter of lashes. It's a good idea to check out tubing mascara formulas: Instead of using wax and pigment, they use polymer films to cover the lashes. They are absolutely smudge-proof until you wipe them off with tepid water after they have set. The sole drawback is that they don't have the volume and weight of standard formulae.
Lining Your Eyes
Brown eyeliner has been leading the way for gentler definition and more wearable approaches to a smokey eye for a long time, although we've been deceived into believing black kohl eyeliner was the sole method to define your eyes. The greatest eyeliner for dramatic looks is undoubtedly an inky black gel, but for a more natural appearance, a chocolate or warm brown shade takes the cake. Brown eyeliner not only softens your appearance, but it also brings out the red undertones in blue and green eyes. For those with blue eyes, rich, orange-toned brown eyeshadows are the most flattering.
Select Subtle Lip Colors
High-maintenance mattes have been replaced with easy-to-wear lip glosses and stains, which is fantastic news for those who want natural makeup looks and don't want to constantly monitor how their lipstick looks. Depending on your own taste, the finish will differ. To maintain a neutral look, adhere to the rosy colour scheme similar to your natural lip pigmentation when picking out a lip color.
Schedule Treatments in Advance
Preparation is crucial, so don't wait until the last minute to schedule any pampering sessions. Plan any significant cosmetic procedures at least two days ahead of time, so that your skin has time to settle down and react. Waxing and tweezing, as well as other treatments like facials, as well as self-tanning, should not be done on the evening of your prom. In order to make the most of your prom evening, have your nails and feet done the day prior too.
Conduct a Makeup Trial
Preparation tests, similar to those conducted by make-up artists before a photo session, are highly recommended before any major event. The day before the occasion, practice your prom makeup procedure to make sure it all goes well.