Wedding Dress Trends 2022 : Top 23 Hottest Gowns You Need to Know
Getting married in 2022? Here we have collected 23 hottest wedding gowns for your reference. From ethereal bridal bodiced gowns made of French lace and silks to innovative necklines crafted with meticulous attention to detail for the woman looking for something unforgettable and unique. 2022 trendy wedding dresses focused on our love of freedom and desire for authentic self-expression.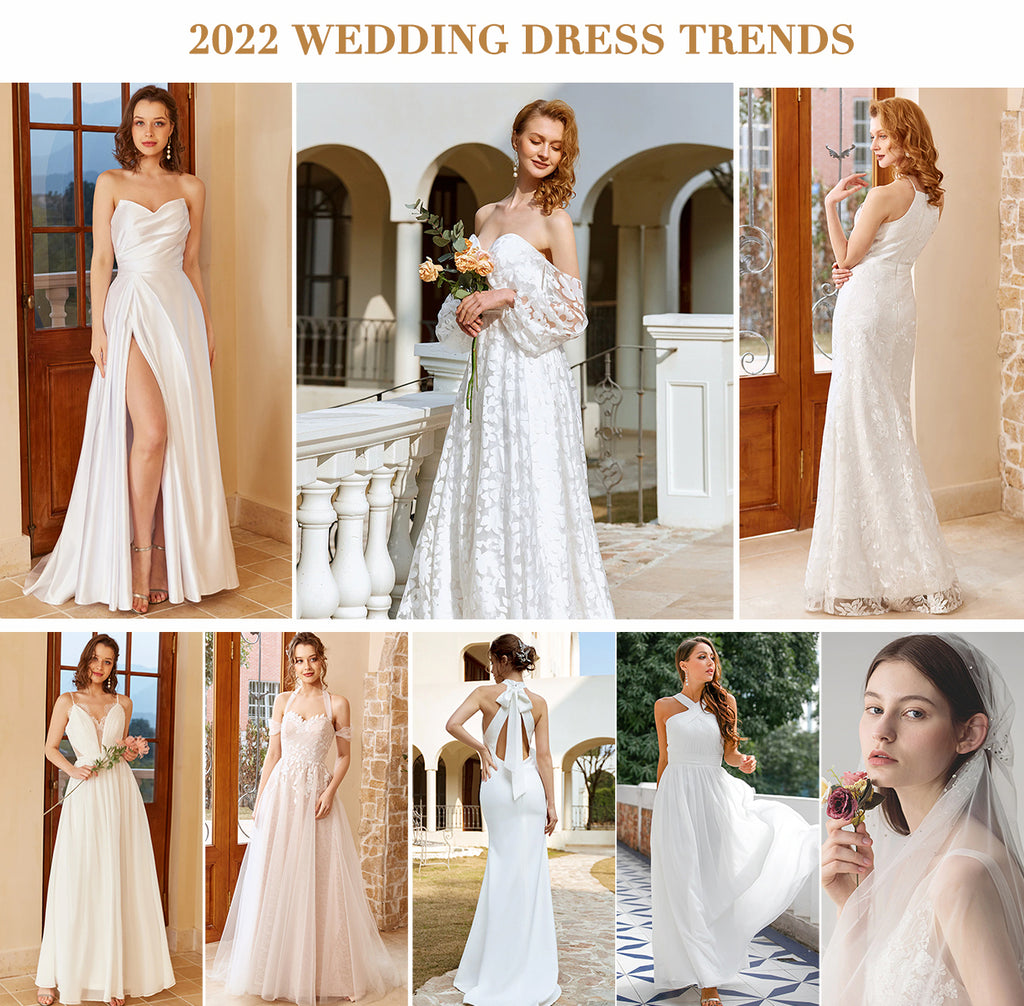 The wedding dresses in our recommendation list feature elements like low backs, fresh necklines, contemporary clean, light & airy fabrications, detailed trains, latest designs and so on. We are so excited about the coming wedding season and can't wait to share with you the 2022 trendy dress information! 
Modern Laces
Modern lace wedding dress is the no.1 recommended among 2022 trending wedding dresses. Lace wedding dress is one of the most traditional styles out there, and for many, the delicate and feminine fabric is synonymous with bridal gowns. Not all lace wedding dresses are created equal. Some gowns feature an all-over lace design while others are simply accented or trimmed with the delicate material.
You can never go wrong with an elegant modern lace wedding dress—especially if it's crafted from top quality fabric. ZAPAKA's lace wedding dresses are all embellished with selected quality lace pieces. Here are the four styles that are already a hit in 2022!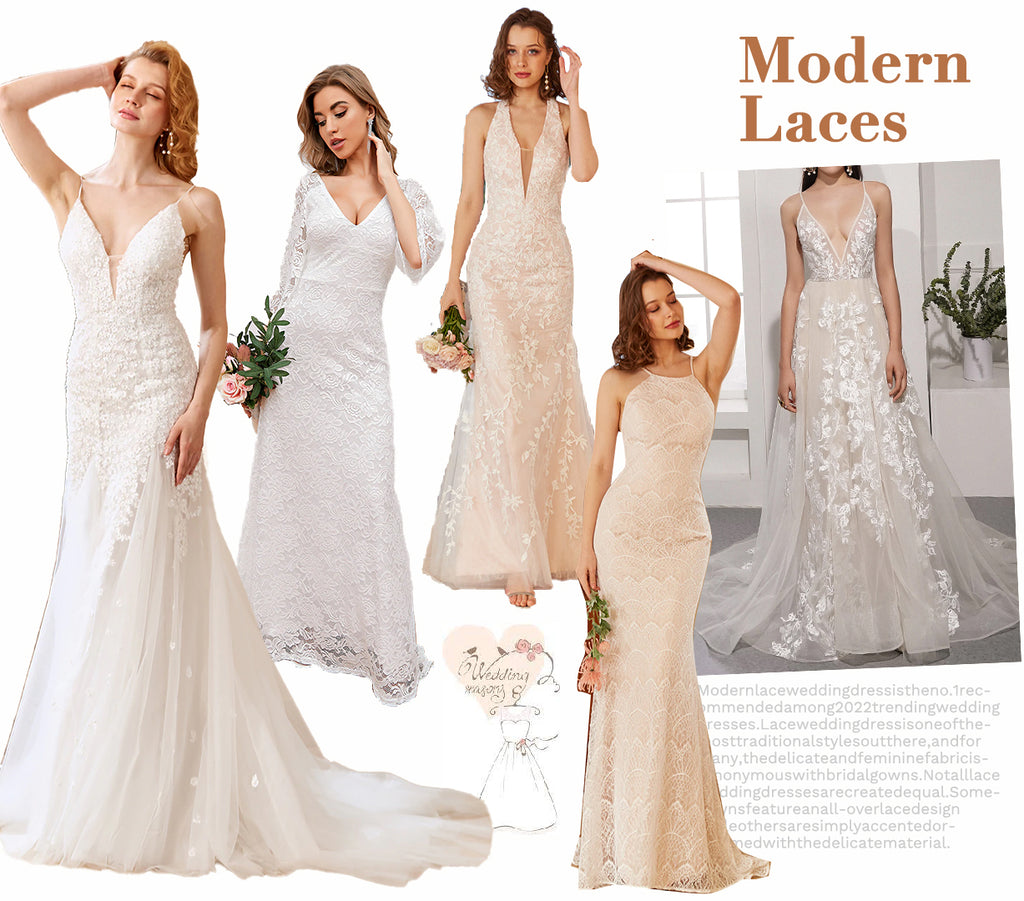 (Shop: YYZL128 White, ZPKYYLH01204 White, YYZL168 White, YYLH453 White, WBYY01-3)
The V-Neck wedding dress has lace embellished on the bodice and around the waist, ending up with a short cute train is absolutely stunning and gives the dress a romantic feel. The 1/2 sleeved piece style is perfect for brides favoring bohemian or vintage-inspired wedding ceremony. Though it features all-over lace appliques, the whole illusion effect creates a modern look.
The v-neck and mermaid lace gown is very popular among brides who love the feeling of traditional meeting seductive. With a low back and neckline to define the silhouette, the middle mermaid lace piece is entirely elegant with a fresh effect.
Halter neckline and scalloped lace pattern gives a lace dress a classic look with edge. Worth obsessing over: the drawstring closure back can also add femininity on the whole look which you can find on the first right dress.
Low Backs
You can't miss trendy wedding dress 2022 with low back details. A low back or open back wedding dress is any bridal dress that has an opening in the back. This includes everything from keyhole back details to daring halter and deep V-back styles where the entire back is bare. That's the beauty of the open-back wedding dress and this style dress has always been a classic over year and year again.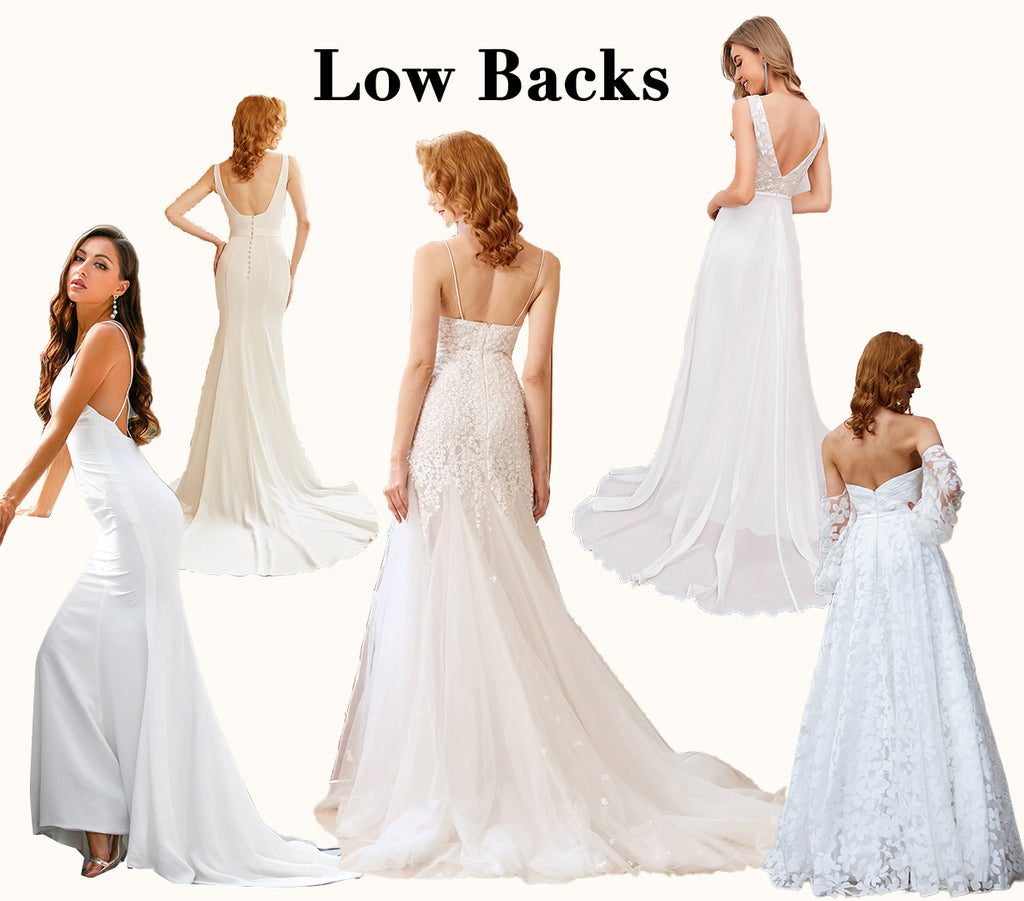 (Shop: ZPKYYLH0808 Offwhite, ZPK03004939 White, YYZL128 White, ZPKYYLH01206 White, YYZL142 White)
If you are a statement-making bride, a sexy backless wedding dress should be your go-to style on your wedding day. As a rule, the more daring the look, the lower the back is. For open back dresses, it's all about the details. Intricately-detailed lace backs, beautiful hand beading, and sweet buttons over an illusion back make for an unforgettable gown. For the ultimate in both glamour and drama, open back wedding dresses can be an ideal choice for anyone.
Sophisticated yet completely unexpected, an open-back is a beautiful choice for brides who don't necessarily want to show cleavage but still want an alluring pop of skin on their big day. 
From above you'll find some of the most favored backless wedding dresses from ZAPAKA of the year 2022.
Contemporary Clean
We firmly believe that your wedding-day look should celebrate and showcase your personal style. While some brides may covet dramatic ballgowns crafted from layers of voluminous tulle or heavily embellished fabrics, others may find beauty in clean lines and subtle details. If you fall into the latter category, you're a minimalist bride. And the 2022 popular contemporary clean wedding gowns must be your choice!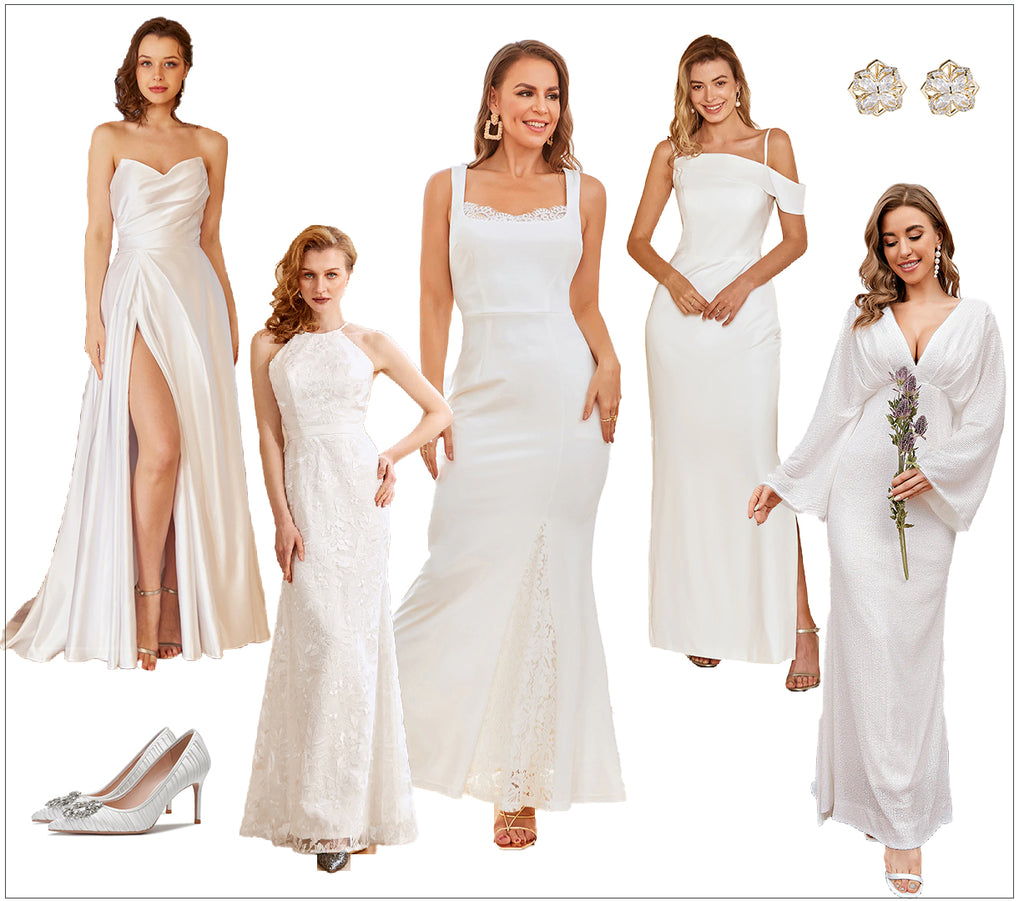 (Shop: YYZL130 White, YYZL123 White, ZPKYYLH20387 White, ZPKYYZL100 White, ZPKYYLH01201 White)
Among the contemporary clean wedding dress category, you can find simple and classic silhouettes like pared-back slip dresses, unadorned ball gowns, and courthouse-chic mini dresses. For the bride who seeks out simple designs with an unexpected twist, you'll love gowns that boast subtle and shimmering beading, romantic lace details, and modern necklines. Whether you're having an intimate backyard ceremony, throwing a glamorous black-tie wedding, or exchanging vows at city hall, there are scores of simple wedding dresses out there to complement every bridal style and venue. Plus, when it comes to unadorned gowns, you're bound to discover an array of options that won't break the bank. Be sure to check out ZAPAKA most popular simple wedding dresses, you can always find something for you!
Fresh
Timeless gowns will never go out of style, and we love the idea of mixing it up a little to combine classic elements and modern details. If you are a bold and love trying new things type, the hot fresh wedding gowns would be your preference. Elements like larger-than-life sleeves are very popular in 2022 wedding dresses.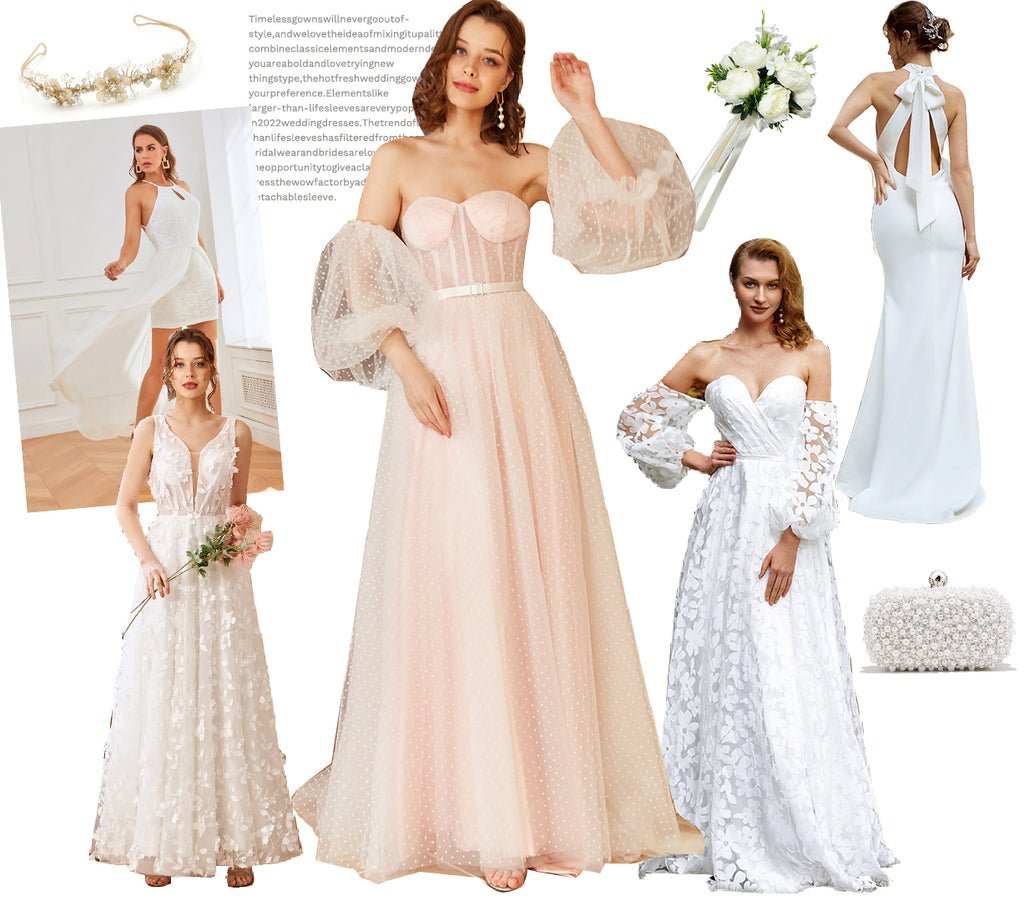 (Shop: ZPKYYLH20388 White, YYZL165 White, YYLH450 White, YYZL142 White, YYLH458 White)
The trend of larger than life sleeves has filtered from the catwalks into bridal wear and brides are loving the opportunity to give a classic, simple, effortless dress the wow factor by adding a detachable sleeve.
From the latest fresh wedding dresses , you can find other elements like self-tie backs, bows, feathers, removable trains, skirts and exciting on-trend details.
Light & Airy
Light wedding dresses make you look and feel like a princess, but still move around freely and even dance around with ease. This explains why our 2022 newly-wed brides favors this style and bring them to the most trendy and popular collection! The latest 2022 lightweight wedding dresses are made with free-flowing fabrics that move with your body and are extremely lightweight.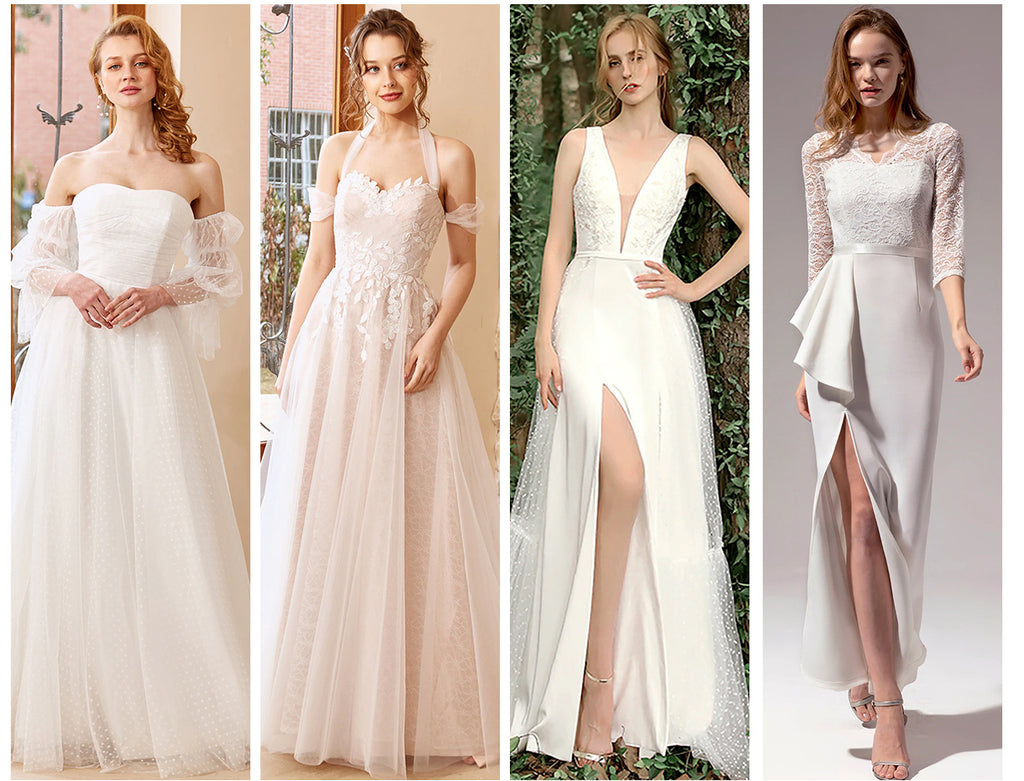 (Shop: YYZL139 White, YYZL138 White, ZPKCGLH0826, ZPKYYHX200124 White)
English net, soft chiffon, and sheer organza are used across our ZAPAKA wedding dress collection, giving life to the weightless and ethereal styles. If you are after a feminine, delicate look, be sure to check out wedding dresses featuring light & airy silhouette. This kind of looks compliments all body shapes and sizes, just adjust the length and style of the fabric to suit your gown and to draw the focus on the areas you want to highlight. 
Make Your Choice
If you are planning your wedding for 2022, these above are the wedding dress elements you must be aware of before shopping in-person or virtually.
It always comes back to what it is that you want as an individual. The most incredible wedding dresses over time have always been what suited the individual beautifully, not because they followed Wedding Dress Trends, but because they were true to themselves and what they actually liked.