10 Suggested Most Popular Prom Dresses 2022 for Petite Girls
Are you getting excited? The prom season is just around the corner! Haven't decided your the-one-to-go prom dress? You should read this article! Here we have collected 10 most popular 2022 prom dresses that is specially designed for petite girls. We believe that whatever your body type is, there is a perfect style dress to accentuate your assets. For petite girls, you may be confused or frustrated to find one dress that fit you perfectly and bring out you the shiniest part. And you would definitively do everything to avoid the feeling of getting drown in fabric, lucky you find this post! Keep reading on this blog, we have prepared you the selected 10 prom dresses that is super lightweight and body-flattering for small framed girls! 
 1. Small Ball Gown for Petite Girls
Petite girls typically want to appear taller in their prom dresses, so can a short girl wear a ball gown? Would it be too full and make the whole look even shorter? The answer would be 'YES! Don't do that!' The traditional ball gown with magnificent full bottom would be a disaster on short girls and it does nothing help on lengthening your height. Remember to avoid all those types ball gowns. But based on the report and feedback of our customers, ball gown with straight cut instead of traditional magnificent shape will make girls look slimmer and taller. Sometimes a piece of belt around the empire waistline also works and at the same time adds extra touches.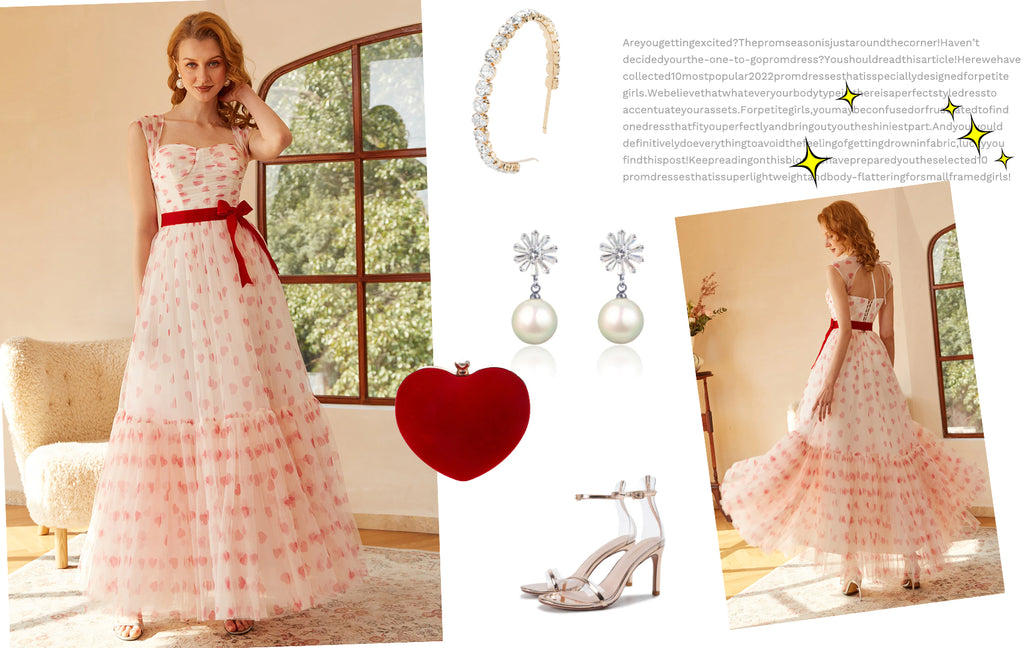 Recommendation Dress #1:
This ZAPAKA pink and white tulle ball gown features all-over heart prints, which gives this dress a very sweet and romantic look. The whole silhouette is not like a traditional ball gown but more of an A-line. The moderate layers of tulle give the dress proper volume and offers an eye-pleasing look.
 2. Tea Length Prom Dress for Petite Girls
A short girl wearing a short dress can be rather cute than a tall girl. Other than that, you can take the chance to show off your selected pairing shoes as well. Sheath silhouette is only for slender or curvy body type. Choose A-line short dress that looks good almost on any body type. Cute petite girls like you shouldn't wear anything too long, it will swamp you! Your dress should be about knee length, and make sure it comes in at the waist so that you're not drowning in material. Perfect!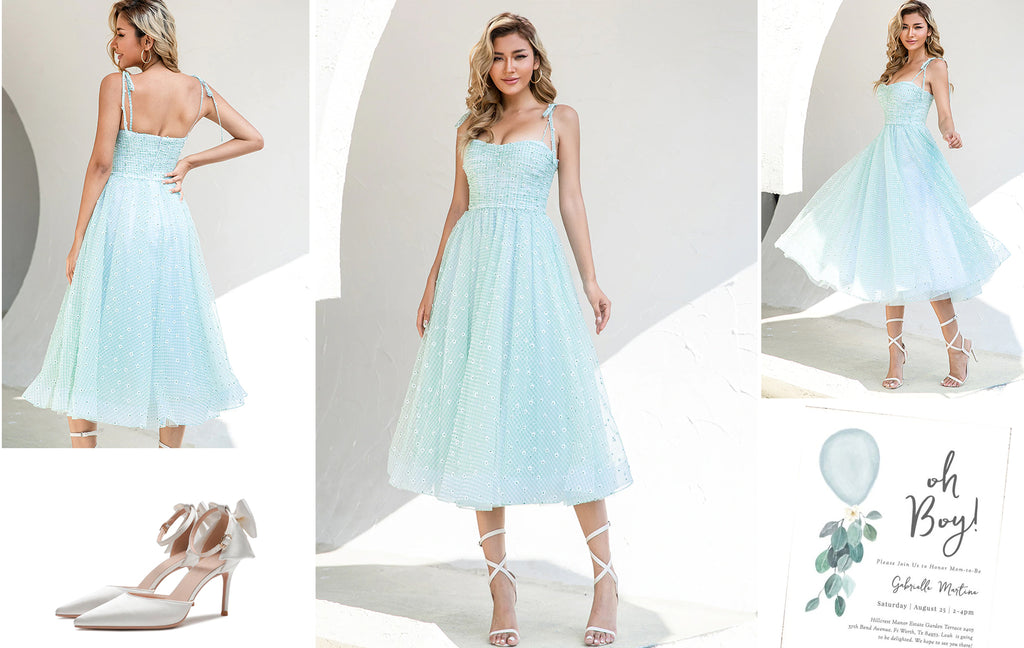 Recommendation Dress #2:
This mint green ZAPAKA tea length prom dress holds an A-line silhouette, fit-and-flare design. The white flower patterns dotted on the whole dress offer a youthful vibe. The sweetheart neckline and adjustable straps adds more sweetness on this dress. The sheer tulle layer is light and flowy, pairing perfectly with the fitted bodice. Put on this dress, you can move easily on your party and be gorgeous the same time!
 3. Burgundy Prom Dress for Petite Girls
Burgundy, one of the most beautiful shades of red, is so popular on women's dresses. It's the color of the wine, a universal, classy color which could be a perfect replacement for black. This color won't talk too loud about your presence, but you will get an opportunity to play with details and accessories. There are so many beautiful burgundy prom dresses of all lengths and silhouettes for you to choose from. As a petite girl, you can also slay one burgundy prom dress with confidence, see the burgundy dress for your reference.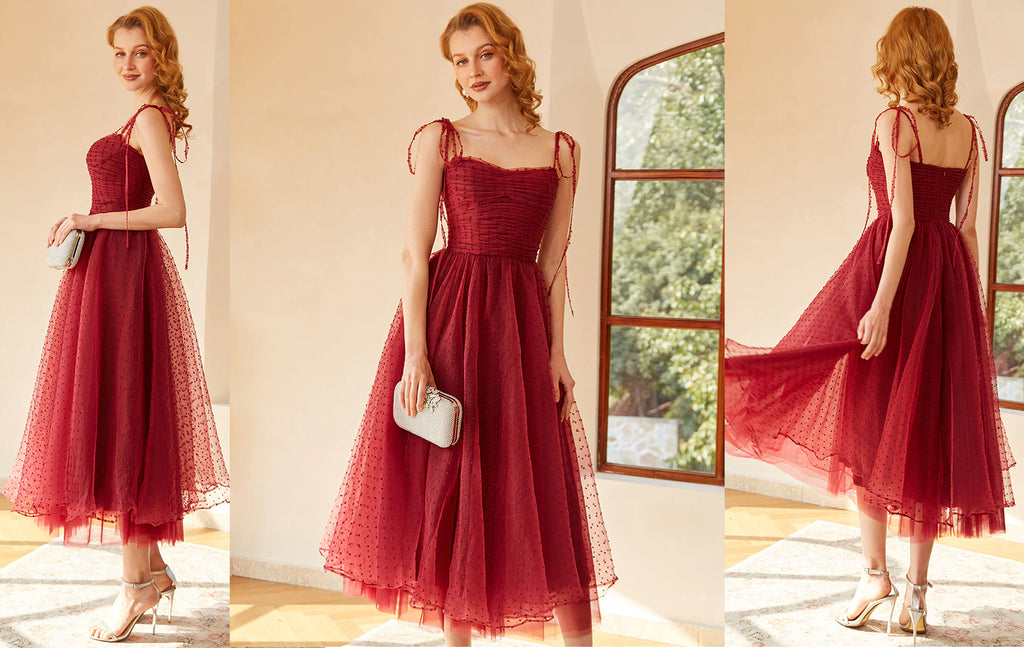 Recommendation Dress #3:
This ZAPAKA burgundy prom dress is designed for short girls to have an elegant and glamorous look. The whole dress is covered with a sheer tulle layer covered with raised dots which offers a quality and dainty feeling. The fitted bodice is fully ruched, creating the volume of slender effect. The adjustable straps on the shoulder can be tied into cute bow knots. This dress can be an ideal pick for your prom party. 
 4. Floral Embroidered Prom Dress for Petite Girls
Embroidered gowns is perfect for formal events like Prom. Beautiful embroidery can be found on many types of prom dresses and in varying amounts, from small embroidered accents to all over embroidered appliques. Among embroidered prom dresses, lace, sequin, beaded, and metallic embroidered appliques are popular, while prom dresses with embroidered flowers are the most popular this season of 2022. Floral appliques on a prom dress add texture and a unique design that's sure to catch the eye. If you are a petite girl, floral appliqued prom dress can help you draw attention and show your sweet part and lovely inside out.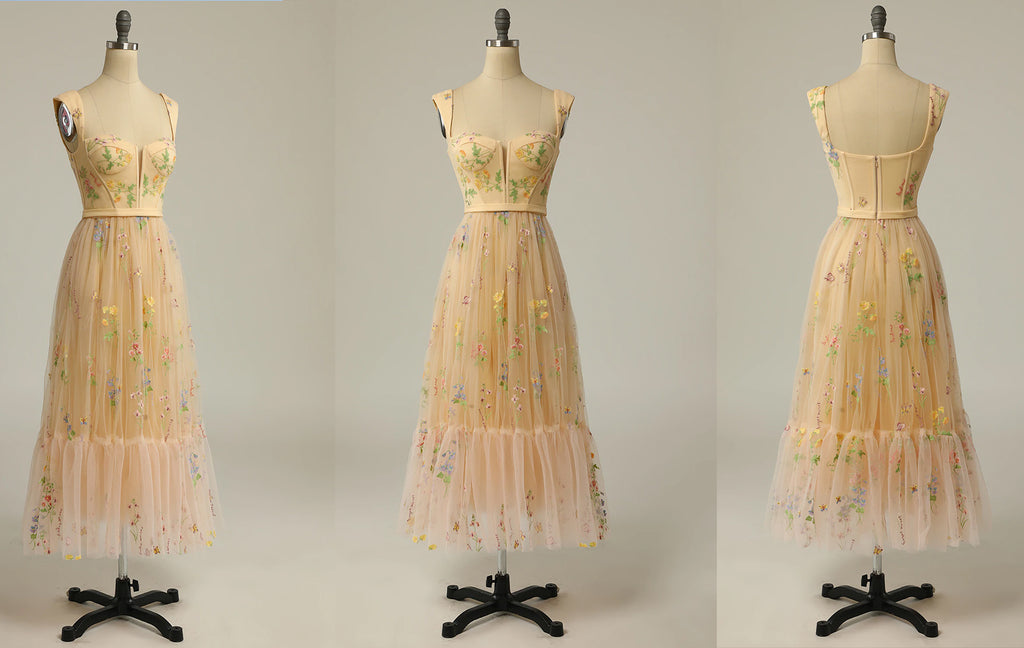 Recommendation Dress #4:
This ZAPAKA nude floral embroidery prom dress is perfect for petite girls who's a fan of country style. It is consisted with a stretchy bodice and a layered tea-length skirt. The square neckline shows proper amount of your skin and the length of the whole dress offers the chance to show your beautiful ankles. The plunging small V panel add an appeal of sexiness to the girl on this dress.
 5. Off-the-Shoulder Prom Dresses for Petite Girls
Off the shoulder design on dresses is timeless, it offers eye-catching and gorgeous look, suitable for both formal and semi-formal event. Versatile and beautiful, off the shoulder prom dresses have structured bodices that bear the weight of the gown, so the straps can be draped delicately across the shoulders, showcasing the collarbones in a flattering way. To combine the off-the-shoulder element into your prom dress, petite girls can consider a tea length tulle prom dress, which show off your shape without shrinking you.
Recommendation Dress #5:
This ZAPAKA pink tulle off the shoulder prom dress features unique off shoulder neckline. A layered bow knot is delicately tucked at the left of the waist. The voluminous full skirt holds its shape, offering a princess look. The best part is the all-over shiny silver heart patterns on the dress which is really sweet and eye-catching. With this dress, you'll want to start spinning on the dance floor!
 6. Champagne Prom Dresses for Petite Girls
Girls like champagne dresses, because champagne is the quintessential celebratory drink. You will enter a new period in your life with joy, sparkle, style, and elegance with a champagne dress. The champagne color is quite similar to beige, albeit not exactly the same. It is warmer with a dash of sheen. If you want to shine and sparkle throughout your special evening, you should definitely opt for a champagne gown. It will make a statement on your festive day. This year, popular styles of champagne prom gowns and dresses include spaghetti-strapped, modest, and sweet, romantic lace applique dresses as well as sheath dresses. For petite girls, we highly recommend tea length tulle prom dresses.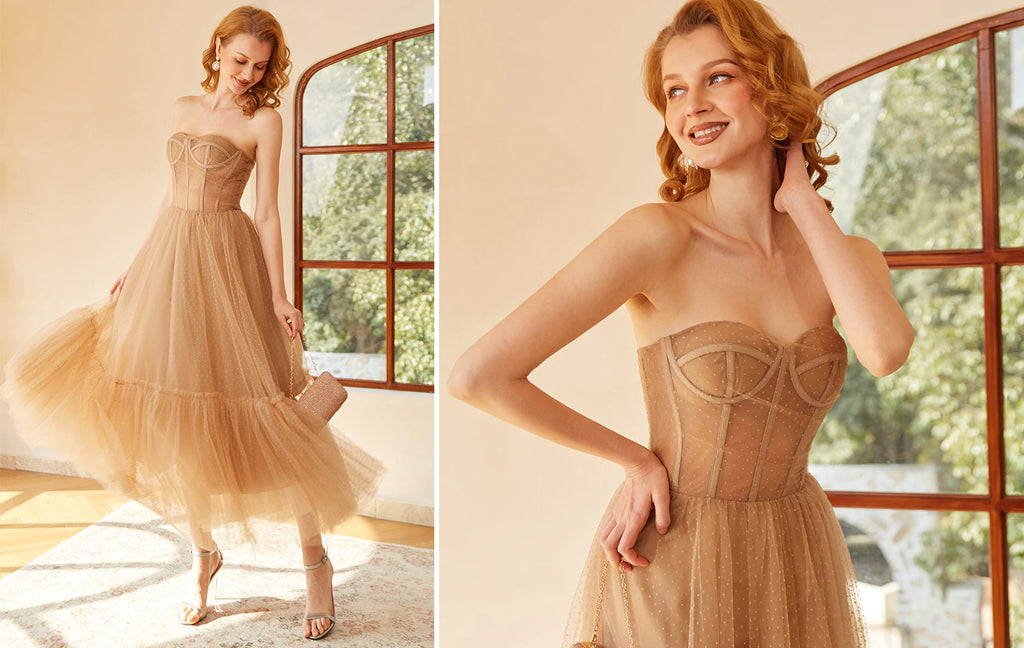 Recommendation Dress #6:
This ZAPAKA champagne dress defines elegance and vibrancy. Featuring a strapless sweetheart bodice, this champagne dress is the synonymous of sexiness. The lined structured top perfectly hugging your body, while the fluffy skirt adds formal touch on this dress. The dotted sheer overlay brings the cuteness of this dress to next level! Really consider this dress if you are a great fan of champagne dresses! 
 7. Long-Sleeved Prom Dresses for Petite Girls
Long-sleeved prom dresses are a go-to trend for many graduates this prom season. Puffy sleeves made with breathable sheer tulle material is suitable for all prom parties say your prom is in Spring or Summer. Based on your school's dressing code or your personal preference, long-sleeved prom dress is perfect for adding little coverage.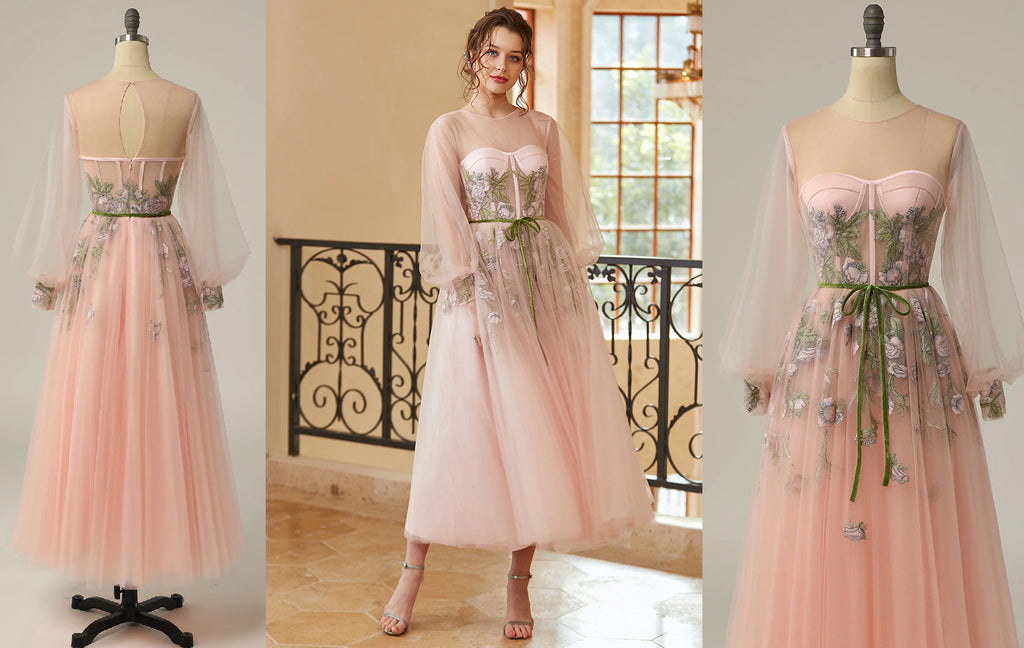 Recommendation Dress #7:
This blush ZAPAKA tulle long-sleeved prom dress is perfect for short girls to achieve a fairy look. Featuring two main colors, blush and grass green, this dress is an expression of Spring, Hope and Future. It represents a new chapter. Take this dress to your prom and say hi to your next-step new life!
 8. Solid Simple Prom Dresses for Petite Girls
Complex is not always best when it comes to prom fashion. There's a growing trend to wear simple, streamline dresses. These elegant and classic styles can still have amazing outlook, remaining minimal and beautiful. Free from many embellishments or fussy features, these dresses place a focus on clean lines and blissful simplicity. They create a timeless look which means no 'dress regret' when looking back on those prom photos in years to come!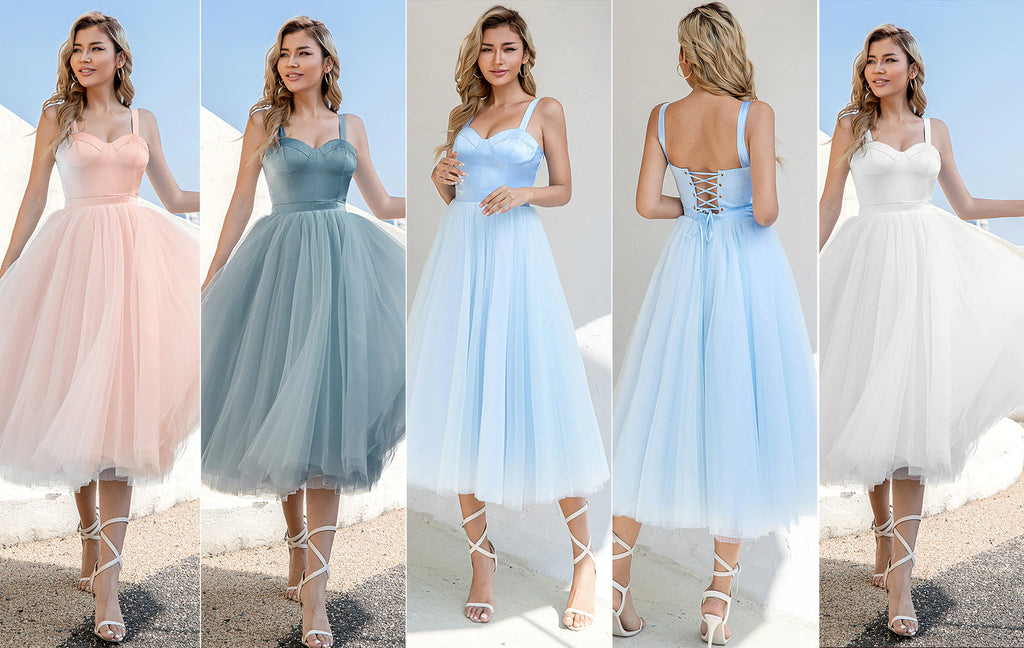 Recommendation Dress #8:
This ZAPAKA sky blue prom dress is perfect for petite girls who favor clean dress designs. The fitted & strapped bodice made with silk-like fabric has a low sheen which gives smooth of touch. The right amount layered tulle on the skirt adds enough volume of formal touch to this dress. Clean and simple, this sky blue dress is a stunning prom dress choice. 
 9. Strapless Prom Dresses for Petite Girls
Embrace your own personal style at prom with a strapless prom dress. Strapless gowns are a classic option when shopping for a prom dress as it makes every girl look elongated and elegant. You will feel like a princess in a fairytale in a beautiful pink strapless prom dress complete with pockets. Go for the chicest look of the night when you choose a strapless prom dress featuring beads and cut outs. With V neck and sweetheart neckline options, there are countless way to make a strapless prom dress all your own.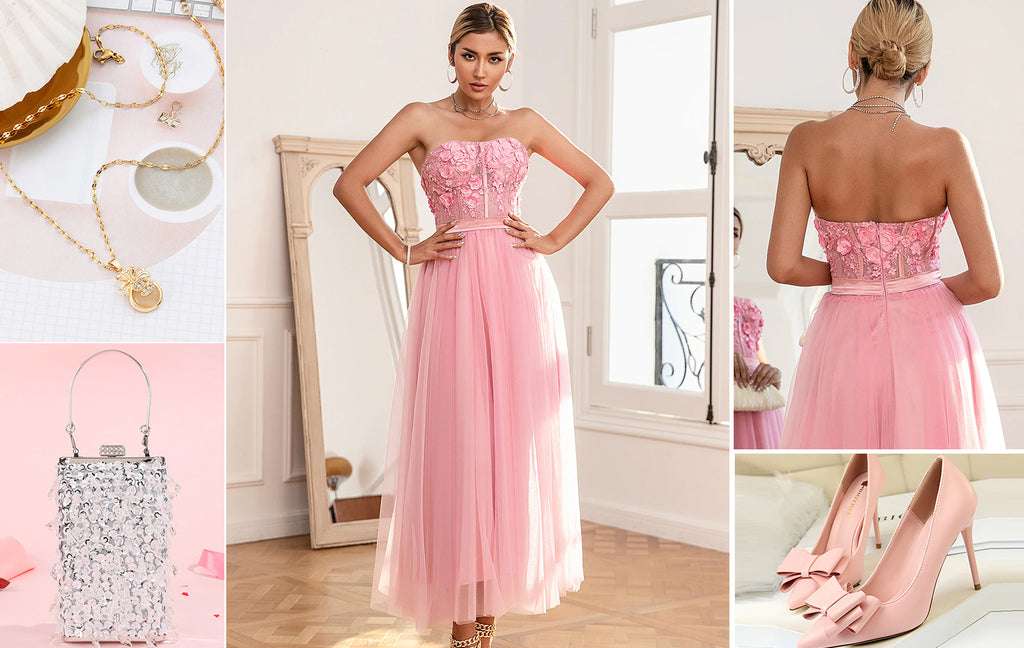 Recommendation Dress #9:
This ZAPAKA pink strapless tea length prom dress holds a 3-D floral appliqued bodice and a draped ankle-length tulle skirt which make you appear taller. Made with soft tulle and high quality lining fabric, this dress is not only beautiful outside but comfortable to wear.
 10. Long Prom Dresses for Petite Girls
Can short girls wear long prom dresses? Yes, while you should really take the design of the dress silhouette into consideration, it is on the decisive place to decide whether the long dress looks good or not. Long prom dress with a more sheath silhouette would be ideal for small-framed girls.
Recommendation Dress #10:
This light blue ZAPAKA tulle dress with cold shoulder design and wide bottom hemline is super romantic and offers an innocent appearance. This dress with a silhouette between A-line and sheath is perfect for petite girls to pair with high heels which can suddenly elongate your height. If you are after fairy and romantic style dress, this dress is hiiiiiighly recommended!
Petite Girls, Stay Tuned on Tea-Length Dresses
It can hardly go wrong for petite girls to wear a tea-length prom dress to that big day. As the style of mid length dress can best express your personality and flatter your body figure. Prom is really around the corner, and be sure get started the search of tea-length prom dresses now! Secure your eyes on tea-length dresses, you would find ' wow, it can be so easy for me to find a formal dress and I can really have so many gorgeous plans!' And last be sure to visit ZAPAKA where you can shop for the latest prom dresses, and check out the YouTube Channel for tons of great fashion tips and a whole lot more.