Top 9 Hottest Stretchy Prom Dresses You Need To Know in 2022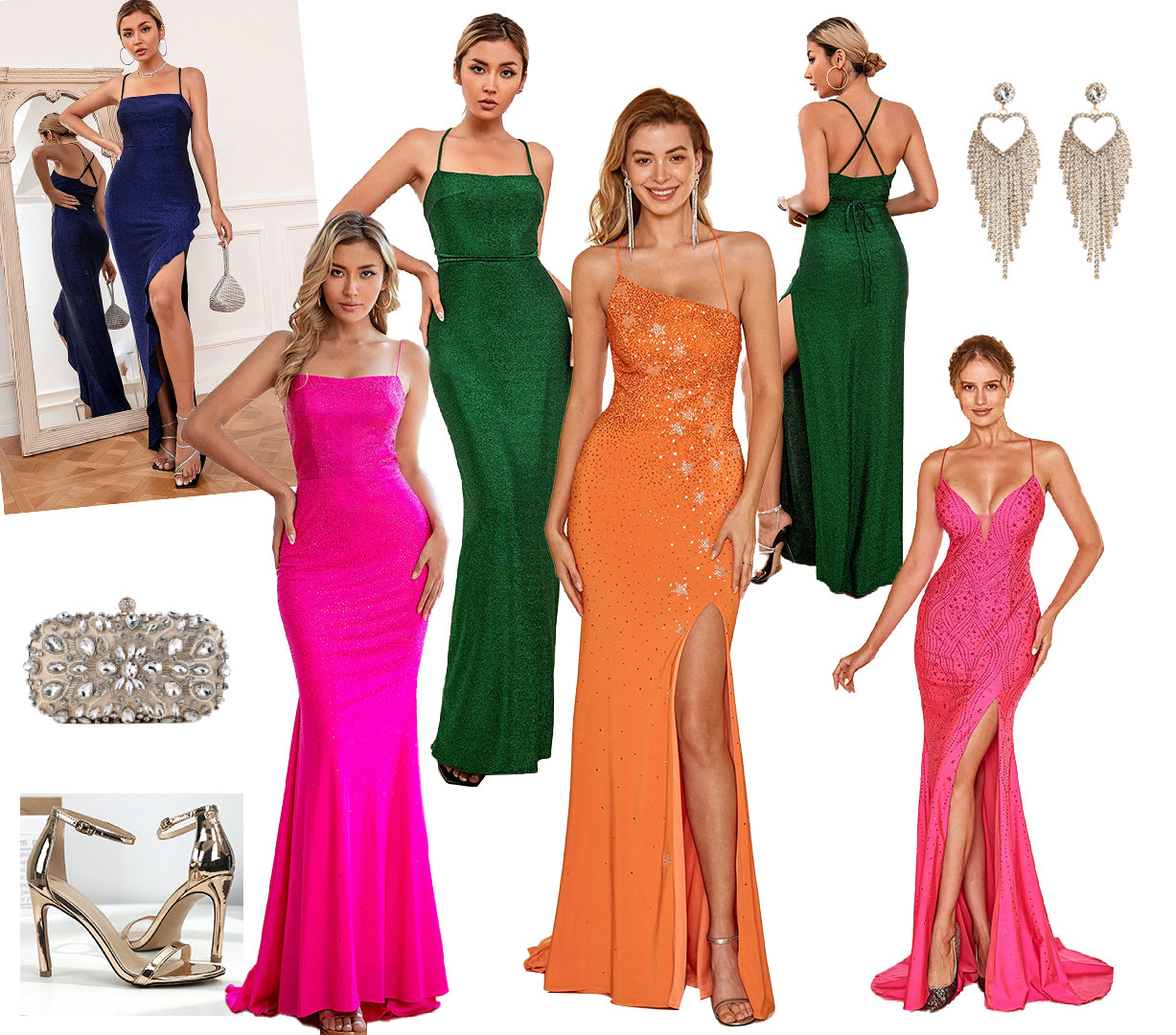 Prom is really the trademark moments of every girl's high school experience, and many the fashionista aims to leave a great strike with a unique outfit for this exciting evening. For those willing to go the extra mile to search for a 100% satisfying prom dress, you would not want to miss this article!
There are so many prom dresses out there online or offline for you to choose from, made with all kinds of fabrics, like satin, lace, taffeta, tulle, organza and so on... While among them all, prom dresses made with elastic fabrics is a bomb! We believe it is Stretch Fabrics that make Fashion comfortable. To look for the stretchy prom dresses, lock your eyes on items made with soft jersey, springy spandex, stretch crepe, stretch lace, stretch mesh... In this article, we are going to show you 9 gorgeous stretchy prom dresses that is very popular in 2022!
Top 1. Stretchy Fuchsia Mermaid Prom Dress
"Dress fabrics that stretch can expand over the curves to comfortably showcase your figure, while other fabrics simply won't budge."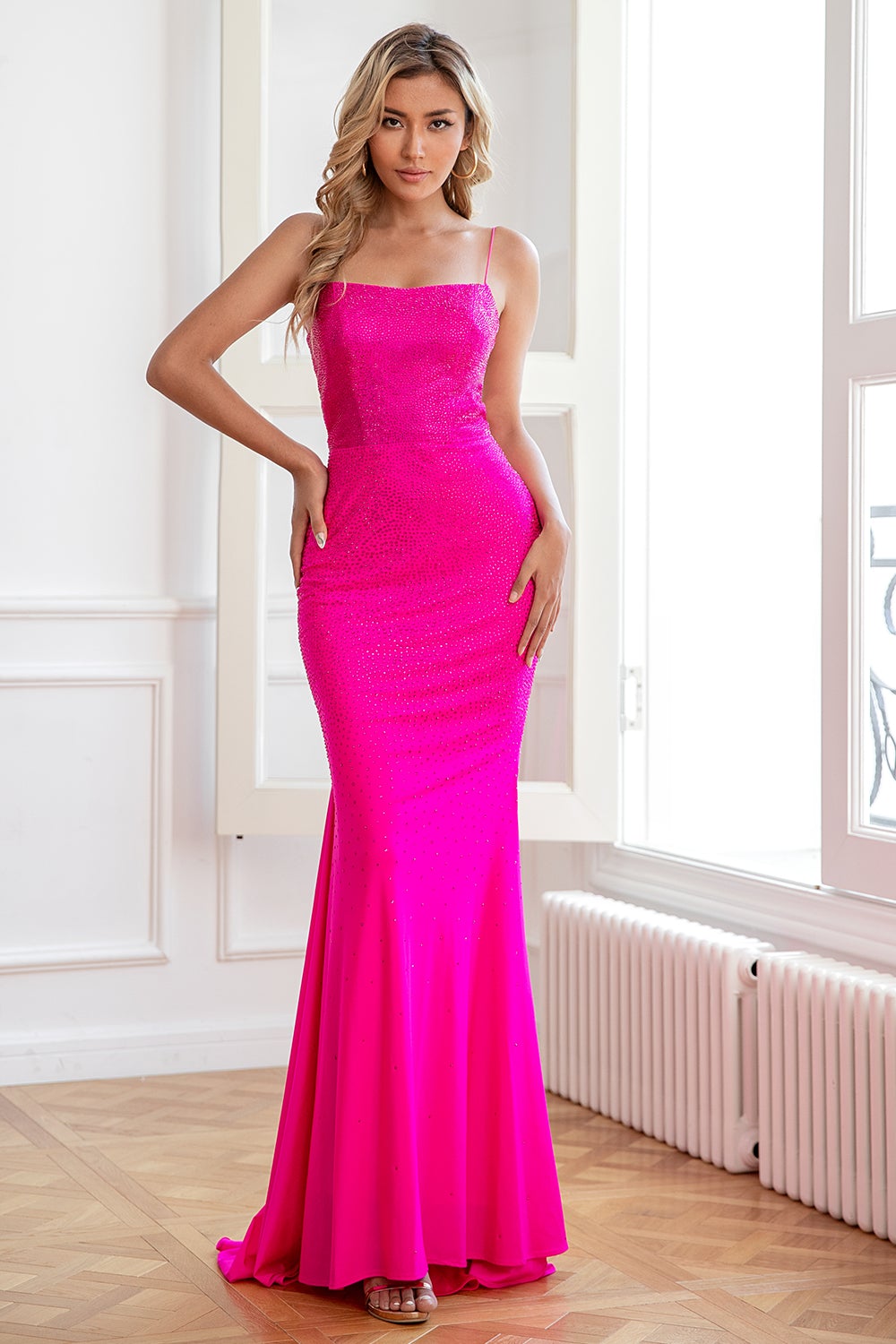 (Shop: ZSCEYY1128 Fuchsia )
This fuchsia prom dress is made with elastic polyester, very skin-friendly and comfortable to wear. It is one of the best-sellers on ZAPAKA site, very welcomed by prom girls. The upper part of this dress is fully sequined, when it comes to the below-thigh area, the number of sequins gradually decrease, giving the whole sequin pattern a unique look. Featuring a chic square neckline and a draw-string back closure, this prom dress has a body-flattering mermaid silhouette. The length of the dress in the front is right length to show a little peek of your new shoes, while the back is coming with a small but dainty train, adding the enough elegant to this dress. This stretchy prom dress is good for all body types, feminine and eye-catching.
Top 2. Royal Blue Stretchy Ruffled Prom Dress
"There is nothing worse when a dress only looks good but is extremely uncomfortable! "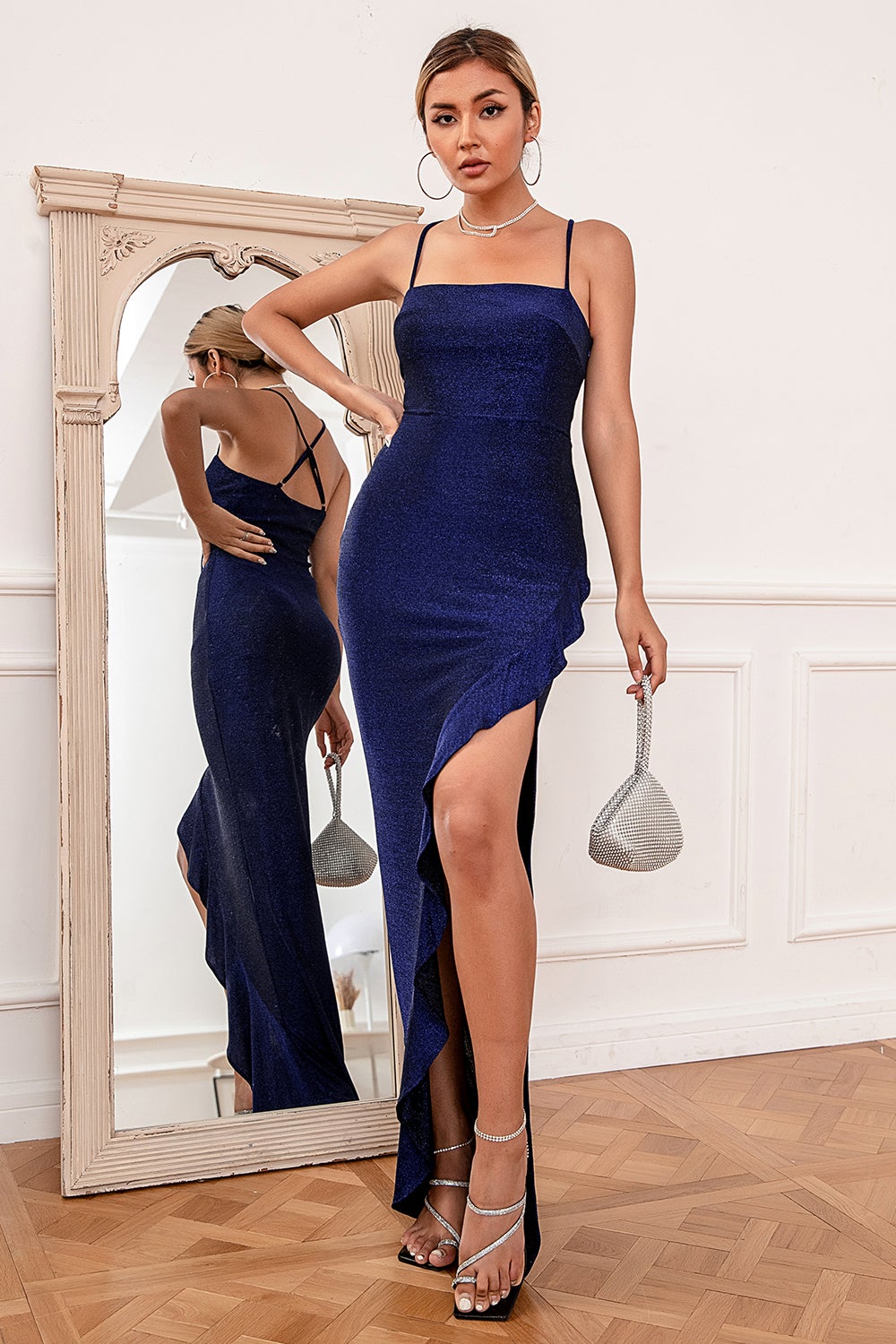 (Shop: YYLH20432)
This royal blue gown is made for stand out. The elastic material used on this dress is light, soft and stretchy, offering you enjoyable time for its accompany. It has an all-over beautiful sheen that gives you the right amount of low-key glamour. This dress is not structured very long, which is perfect for petite girls to slay on. Featuring a dainty square neckline in the front and a criss-cross open back, this body-flattering dress has a ruffled side slit that combines sexiness with grace. The royal blue on this dress is very beautiful, people love blue, especially men. Royal blue prom dress is elegant, peaceful, idealistic and charming. To pair with this stretchy royal blue dress, you will need a pair of glittery silver heels or nude high heels to make a great match. The outfit can be both elegant and classy.
Top 3. Hunter Green Sheath Prom Dress
"If you are looking for a prom dress that will allow some wiggle room in measurements, stretchy prom dress would always be the way to go."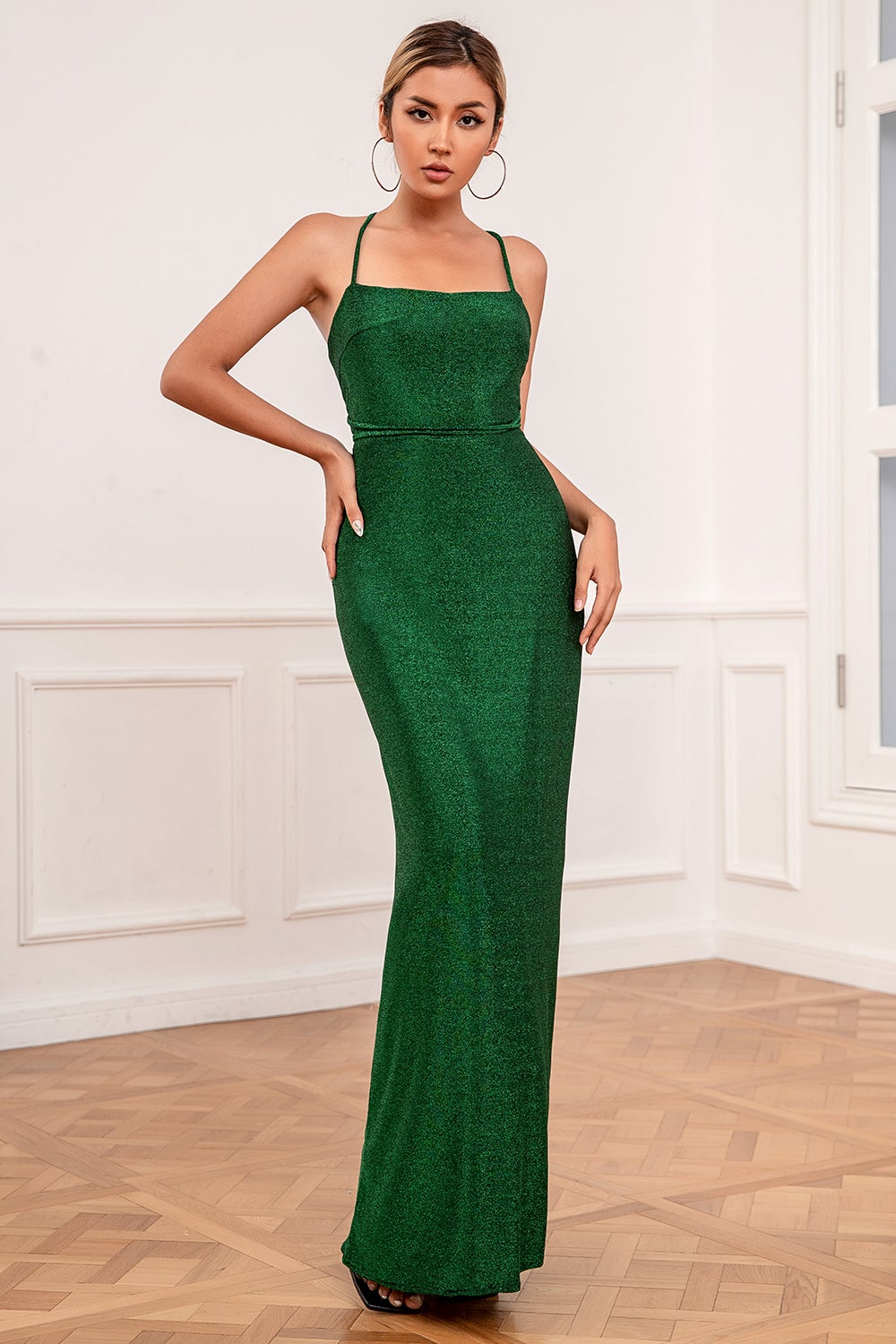 This hunter green prom dress holds a floor length sheath silhouette, made with lightweight and stretchy material, can offer comfortable wearing experience. This green color is quite eye-catching, if you are a green fan, you would not like yo miss this hunter green piece. It has an all-over shimmering green sheen, provides a vibe of mysterious. Green is the prime color of the world, and it is a popular fashion choice color for many people today.
The design of the long straps around the neckline allows you to create a criss- cross open back and a defined high waistline. The high side slit gives this dress a pop of sexiness, allowing you to dance your night away.
The sheath silhouette and the fitted & straight cut on this dress combined to be the perfect way to show off what you got without being too obvious. Just because of its slim fit, don't assume this style is only for those with narrow frames. In fact, this dress can also flatter a curvier build by it drawing attention to and flattering your curves. 
 Top 4. Stretchy Asymmetrical Orange Prom Dress
"Stretchy fabrics move with your body and allow flexibility in sizing when creating the look you want to flaunt."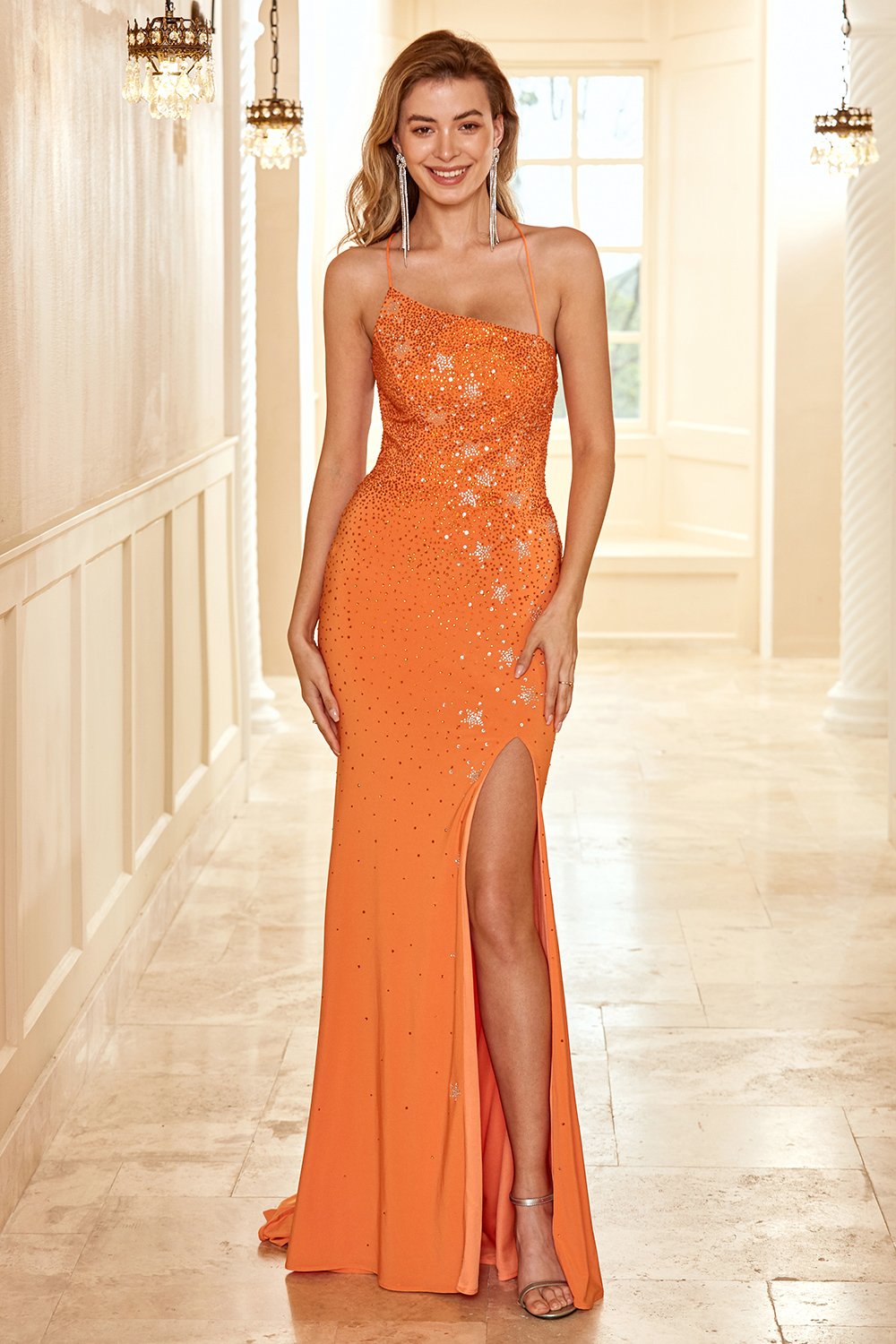 (Shop: ZPKZSCEYYC2102)
Made with super elastic polyester, this orange prom dress is a must-buy! Featuring an asymmetrical spaghetti-strapped neckline and a backless draw-string closure, this mermaid prom dress has a heavy load of sexiness! Fully sequined on the bodice and lightly sequined down below the thigh, this dress has a couple of pentagram sequin appliques lined from the very top to the end of the slit, giving a very unique look. There are very few can resist the charm of the color orange. It reminds you of the tasty juicy juice and gives you the feelings of enthusiasm and excitement. Mermaid-fit prom dresses are figure flattering. Long mermaid dresses will cinch your waist, accentuating your beautiful curves and revealing a sexy silhouette of you. If you're looking for a timeless style, you should really try this long stretchy mermaid prom dress.
Top 5. Long Stretchy Fuchsia Mermaid Dress
 "One of the biggest benefits elastic fabric has is comfortability, which is extremely important when you are wearing a prom dress."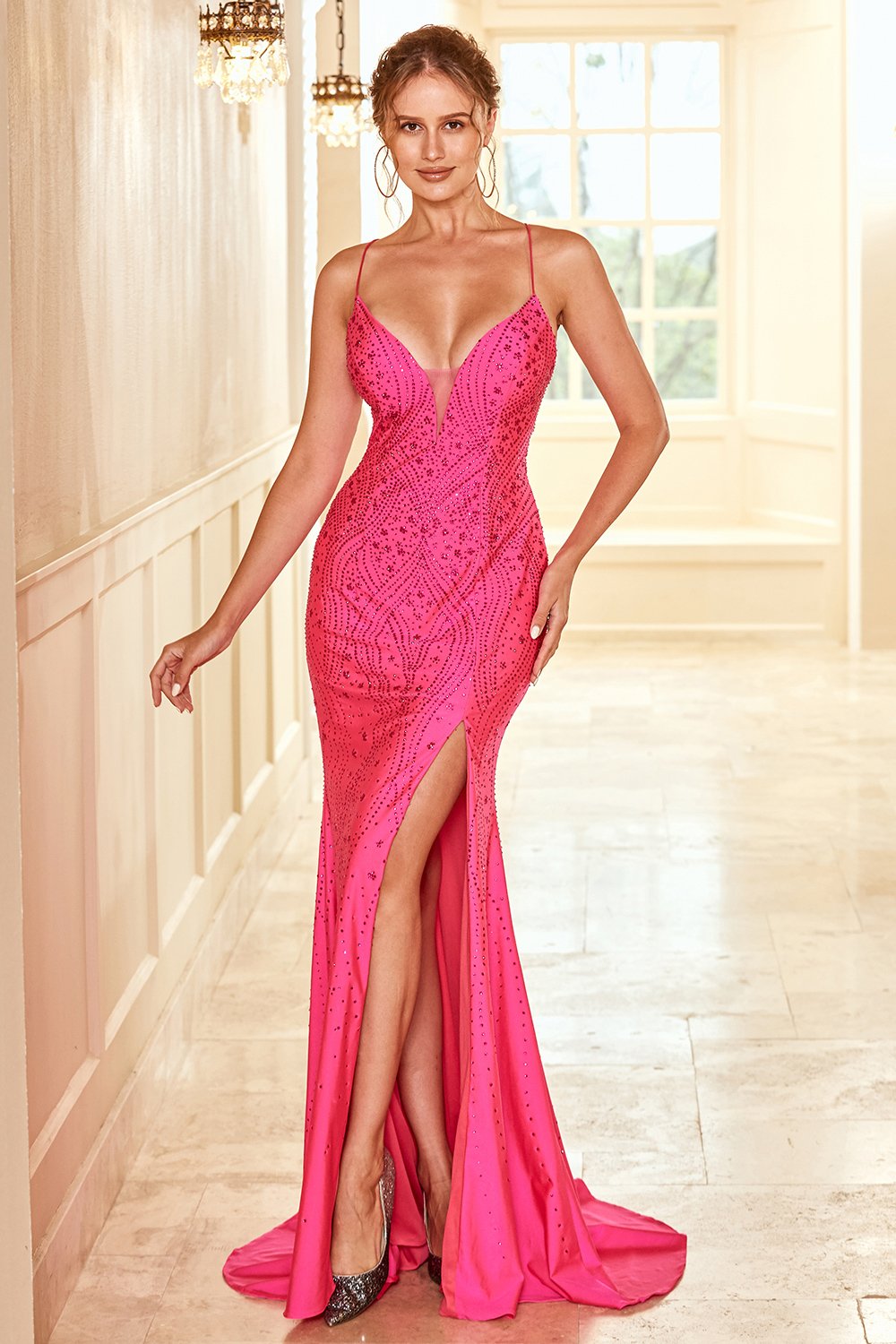 (Shop: ZPKZSCEYYC2101)
Fuchsia is a great option to make an impression as it immediately takes the limelight. We've seen it in celebrity outfits and in the trendiest street style ensembles in 2022, and it's also very welcome on prom dresses in this season. We have adapted this element into many 2022 ZAPAKA Prom Dresses.
This long mermaid fuchsia dress is made with 100% elastic material, which gives this dress great elasticity. The deep sweetheart neckline has a pink-tone sheer panel in between, offers a super sultry look. The spaghetti straps giving support in the front and tied in the back to create a criss-cross draw-string closure. The one-of-a-kind sequin patterns on this dress can make you stand out from the all. This dress is all about yes!
Top 6. Stretchy Satin Coral Prom Dress
 "Compared to other fabrics, stretchy material can easily lay over your body and give you a figure-hugging silhouette or a flowing, softly elegant look."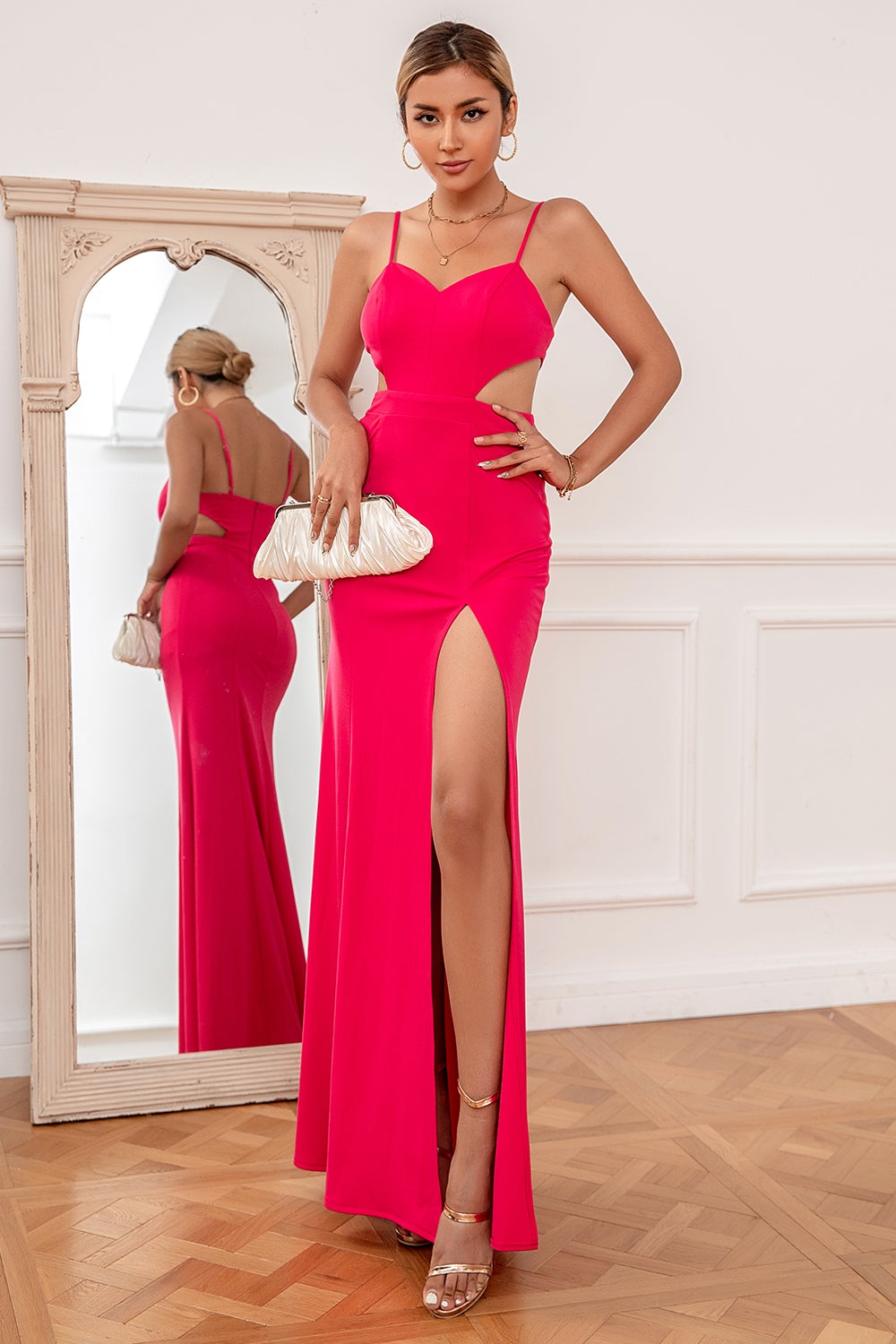 (Shop: YYLH20423)
This sheath floor length prom dress has adopted the stretchy satin to use, very comfortable to wear. The length of the dress makes it easily for petite girls to slay on. The cut-outs on the bodice defines the high waistline and makes your leg appear longer. The zipper closure helps you to easily pull on the dress. The left side slit gives right amount of sexiness and help you to move easily. This prom dress is versatile and a great buy.
Top 7. Plum Stretchy Sheath Prom Dress
 "The stretchiness of the fabric will give you an extra boost of confidence."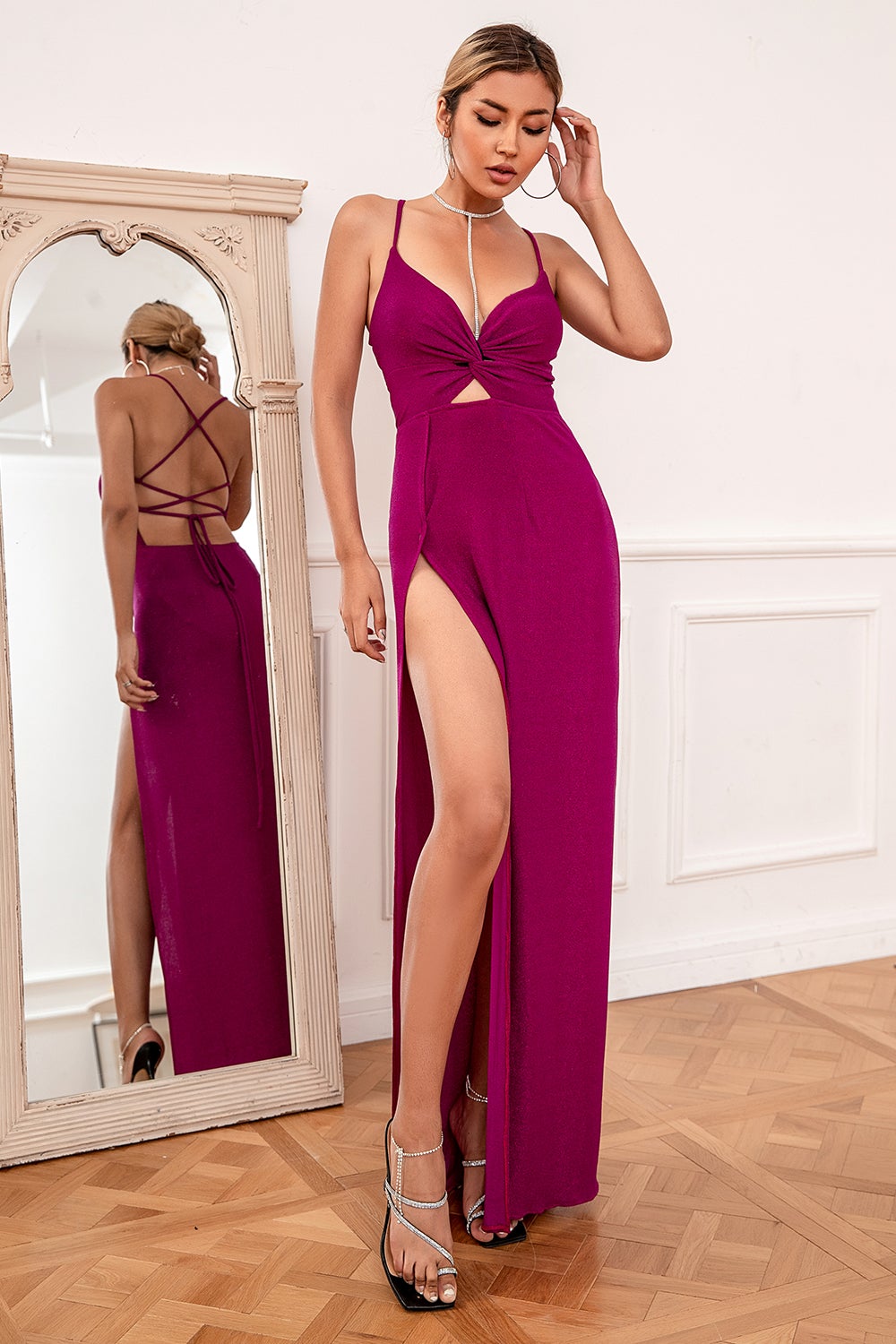 (Shop: YYLH20428)
This dress is made with 30% spandex and 70% polyester, given the nature of spandex, this dress is very stretchy and comfortable to wear. The knotted sweetheart bodice is ruched in the center, complying with a triangle cut-out right below, creating an illusion of two-piece. The classy straps cirss-corssed in the back and tied into a draw-string closure. The right side slit on the skin allows you to show some skin.
Top 8. Stretchy Square Sheath Prom Dress
 "The stretchy fabric will make your dress look elegant and luxurious."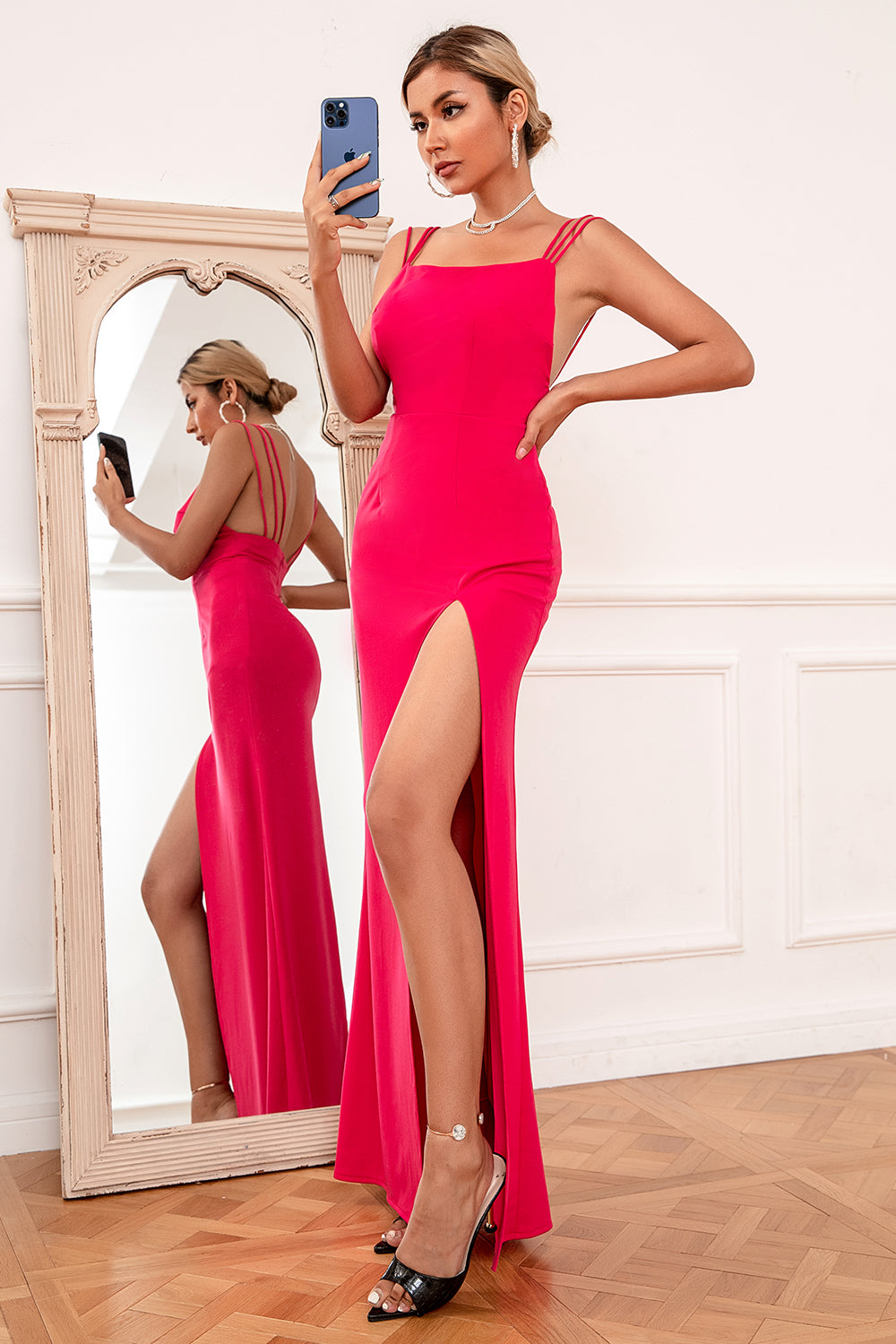 (Shop: YYLH20424)
 This stretchy satin prom dress is made with 80% polyester and 20% spandex. The simple design and the clean cut gives this dress a moderate look. The body-hugging effect is everything to show your assets. This dress can be a great investment that will not let you down under any occasion.
Top 9. Ankle-Length Stretchy Prom Dress
 "We aren't all shaped the same way, stretchy prom dress can fit all."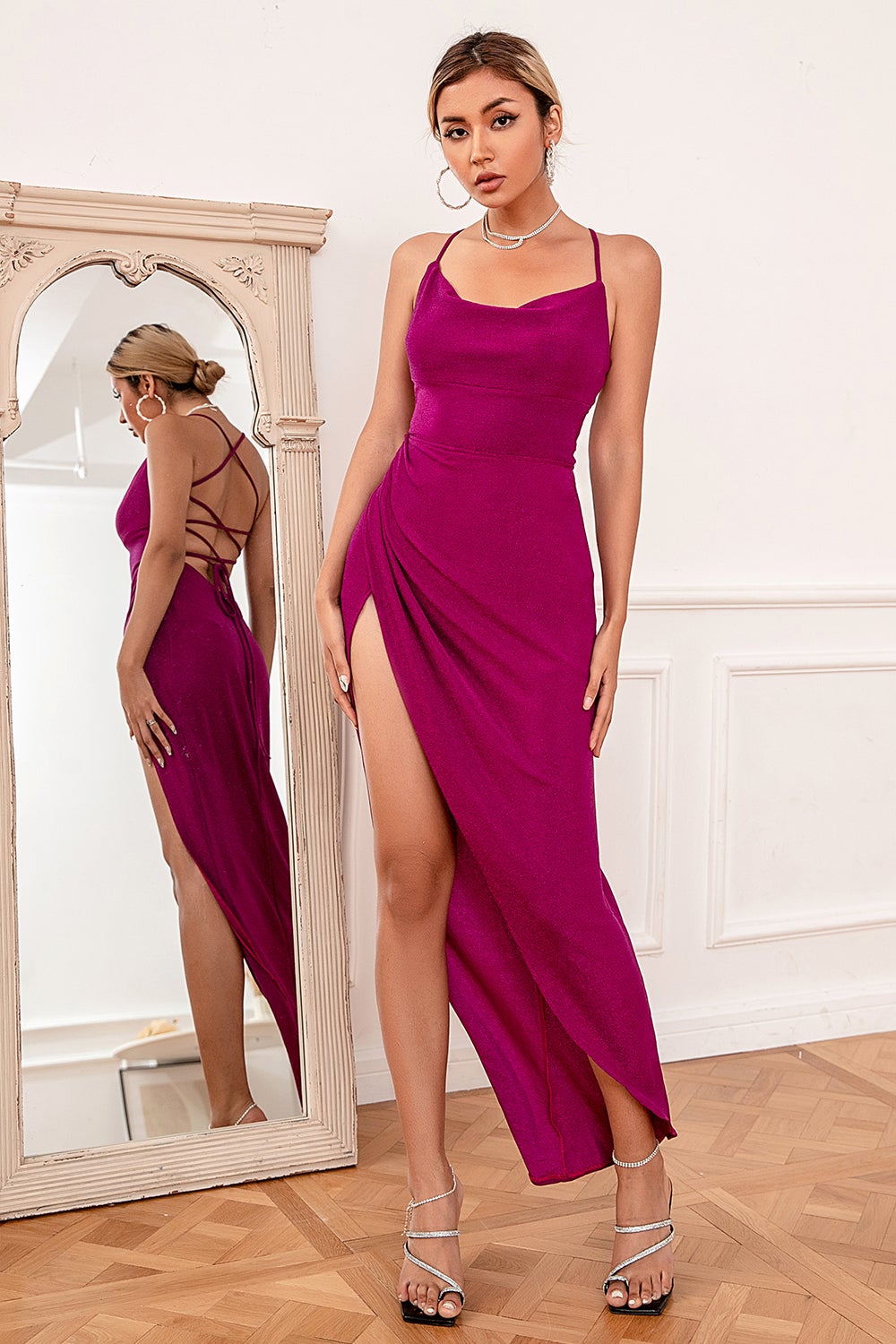 (Shop: YYLH20431 )
 This plum dress is made with stretchy and lightweight material. Featuring a draped cowl neck and a criss-cross back, this dress is covered with a shimmery low plum sheen. The cut out on the skirt gives enough exposure to your skin and offers a whole sultry look. Perfect for petite girls to slay on the prom day.
Make Your Decision
It can hardly go wrong for prom girls to wear a well-structured stretchy prom dress.  As the fabric nature of stretchy prom dresses can best express your personality and flatter your body figure. Prom is really around the corner, and be sure check out the elastic prom dresses now! Secure your eyes on mermaid or sheath silhouette, better with some sequin elements, you would find ' wow, it can be so easy for me to find a prom dress that really made for me!' And last be sure to visit ZAPAKA where you can shop for the latest prom dresses, and check out the YouTube Channel for tons of great fashion tips and a whole lot more.