8 Freshest Bridesmaid Dress Colors of 2022 All Seasons
If your original wedding plans were scuppered in the past 20 months, congratulations you can finally celebrate your big day in 2022! When it comes to preparing for your big day, there's a lot to consider, from bridal gowns, bridesmaid dresses to table decorations and flower arrangements, it's all rely on you.
As with every new year, a fresh wave of wedding trends is upon us. Depending on your wedding style, be it classic, boho or glam, the choice of bridesmaid dress is a crucial element to consider if you want a cohesive feel for your big day. You may have two to twenty maids in your line-up that day, the right choice of the dress colors can perfectly tie the details of your big day together.
In this article, there are 8 freshest colors of bridesmaid dresses for your reference. No matter when you are going to get married, in spring, summer, autumn or winter, these bridesmaid dress color trends for 2022 will ensure a decidedly fresh look for your special day, with something to please every taste.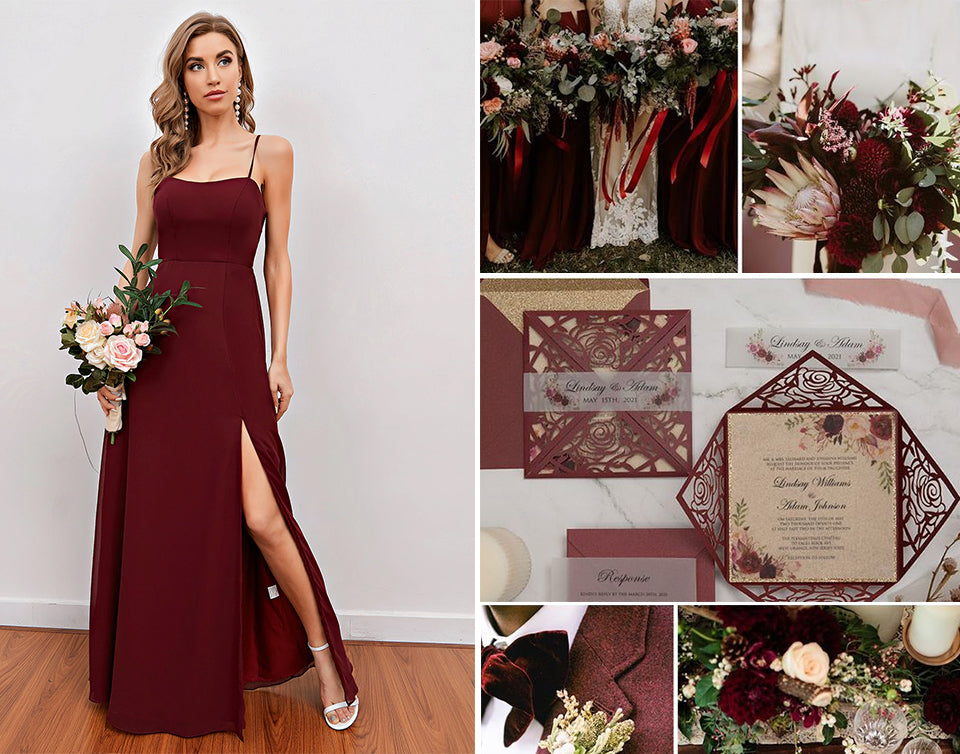 1. Slate Blue
Slate blue is a soft, statement color. It is both a classy and contemporary color. Slate blue bridesmaid dresses are romantic, timeless, and so ZAPAKA. With more grey than a classic baby blue, slate has deeper icy undertones, making it an ideal winter-to-spring choice. Your bridesmaids can have any hair color or skin tone. It doesn't matter - this color looks fabulous on everyone. It is a natural color that will complement any person.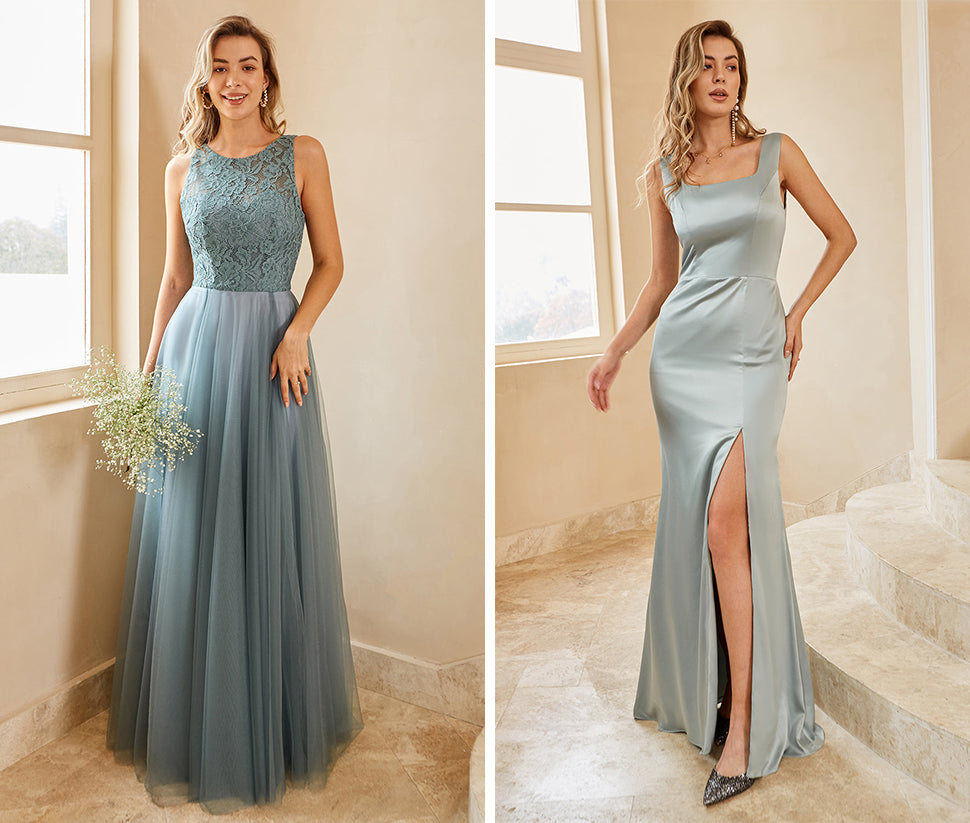 2. Burgundy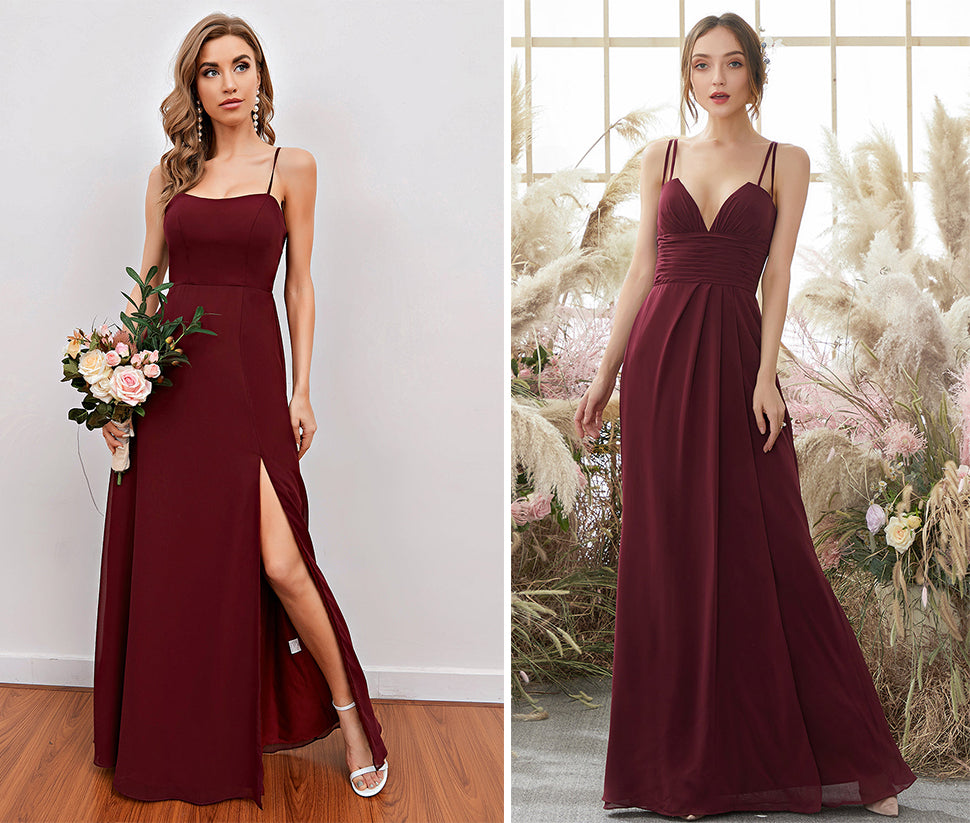 (Shop: ZPKYYLH01203, ZDGAS110 )
Burgundy is a seasonless color that is sure to turn heads as your best babes walk down the aisle. The darker red shade looks stunning next to your white dress–and it pairs well with lighter spring accents like greens, neutrals, pale pinks, and yellows. We LOVE this deep red, especially in the winter and fall months. The color itself represents sophistication, power, and beauty. No matter your bridal aesthetic is chic or whimsical, there is a burgundy-hued bridal party dress that will complement your style and look great on your favorite gal pals.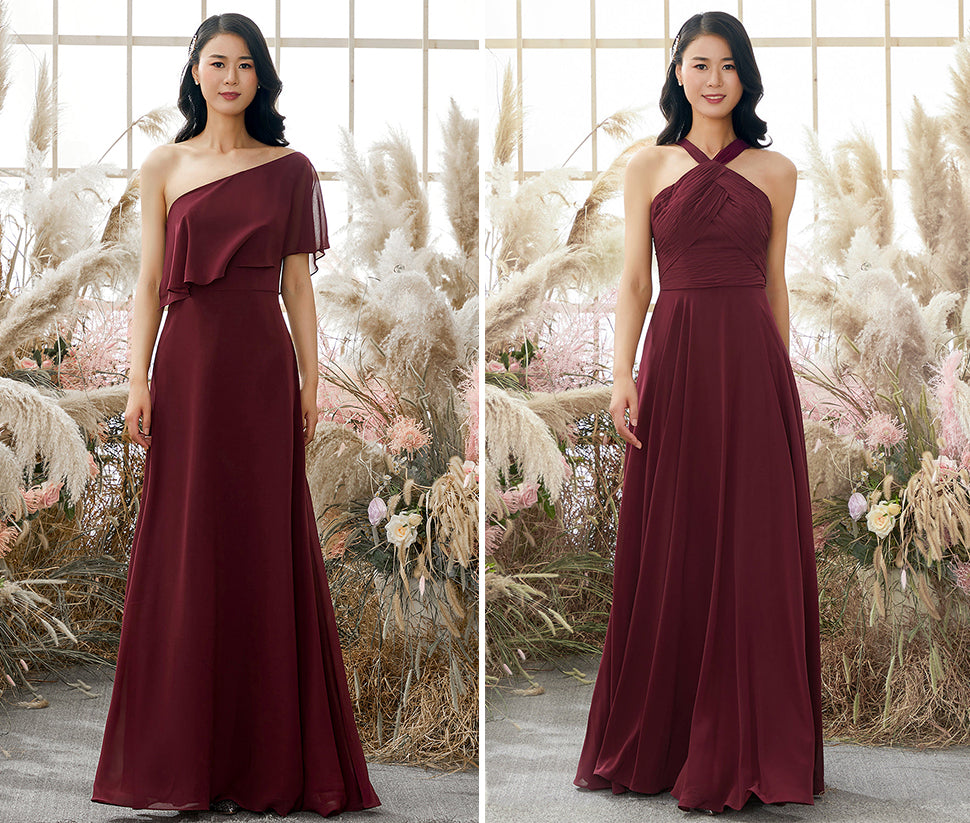 (Shop: ZDGAS93910, ZDGAS112 )
3. Blush Pink
From classic blush gowns to magenta mini dresses, pink bridal party dresses come in a wide range of shades and silhouettes to complement all skin tones and bridal styles. Blush is a spring classic–and a color that never goes out of style when it comes to weddings, versatile and universally flattering. Your bridesmaids will look gorgeous in blush, surrounded by all of nature's changing colors. Pair it with lush greens or different shades of pink and you've got your perfect spring wedding palette.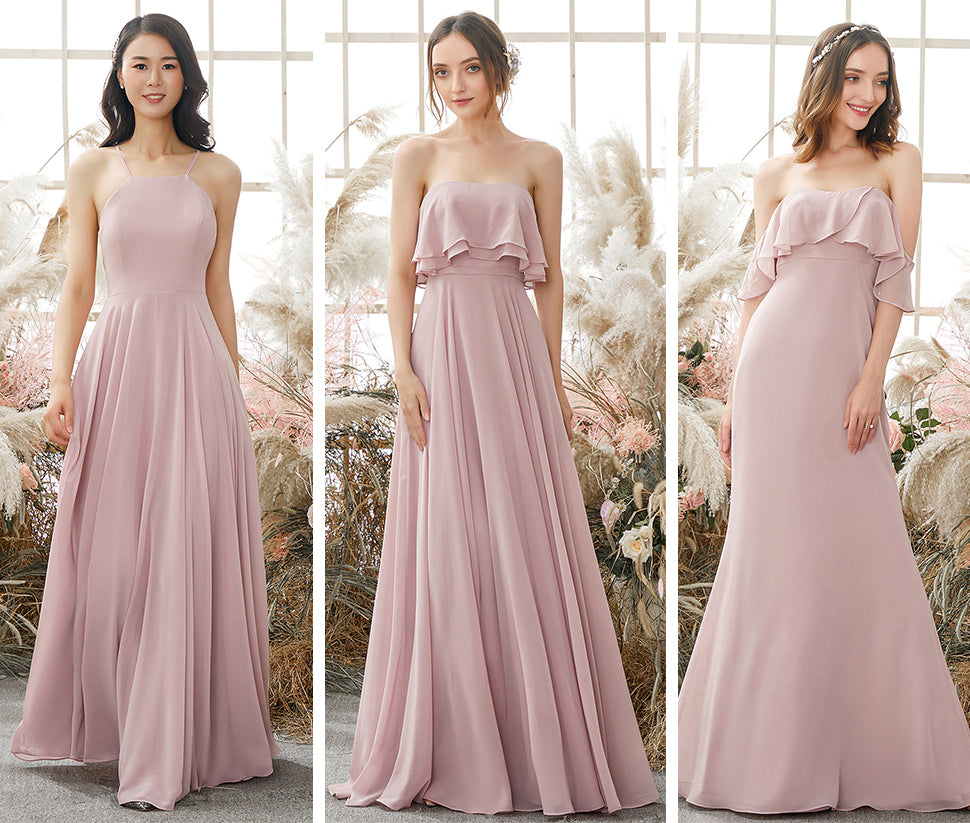 (Shop: ZDGAS116, ZDGAS107, ZDGAS104 )
4. Grass Green
From softer shades of green to dark and elegant emerald tones, green color is a beautiful choice for weddings year-round. You can't go wrong with adding grass green into your wedding color palette. This soft, romantic option looks great when combined with white, its simplicity making it a standout. Light grass green makes the white pop, and is a perfect choice for an outdoor wedding, complementing the growing grass and budding flowers. This Zapaka grass green color is of harmony and renewal, can effortlessly bring forth feelings of harmony and nature on your special day.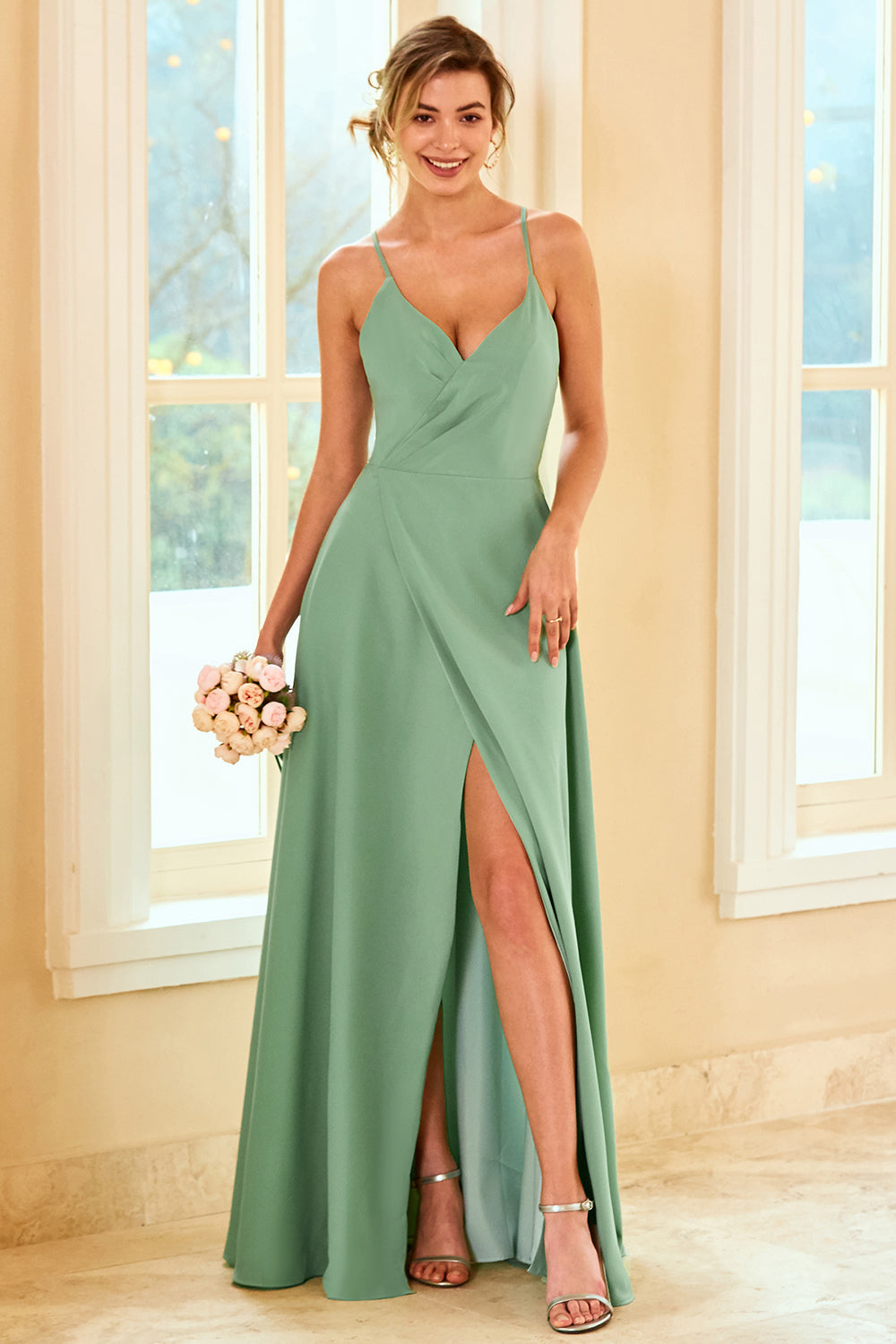 (Shop: ZPKYYZL052)
5. Baby Blue
Blue bridesmaid dresses will never go out of style, so it's no surprise brides just keep choosing them! You may adore blue bridesmaid dresses like navy, dusty or royal in length long or short, while Baby blue is a bridesmaid dress color that can adapt to any season but looks especially striking in the spring. Unlike other blue tones, this shade of blue is sexy and bold. Since it's a color that stands out on its own, it looks best when paired with accents like greys and whites. Check this two Zapaka baby blue bridesmaid dresses, you are guaranteed to  have your girls feeling beautiful in blue!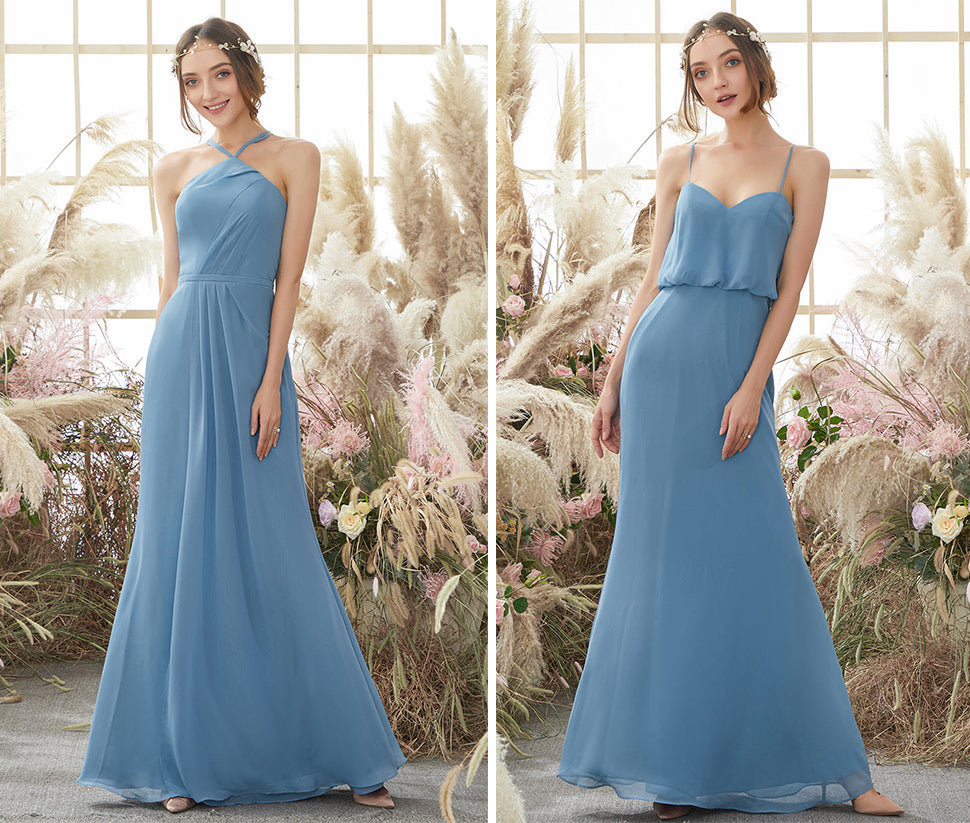 (Shop: ZPKZDGAS109, ZPKZDGAS100)
6. Champagne
Champagne is a neutral color that perfect for mixing and matching with other colors and comes in undertones of blush, beige, and gold to suit warm and cool wedding color palettes. Champagne bridesmaid dresses can look great on everyone and are versatile enough to work for every dress code, wedding venue, and season. This Zapaka champagne bridesmaid dress is a perfect choice for your Spring and Summer wedding!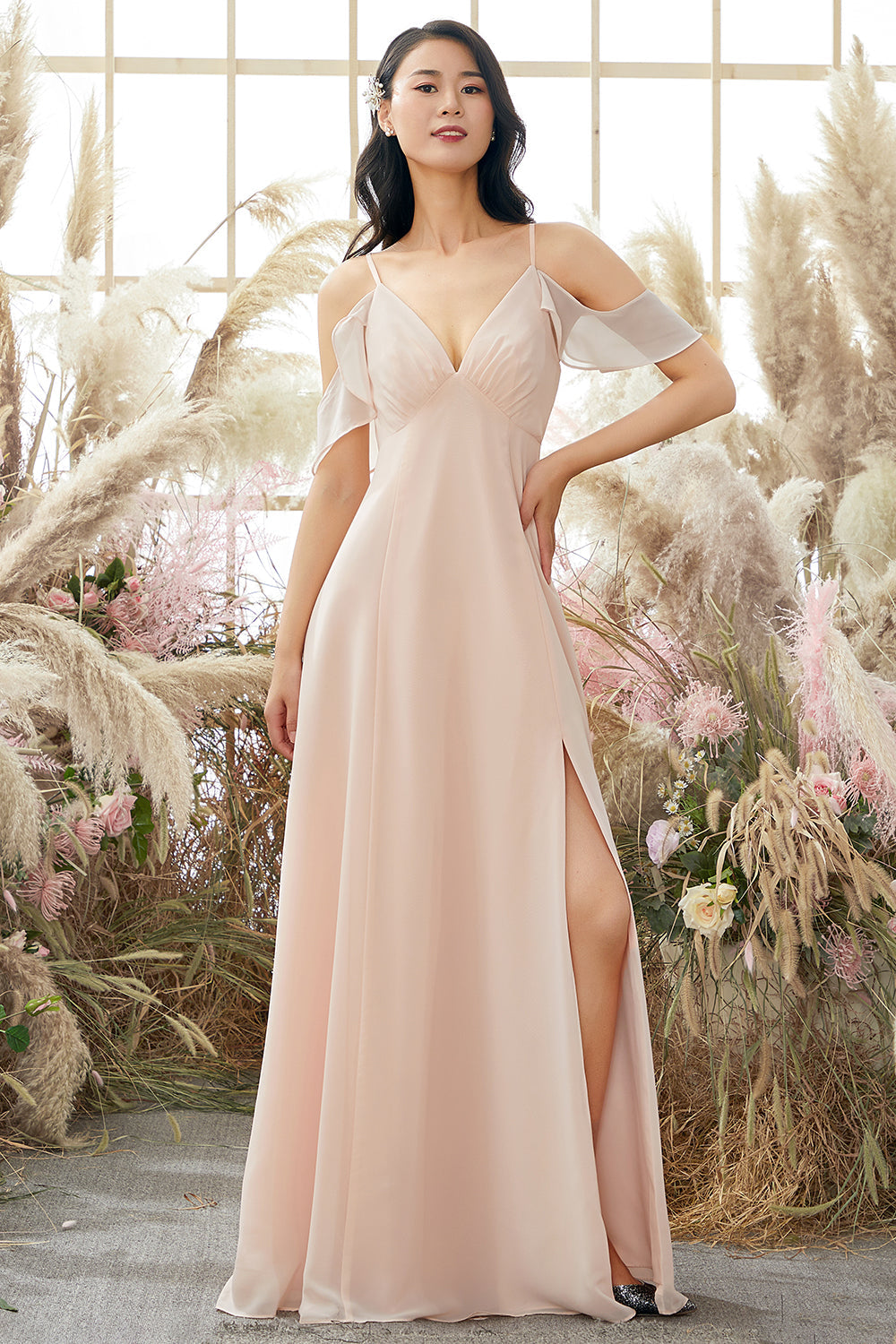 (Shop: ZPKZDGAS126) 
7. Lilac
A grey-toned purple, Lilac is a sophisticated color. Lilac is perhaps the most popular bridesmaid dress color—and for good reason! The beloved light-to-medium shade actually spans a few equally-gorgeous hues, from soft pastel purple, to a dusty, dreamy iteration, to a brighter rendition of the flower-inspired color. Whichever option you choose, rest assured your 'maids will look effortlessly beautiful. Lilac bridesmaids dresses are especially popular for the springtime. It is a beautiful color that can be used if you aren't a fan of pink, or in combination with pink. In fact, lilac pairs well with most any color, including both light and dusty shades. This two elegant ZAPAKA lilac bridesmaid dresses works well year-round, and is easy to pair with most any metallic.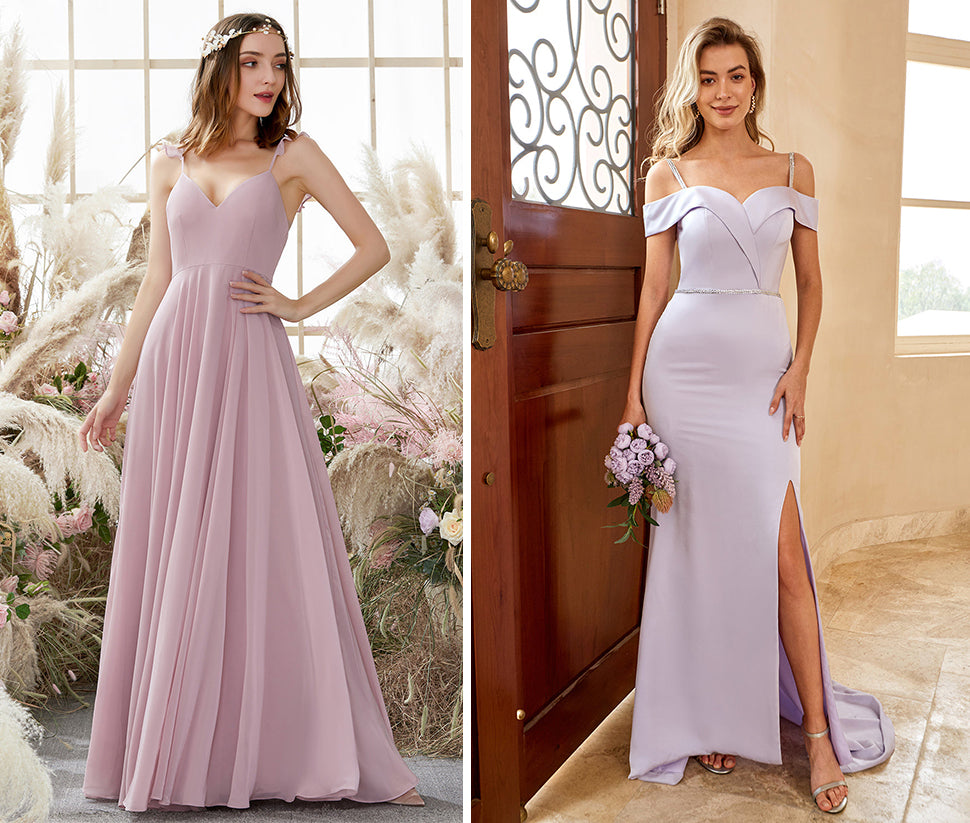 (Shop: ZPKZDGAS123, ZPKYYZL070)
8. Navy Blue
Not sure when to hold your ceremony? Consider dressing your bridesmaids in a shade that never goes out of style, navy. It's a regal hue that looks great on everyone and adds a darker pop of color to the otherwise light season. If you want your bridesmaid dresses to feel timeless, navy blue is a sophisticated color for any season. You can give this dark blue shade a less-formal vibe by outfitting your 'maids in dresses with varying necklines. More and more brides choose navy blue bridesmaid dress for weddings this year.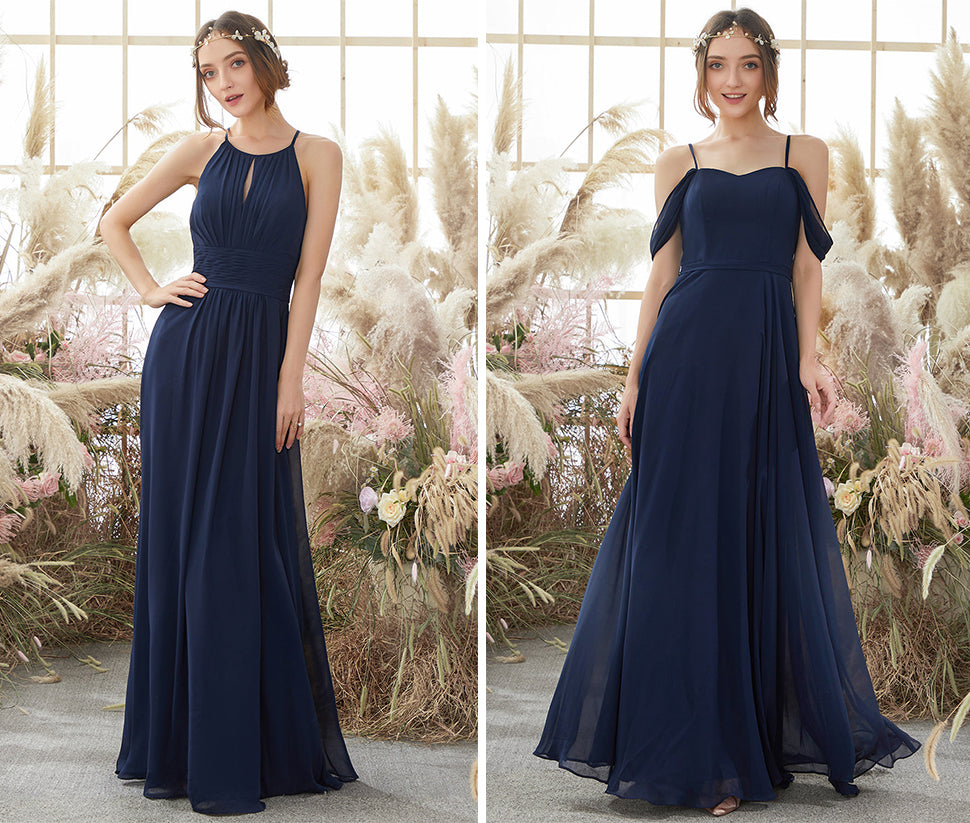 (Shop: ZDGAS75685, ZDGAS103 )
Leave a comment, tell us what color you like the best for your bridesmaids, and don't forget to head to ZAPAKA weddings to shop everything bridal!