What Need to Prepare
What Need to Prepare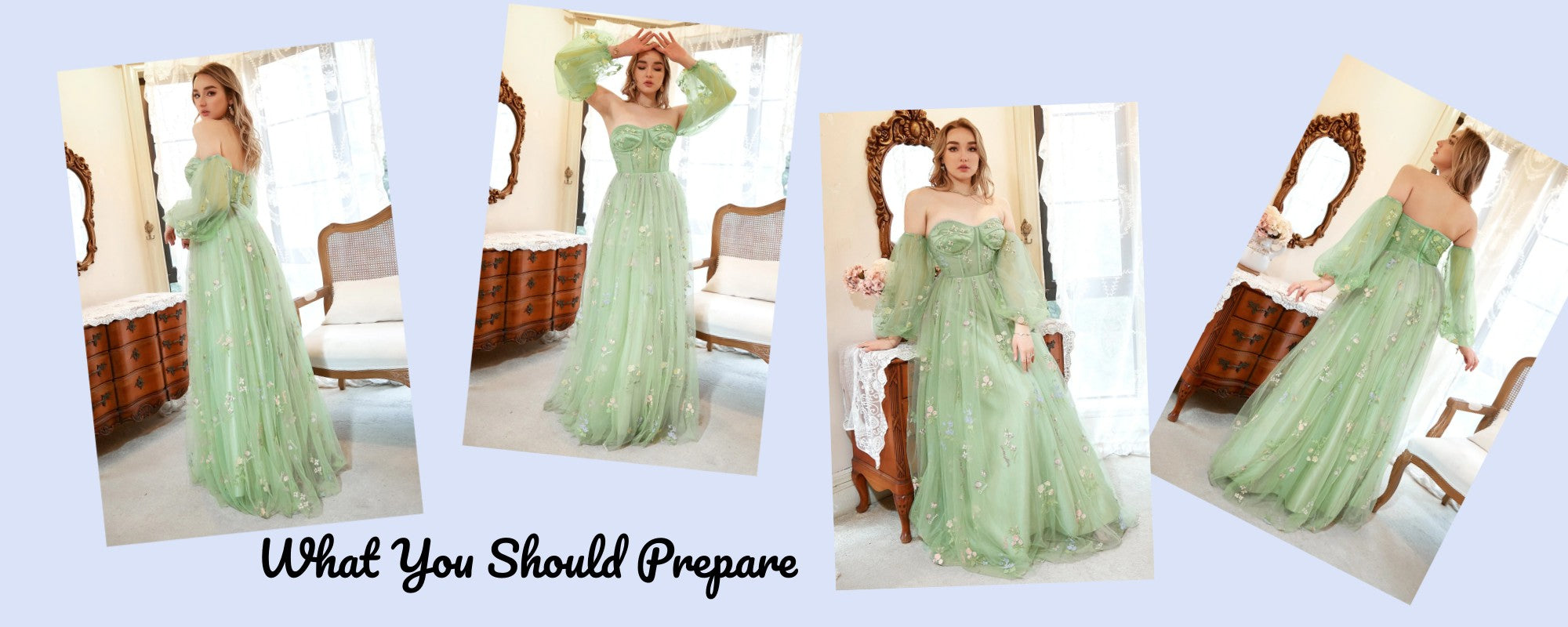 The majority of females spend a lot of time planning up their prom nights. Most people don't picture a night filled with mistakes in their hair, make-up, or even their breath. It's crucial to be ready for any situation that can occur, whether it be a hair disaster or a dress malfunction, in order to prevent any of these disasters from ruining your night. In light of this, we've put up a prom survival guide with a list of things you should include in the clutch you'll be carrying.
1.Q-Tips
When it comes to prom, everyone wants their look to stay perfect throughout the night. With that in mind, Q-Tips will come in handy if your make-up gets a little smeared after a few hours of dancing. Just keep them in your clutch and use when needed.
2. Extra shoes
Those strappy heels may look amazing with your dress, but they won't feel amazing by the end of the night. Bring along an extra pair of comfortable shoes to keep in the car so you have options once your feet wave the white flag.
3. Stain remover
When it comes to eating while in formal wear, there's always a higher possibility of you dropping something on your outfit. If you have a spot remover nearby, chances are you'll get the stain out before it does too much damage.
4. Safety pins
Safety pins might seem unnecessary, but they'll certainly be handy to have if you bust a little too much of a move on the dance floor. They're also great to use for making last minute adjustments to the fit of your dress.
5. Hair tie
If you're wearing your hair down, you will want to have a spare hair tie available in case you get hot and start to sweat. If you're worried about it crimping your look, try a clip instead.
6. Bobby pins
Speaking of keeping your hair in check, bobby pins are a must when it comes to maintaining an updo or fixing a style gone wrong. Keep several in your bag to tame fly aways or pin any wayward tresses.
7. Deodorant
After dancing the night away, you'll probably want to freshen up. That's where having a stick of deoderant will be useful. And if you want to take it a step further, bring along a little perfume as well.
8. Band-aids
While hopefully they'll go unused, bring along a band-aid or two in case you knick a corner while balancing on those heels. Accidents happen so why deal with the stress if you could just press on a band-aid and be good to go instead?
9. Mints
Considering you'll likely be yelling over the music to your friends and date, it's better to be safe than sorry when it comes to having bad breath. Keep some mints or gum around in case you, or your date for that matter, need it.
10. Extra cash
Sure, you might be expecting your date to pay for dinner, but it's always a good idea to have some extra cash available. After all, you never know what might come up before, during or after prom.