Prom Hair
Prom Hair Ideas, Guide to Choose Prom Hair Styles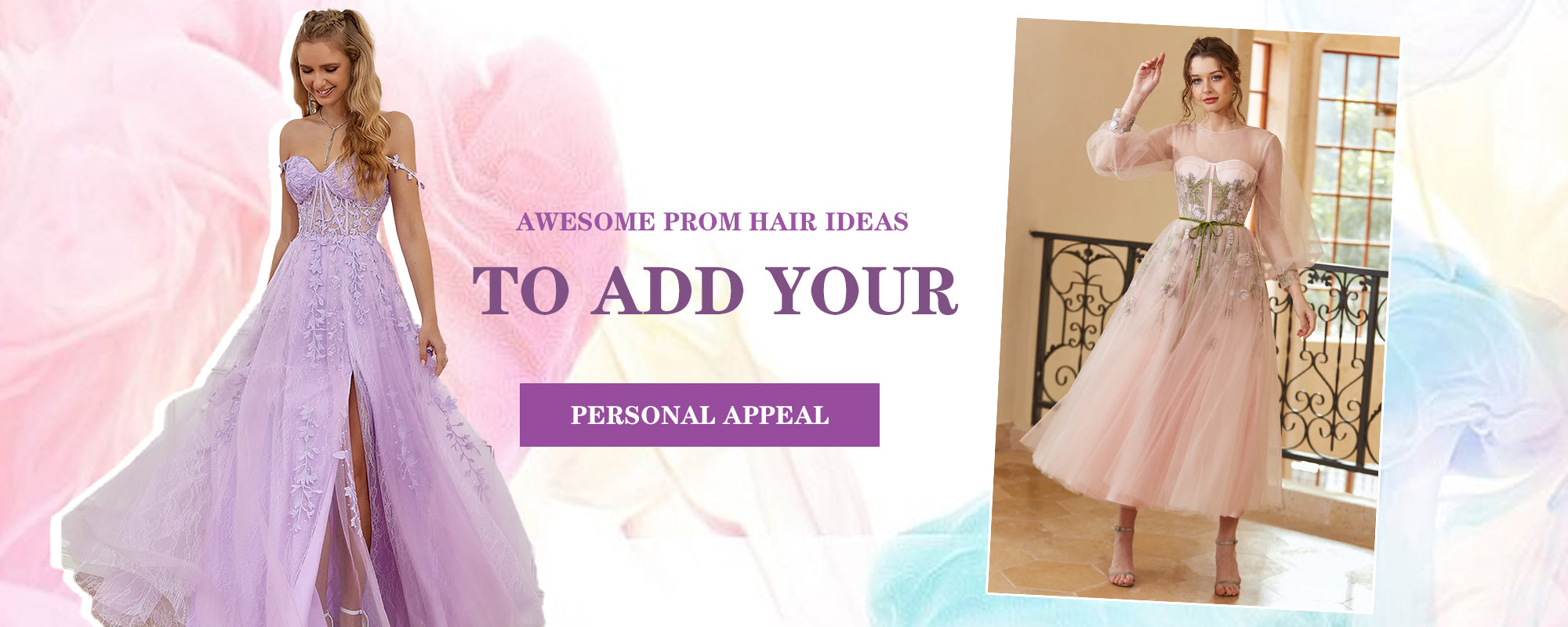 Prom season is upon us, the clock is ticking to make plans for the big night, and now's the time to start finalizing your look for the occasion—which includes prom hair, of course. Besides finding the dress and the date, your prom night hairstyle is one of the most important elements to think about—and matching your hairstyle with your dress is something you need to take into consideration. You know the look you choose will be immortalized on Instagram, so it's pretty much essential to take the necessary measures for choosing the best hair possible.
How Can I Match My Prom Hairstyle to My Prom Dress?
If you have chosen a Glamorous High Neck Prom Dress with a unique pattern on the shoulders or at the back, you should avoid leaving your hair open. Put them in a bun or tie them up in a way that it doesn't cover up the design. You can go with a smooth twist, a low bun or a high bun if that suits you. Such gowns also look better when you wear your hair in an elaborate cluster of curls, or a side-sweeping style with a cascade of curls.
If you are wearing a simple gown with little to no embellishments, hair accessories might just enhance your look perfectly. Headbands or jeweled clips might help you add a bling to your dress. Straightening your hair and putting in a simple jeweled headband makes you look as perfect as a princess. If you love wearing tiaras, a ball gown is your go-to outfit to wear it with. However, if you are wearing a jazzy glittery gown, avoid wearing too many hair accessories. That will just make you look extra sparkly and less classy. With such dresses, just let your hair down, do some beach waves or straighten them a little and you're good to go.
How Do I Style Straight Hair for Prom?
To find the best prom hairstyles for straight hair, it is important to consider the type of hair you have. Naturally straight hair may be harder to style as it has the risk of not holding many styles beyond a long, flowing hairstyle. This is especially true for fine straight hair, which may slip out of a chignon. Hair that is straightened or coarser may stay in an intricate updo easily, but may also appear more frizzy or damaged in certain hairstyles.
Face shape is also important when choosing prom hairstyles for straight hair. Round faces may appear even more round in a French bun or loose, especially if the hair is also fine. A side part, layers or braided crown may reduce the roundness. Oblong faces or those with higher foreheads may look best wearing hairstyles with bangs, while hairstyles that are half up or feature layers tend to go well with most face shapes. It is recommended to try a variety of hairstyles that match your face shape before deciding on the final look, and then a professional stylist may be able to assist in making the final decision.
It is normally important for prom hairstyles for straight hair to match the personality of the girl as well as the dress. Edgy personalities may do well with straight hairstyles that are imperfect, such as relaxed versions of a chignon or French bun, or scrunched loose prom hairstyles. More serious girls may prefer hairstyles that are sleek and may prefer to use products, such as hair serum or gels, to keep the hair shiny and in place throughout the night. If the dress has straps or interesting detailing near the top, a hairstyle that is up or half up may look best. Loose hair is best suited for strapless dresses to balance the overall look.
How Do I Style Curly Hair or Wavy Hair for Prom?
Pinterest and Instagram are full of incredible prom hairstyles, but so often, finding inspiration images for naturally curly hair is difficult. Natural curls offer their own unique beauty, and the key to curly prom hairstyles is working with the natural hair texture rather than against it. Hope we can provide some inspiration for creating the perfect prom look for your big night!
Style 1#: Hot Half Up to Rock the Prom
Half up styles work exceptionally well on curly hair. For your perfect curly half up, gently twist the hair back rather than braiding for an accent. This will keep the lines clear and prevent the style from feeling chaotic or overdone.
Style 2#: Just Twist It
Twists can deliver the magic that differentiates your prom style from your everyday half up. The twist can be more visible or subtler depending on how much you expand it (an extra bobby pin or two are important to secure expanded twists though).
Style 3#: Braided Headband
If you do have your heart set on a braid, just know that adding highlights to your hair will make it more visible, but it will still blend into your curls. A braided headband looks feminine and romantic, making a great choice for the prom night.
Style #4: Half Updo for Long Blonde Waves
You can also just let the curly locks speak for themselves when creating a half updo. Use bobby pins to hold them in place the way the hair naturally falls, with just slight sweeps back to open up your face.
Style #5: Add Some Flowers
Adding fresh or fake flowers can be a great way to add a gorgeous accent without taking away from naturally curly hair. Delicate flowers will make your updo look feminine and romantic.
18 Stunning Hairstyle Ideas for Prom
When it comes to preparing for prom, it's every girl's dream to look gorgeous! From finding the perfect dress and fab shoes to getting their makeup just right and choosing the absolute best hairstyle that suits them (and their dress) perfectly. Whether you're looking for a beautiful braided updo or flowing curls with a boho vibe, this year's prom hairstyles have it all. Gone are the days of boring prom hairstyles.
Here are 28 stunning hairstyle ideas for prom!
1) Perfect Half-Up with Soft Curls
This beautiful half-up style with gorgeous cascading curls is a perfect prom hairstyle. It's elegant, dressy and yet, still carefree enough to have a ball dancing the night away.
2) Beautiful Classic Soft Braid with Wisps
Updos like this one are the perfect choice if you want to show off the back of a beautiful dress. This pretty updo with a soft braid framing the face will make her feel like a princess all night long.
3) Soft Boho Waves with a Touch of Glam
Boho just got more beautiful. This slightly tousled half-up hairstyle with soft waves and a touch of crystal glam is the perfect prom hairstyle for girls who love the gorgeous understated look. This look is a total show-stopper!
4) Glam Twisted Layered Updo
Both elegant and super glamorous, this twisted layered updo is pretty enough for the Hollywood red carpet.
5) Tousled Half-Updo with Curls
Who says medium-length hair can't look totally fabulous for prom? This tousled half-updo with soft curls is pretty as ever!
6) Gorgeous Half-Up with Soft Waves
This gorgeous half-up hair with soft (almost beachy) waves is absolutely stunning. It's dressy, elegant and still simple enough to enjoy yourself without having to worry about having a million bobby pins in your hair.
7) Chic Updo with a Modern Boho Twist
Such a pretty prom hairstyle – not too fancy, not too fussy and yet totally classy and stunning with a chic boho vibe.
8) One-Sided Braid with Soft Curls
If you have stunning earrings you're dying to show off, this prom hairstyle is for you! This style works beautifully for long hair, but can easily be adapted for medium or even short hair.
9) Beautiful Updo with Simple Braid and Flowers
This updo is absolutely breathtaking. The small braid along the hairline paired with an updo with soft flowy curls and fresh flowers is perfect for a springtime prom.
10) Soft-Twist with a Loose Fishtail Braid
For the girl who's going for the no-fuss casually chic vibe, this softly twisted hair with a fun fishtail braid couldn't be any cuter.
11) Beautiful Loose Upsweep with Crystal Embellishment
This year's prom hairstyles have it all! Love this upsweep of soft curls with crystal embellishments – perfectly dainty and elegant.
12) Carefree Single Braid with Soft Waves
If you're looking for an adorable prom hairstyle to show off your perfect shoulder-length hair, this is it. A carefree single braid with a few soft, beach waves is sweet and simple with a touch of boho.
13) Gorgeous Glam with a Casual Flair
A crown of crystals gives this simple half-up hairstyle with flowing waves a wow look like no other! Regardless of the color or style of your dress, this hairstyle would be amazing.
14) Casually Elegant Loose Woven Bun with Curly Strands
Perfect for a springtime prom, this hairstyle is absolutely stunning – casually elegant and gorgeously dressy all at the same time!
15) Gorgeous Side-Sweep with Flowing Curls
This hairstyle is a perfect choice if you've chosen a one-shoulder dress. Sweep your hair to the side and embellish with a few fresh flowers or a couple of crystal clips for a beautiful look that's bound to grab attention.
16) High Wavy Ponytail
Prom should be fun! And, this no-fuss, sassy (but still totally cool) hairstyle screams fun! Pair with an amazing dress and show-stopping earrings and you'll dress up this style perfectly.
17) Messy Fishtail in a Low Bun
Beautifully elegant with a touch of whimsical, this hairstyle is prom perfect.
18) Smooth and Simple with a Twist
Let your dress and beautiful face shine with this simply smooth hairstyle with soft curls and a twist behind the ear.