Best Homecoming Dresses Trends for 2022
We bet you're thinking about your homecoming dress right now. If you are looking for something affordable, yet trendy, look no further. We have gathered best homecoming dress styles in 2022 that you will need to check out. We cant wait to dress up in the perfect homecoming dance dress and have our main character moment as we walk into the hall. We have sat in the house for far too long, let's romanticize this season by going all out on homecoming dresses.
Pick a Short Dress
If long ball dress is for prom, then short flirt and fun dress is certainly for homecoming. Short homecoming dance dress can allow you move easily while still give you a classy look. The benefit of wearing a short dress is that you do not have to stress about it dragging on the floor or anyone stepping on it. This may make dancing the night away pretty easy, and you can show off your great legs.
What's more, short dresses are often a little easier on the budget and can be worn again for different occasions, whereas long dresses may not have another use, unless you alter it and repurpose it. Another benefit of wearing a short dress is that you can pick a pair of stunning shoes that are sure to pop.
Best Homecoming Dress with Sparkling Details
There is nothing more attractive and eye-catching than a sparkly and glowing homecoming dress. We think it is an amazing way to look elegant and be trendy at the same time. Whether you opt for classic black or pastel pink shade, just be sure your dress has sparkling details. This type of dress will surely make you feel unique, glamorous, and shiny – just like a diamond.
Best Traditionally Lace Homecoming Dress
You can't go wrong with traditional lace homecoming dresses. A bunch of classic colors to choose from. Navy is great, white as well, but the light blue will steal all the attention. It is one of those colors that you can combine and wear for multiple occasions, not just homecoming. These classy lace homecoming dance dress will suit you perfectly. The alluring v-neckline and the halter neckline is simply gorgeous and so elegant. You can be sure, everyone will look at you as you walk through the party crowd.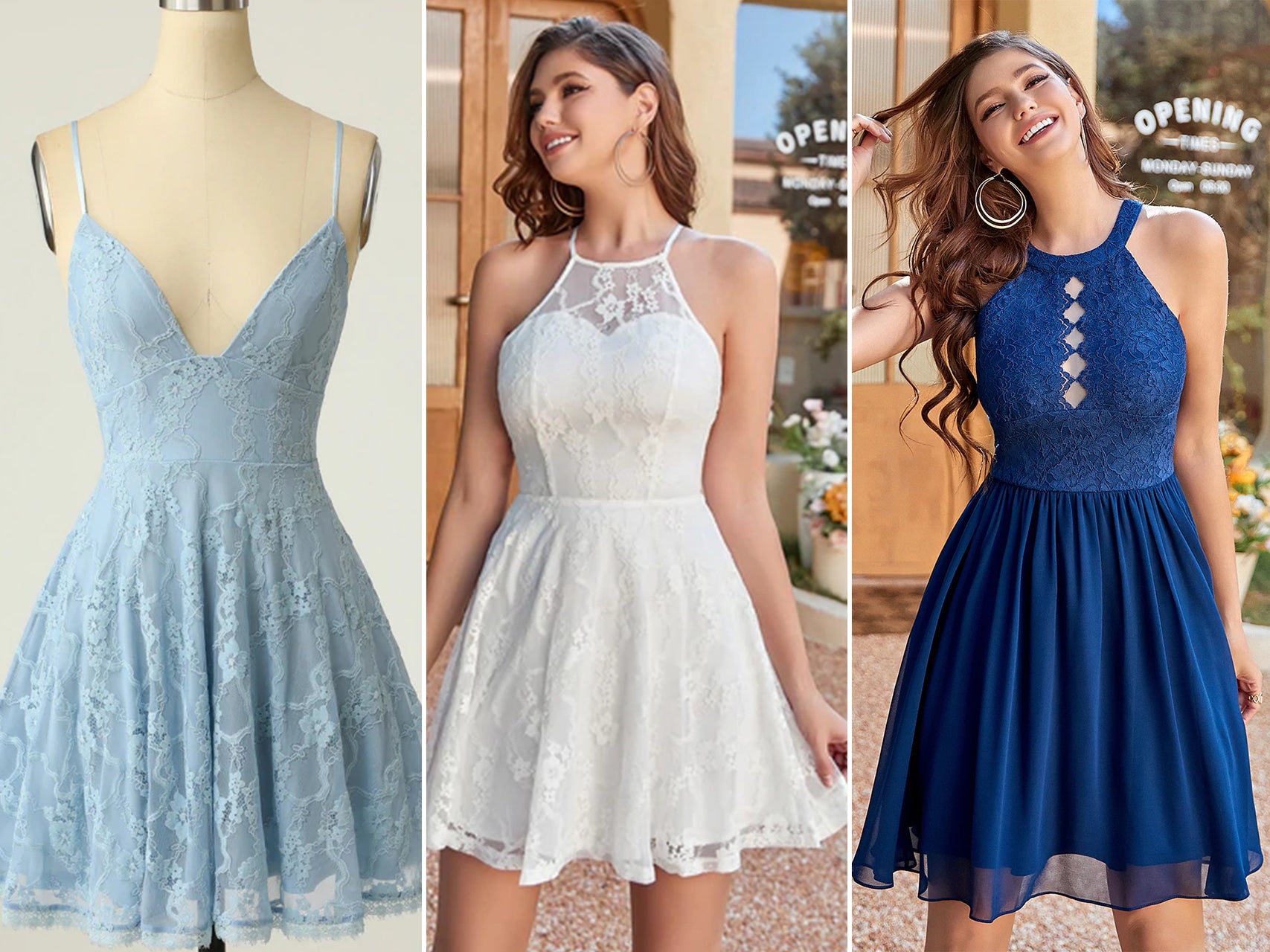 (SHOP THE DRESS: Light Blue, White, Navy)
Best Homecoming Dress with Floral Embroideries
The floral embroidery is present from season to season. You can definitely be elegant even with huge florals on your dress. Combine floral embroiery with a pair of elegant pumps or sandals and you get an amazingly elegant prom attire. 
Embroidered flowers, tulle, and beadings – this dress has it all! It is perfectly appropriate for younger women. You can pair it with a pair of classic pumps, strappy sandals, or wedges.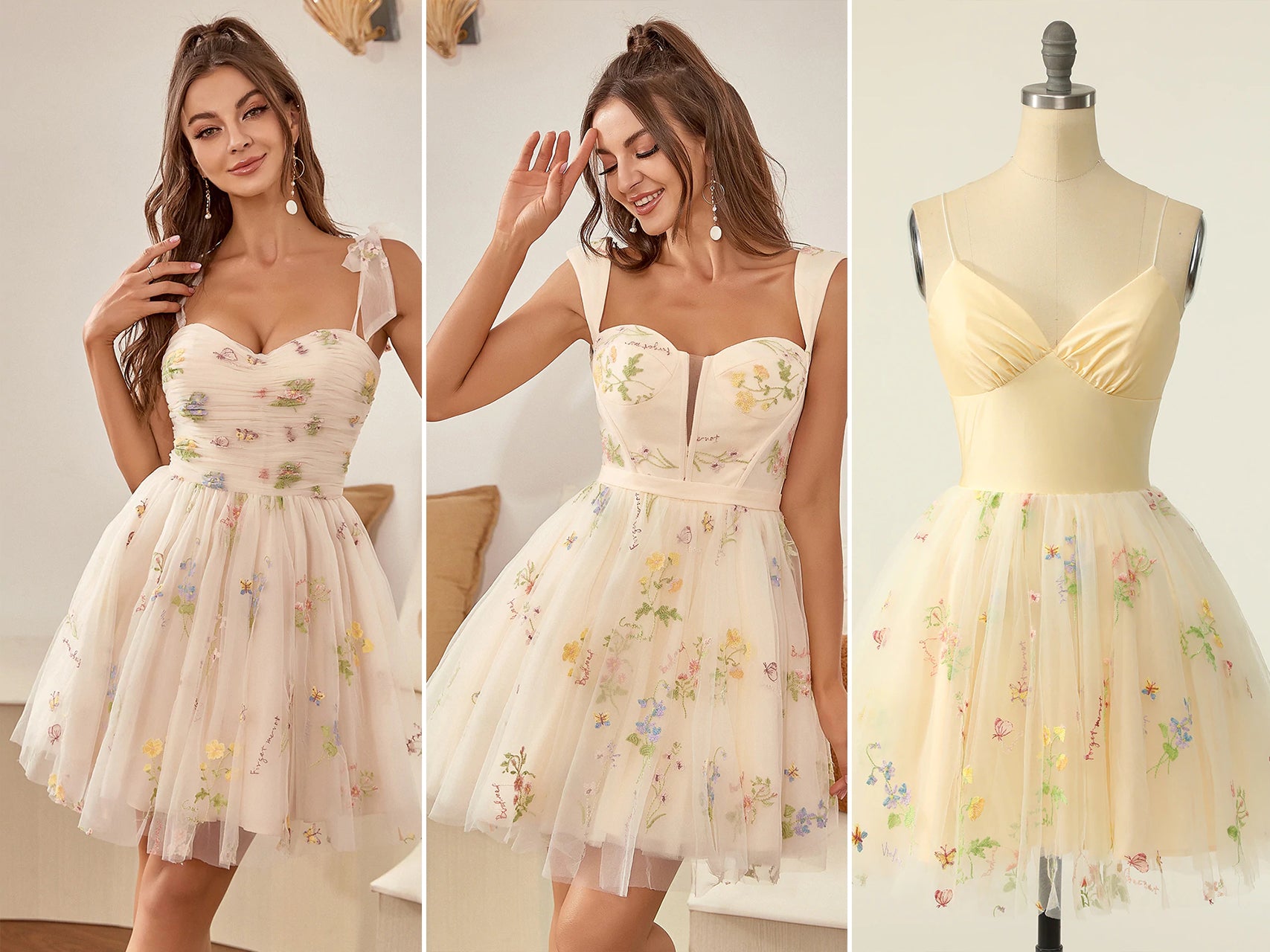 (SHOP THE DRESS: YYLH20485,  YYLH20601, YYLH20606 )  
Best Ultra-Short Homecoming Dress
It would be wise to opt for a ultra-short homecoming dress for your homecoming party. It's not only cute considering your age, but also a great look to let others see your beautiful legs in a suitable way. The ultra-short dress, is only suitable for the events like club nights or parties between friends.
(SHOP THE DRESS: Royal Blue, Fuchsia, Pink )
Best Fit-and-Flare Short Homecoming Dress
This type of gown is likely to grant more attention to your shoes and feet than any other dress style. Be sure to choose a pair of shoes with a moderate to high heel that shape and tone your legs. Your shoes should also boast some glitter, sparkle, or other pizzazz to draw attention toward them. If you are wearing a solid color dress, metallic shoes will complement your dress and add some glamour to your look.
(SHOP THE DRESS: Blush, Sky Blue, Grey Blush )
What to wear with my short homecoming dress?
Once you have chosen a homecoming dance dress that appears stylish and goes well for your body type, some adornment and additional accessories will just make the dress look even better on you.
 Heels
If you think that the dress is short enough to show your beauty, you could allow yourself to a pair of heels of about 5 cm but no more. The pumps will heighten your bum, which makes your dress even shorter.
For a simple homecoming dress, you can afford pumps for a chic rendering. In order not to focus others' attention on the length of the dress, feel free to wear a belt and a piece of jewellery such as a bracelet or ear-drop.
Your choice of shoes should not only depend upon the length, but also the color and the style of your homecoming dance dress. If you do not believe you can dance in a pair of stilettos, you can always choose a low-heeled option that can still be quite sexy.
(SHOP THE HEELS: CGLHW21092, CGLH8588, CGLHW21088)
Clutch
It's never proper to attend a homecoming affair without the suitable clutch accessorizing your dress. Even a small one will be enough. Once more, stay with the overall ideas. If your outfit features beads, select a beaded clutch to complement your ensemble. The best match for your gemstone jewelry would be a shiny black clutch purse with a few rhinestones on it. 
Earrings
A pair of dazzling drop earrings goes well with a homecoming dance dress. Choose earrings which feature gemstones such as rubies and diamonds. If you want to justify purchasing such accessories, keep in mind that they are very stylish now and will still be in the future, and can be paired with almost anything –  including the little black dress.
 (SHOP THE EARRINGS: CGZL221861, CGZL221829, CGLHW21103 ) 
Bracelets
Everyone has her own style: bracelets might not be your thing. But if you can wear them without discomfort, they're a great complement to any homecoming dance dress. If you are already wearing some bold jewel. Choose some fancy bracelets to wear with your outfit. You may prefer to wear either the necklace or bracelet, but not both.
(SHOP THE BRACELETS: CGZL221138, CGZL221137, CGZL221136 )